Significant grant comes school's way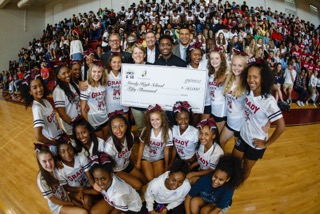 The sound of cheering students, athletes, and coaches filled the gym as the College Football Playoff Foundation presented Principal Dr. Betsy Bockman with an oversized $50,000 check. Athletes attending the event erupted with excitement with one yelling, "We're going to Red Lobster, baby!"
Fall sports athletes, along with coaches and administrators,  gathered at a pep rally in the gym on Sept. 22 to watch the foundation present Dr. Bockman with the check.
The CFP Foundation, founded in 2013, works to support education by helping empower teachers with support and funding. As the charity arm of the College Football Playoffs, it partners with other organizations to provide grants to schools in need of more funding.
"Our mission is to elevate the teaching profession, and we do that through a variety of ways and a number of partnerships," said Britton Banowsky, executive director of the foundation the past two years. "The heart of it is to give teachers the support they need to be successful either in the form of resources or in the form of recognition and moral support."
The foundation gives needs-based grants to schools nationally.
"In the case of Grady, it was a function of our partnership with the local Football Host Committee in Atlanta and the Atlanta Public Schools who identified Grady as a high school that has some clear needs," Banowsky said. "The principal articulated what her needs were for Grady, and we felt like it was a very worthy grant recipient."
Dr. Bockman has outlined a number of school areas in need of funding.
"We don't have a great facility," Dr. Bockman said of the campus. "We are very overcrowded. We don't have field space. This cluster is very good at making do with not having a lot, so this is kind of just a reward for that."
Areas most in need of funding include the special education department, the engineering pathway, the gym and the fine arts program.
"We were told that we could spend that [the grant] on whatever we wanted to, so I started thinking about what areas really needed some help and who had not gotten some funding recently," Bockman said. "The NMSI grant provided some funding for science, math and some of our ELA (English Language Arts) AP classes, so I looked at other areas that hadn't gotten that funding."
Dr. Bockman says a portion of the grant will provide new materials and resources to break down the special education curriculum to be more accessible to students with learning disabilities. The engineering pathway will get some new equipment.
"They need about $5,000 or $6,000 worth of equipment, kits to support that program, Ms. Scofield and those students," Dr. Bockman said.
Dr. Bockman noted a desire to make the gym more like a high school gym rather than a recreational facility, in hopes of transforming it into an "athlete-friendly" place. The intercom is the only sound system in the gym currently, so an improved audio system is a priority. Dr. Bockman hopes to give the fine arts program upgrades that would allow it to hold an annual gathering for high school students around Georgia to showcase their work.
"I feel like the pathways are kind of pushed to the side in a way and not given the same attention and support as other classes or sports at Grady," junior Abby Challas said. "I think that by giving more money to the pathways, it will help us feel more supported by the school."
Dr. Bockman hopes improvements from the grants will become tangible evidence of the school district's and the community's support and investment in students.  
"It's not that hard to spend $50,000," Bockman said. "I was really pleased and very happy about how the small pep rally went. I'm proud of the kids for just showing interest, and I thought it [the CFP Foundation] was a great program."