JV football displaying potential for a successful season
The Junior varsity football team has been a bright spot for the Grady football program after starting the season with a 44-36 win against rival North Atlanta.
The team has shown potential for Grady's future by starting off the season 1-1. Sophomore quarterback Trayvion Snipes has led the team by bolstering its passing attack, showing an ability to consistently snipe open receivers, and putting pressure on defenses with his scrambling capability.  
"We work as a team this year to do better things," Snipes said. "Coaches changed the playbook and changed some players' positions. If we stick with the team we have for the next three years, I think our Varsity team will be successful."
The game against North Atlanta was an offensive thriller, with both teams scoring a combined total of 80 points Last year's Grady JV team was dominated by North Atlanta, losing 13-0.
"We remembered the game from last year when they shut us out and we definitely had it marked on our calendar," coach Joe Kearse said.  "The boys know that they are our biggest rivals so they played a little extra hard than usual."
The Junior Varsity team has struggled in years past, failing to score in most games. The quick turnaround shows improvement in the talent and motivation of the school's underclassmen.
"I do not think it was as much [the] changes we've made but rather people just buying into the program and what we're trying to do here," Kearse said.
The second game of the season was a loss against Eagle's Landing Christian Academy, whose Varsity team is ranked 88th in the state. Grady came into the game as underdogs but still managed to score with a 73-yard touchdown pass.
"Eagle's Landing has always been a really tough opponent. Their JV team is almost like an average Varsity team. We played decent but could not catch a break on defense. We had too many unnecessary penalties and busted plays," Kearse said
The team has experienced an offensive breakthrough compared to the last few years, scoring touchdowns in every game. The 2016 JV team finished with only six points in two games, and the 2015 team scored eight points in four games. The current players show potential to help the Varsity team in the future, who has struggled in the beginning of the season, especially on offense.
"The players are developing at a decent rate right now. Most of the players are sophomores right now, and they are learning from the older Varsity players' mistakes," Kearse said.
Despite the early success, some players still think the team is not playing to their prospective Varsity ability quite yet.
"I guarantee you that if we all get on it this summer, we will win region and make it far into playoffs until at least the current freshman graduate," junior wide receiver Craig Love said.
The players are excited for the future of their high school football careers. They agree that they can be form a good team with a lot of hard work and dedication which is the only thing fully lacking for them a this point.
"We just need to practice harder and play smarter. Right now, we are not playing to our full potential, which was a main problem last year for the team. We have the talent. We just need to put it together," Love said.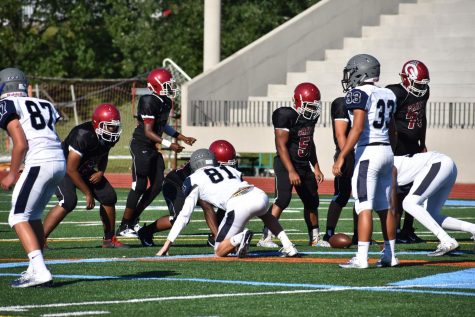 Annie Zintak