Georgia Tech erupts into protest after vigil for student fatally shot by police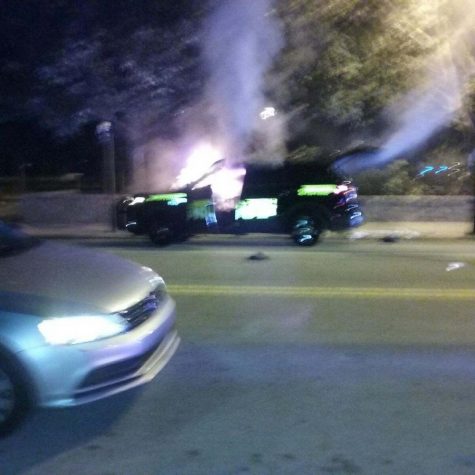 by Anya Lomsadze
Georgia Tech student and LGBTQ activist Scout Schultz was fatally shot by campus police on Sept. 16. After Schultz's vigil on campus on Monday Sept. 18, protesters erupted around campus and set fire to a Tech police car, leading to the arrest of three people and the injuring of two police officers.
Schultz's parents called for protesters to remain peaceful in a statement published through the family's attorney.
"We ask that those who wish to protest Scout's death do so peacefully," the family said. "Answering violence with violence is not the answer. Our goal is to work diligently to make positive change at Georgia Tech in an effort to ensure a safer campus for all students."
Schultz was a fourth-year student computer engineering major minoring in biomedical engineering and president of Georgia Tech's Pride Alliance. According to the Alliance's website, Schultz identified as non-binary and intersex and preferred to be referred to with they/them gender pronouns.
On the night of Sept. 16, the Tech police received a call from 911 alerting them of a suspicious person on campus.
The campus police arrived to find Schultz armed with a knife outside a dorm room in a disoriented state. A cellphone video shows officers yelling at Schultz to lay down the knife. Schultz took a few steps forward before an officer opened fire.
The attorney for the Shultz family spoke on Monday Sept. 18 before the vigil and subsequent protest.
"What was Scout doing that day?" attorney L. Chris Stewart said. "Standing there disoriented, having a mental breakdown and was shot from 20 feet away."
Stewart criticized how the police reacted to finding Schultz and their resort to a fatal blow rather than to a non-lethal force such as pepper spray or tasers.
"One of the biggest problems in this county is officer's actions with the mentally ill," Stewart said. "We have to fix this situation."
Schultz has suffered from mental illness before. Schultz's mother told the Atlanta Journal-Constitution that despite Schultz's depression, Schultz was brilliant and ambitious.
"Scout wanted to make new medical devices, and now we'll never know what Scout might have come up with," Lynne Schultz said.
The Board of the the Georgia Tech Pride Alliance praised Schultz for Schultz's contributions to campus on their website.
"They [Schultz] have been the driving force behind Pride Alliance for the past two years," the group said. "Their [Schultz] leadership allowed us to create change across campus and in the Atlanta community."
Georgia Tech president G.P. Peterson sent a note to the Tech community reminding them of the counseling resources available on campus in the aftermath of the tragedy.
"We mourn Scout's life and the unrealized potential of what could have been," Peterson said.
Many questions about the incident have arisen and will continue to develop if Schultz's family produces a civil suit.
"Why did you have to shoot? That's the question," Schultz's father told a press conference. "Why did you kill my son?"