Mercedes Benz Stadium brings state-of-the-art technology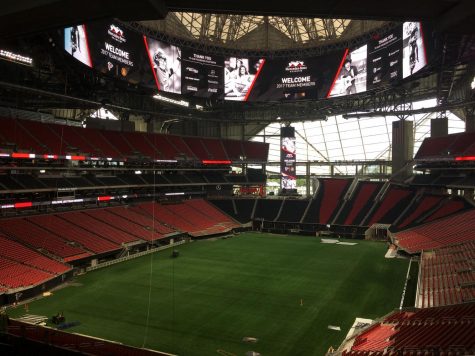 Ansley Kish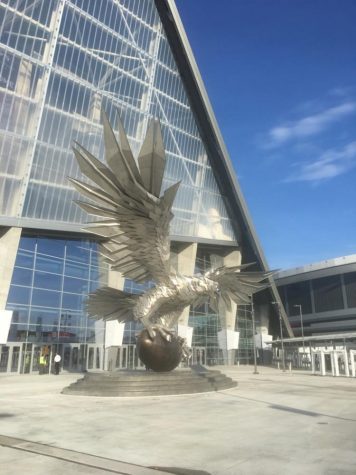 Tony Hibler
This weekend the Mercedes-Benz Stadium in downtown Atlanta will open, allowing fans to see the National Football League's Atlanta Falcons and Major League Soccer's Atlanta United Football Club in their new home, along with other sporting events and concerts.
After three delays of the stadium's opening, due to challenges with the steel work in the contractible roof, the Falcons' preseason game against Arizona on Aug. 26 will mark the first football game at the new stadium.
The stadium has a number of amenities, particularly technology upgrades for fans' mobile and digital devices.
"IBM designed a fan-friendly Wi-Fi system with enough broadband to enable over 70,000 fans to simultaneously surf the web, send selfies and never be out of touch with Facebook, Twitter, Instagram while downloading fantasy sports news," said Roger Hasson, IBM General Manager of Global Tech Services and Communications. "It's no surprise that nearly 4,000 miles of fiber optics and 90 miles of audio cabling — enough to go from Atlanta, Ga. to Dublin, Ireland — are entwined with nearly 2,000 wireless access points."
The glass encased stadium will have a set of interactive applications that were built, delivered and hosted by IBM on its IBM Cloud technology. The Cloud, an IBM-created application, will provide the stadium with secure and highly resilient infrastructure needed to keep up with the demands of the fans. AMB Sports & Entertainment (AMBSE), the Falcons' owner Arthur Blank's company which operates Mercedes-Benz Stadium, will use the IBM Cloud to provide data protection and disaster recovery solutions, according to Hasson.
"My favorite feature in the stadium is a really cool app that IBM created," said Tony Hibler, IBM Chief Technology Officer of Project Based Services. "It is a 360-day experience for Falcons fans. Also, the fans will also love the 360-degree halo display that surrounds the top of the dome. The stadium has a window to the city that is all glass and quite spectacular."
With over 18 years of working for IBM, Hibler said the biggest challenge for IBM on this project was working on a construction deadline. His staff had to keep up with the technology and network installations on an ever-changing construction timeline due to weather conditions.
AMBSE, when creating the stadium, consciously designed it to be environmentally friendly. The corporation obtained a certification that the environmental footprint of water usage was as small as possible. The Mercedes-Benz Stadium will be the first sports facility to achieve the Leadership in Energy and Environmental Design (LEED) Green Building Rating System certification for all water credits, using 47 percent less water than baseline standards. Who is this according to? The stadium also includes 4,000 Solar PV Panels and will save 29 percent in energy usage in comparison to a typical stadium design like the Georgia Dome according to the stadium's website. Says who?
"The stadium looked super cool and was super open and bright," said Grady junior Tye Lewis, a season ticket holder who visited the open house on Aug. 19. "My favorite part was probably all the windows in the stadium; so, you can see the city during the game."
As the city of Atlanta anticipates the grand opening of Mercedes-Benz Stadium to see the Falcons play on Aug. 26, the NCAA and Chick-Fil-A are hosting two college football kickoff games at the $1.6 billion dollar stadium between Southeastern Conference (SEC) and Atlantic Coast Conference (ACC) schools. Florida State and Alabama play first on Sept. 2 at 8:00 p.m., and ESPN's "College Gameday" program will cover pregame festivities beginning at 8:00 a.m. Hometown-team Georgia Tech plays the University of Tennessee on September 4 at 8:00 p.m. Tickets for both games are sold out.
"The Jumbotron is incredible, it's 100 ft tall and wraps around the entire top section of the stadium," said Franky Fernandez, a Grady junior who visited the stadium with his father, Frank Fernandez, who works with AMBSE. "I can't wait for the preseason home opener this Saturday. Plus, Chick-fil-a now has restaurants across the entire stadium."