Braves; Keep or Trade?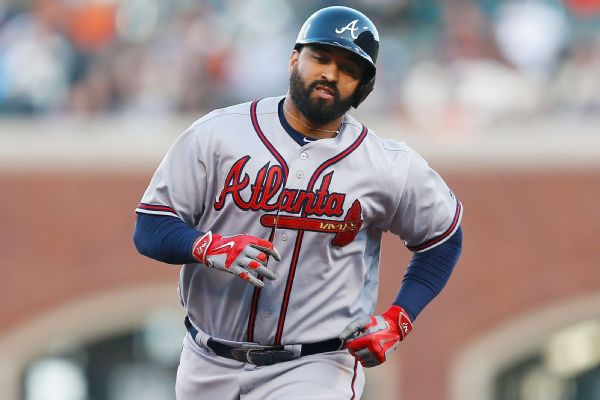 The Braves' first season at SunTrust Park is almost over, and they are still a long way from making the playoffs. However, there were some important storylines this year that will affect the Braves' future.  So far this season, we have seen many of the next generation of Braves arrive in the majors, with varying success. Dansby Swanson, a holdover from last year when he debuted, struggled mightily and was sent down to Triple-A in July.  Meanwhile, Johan Camargo, a less heralded infield prospect, had a breakout rookie year, earning a starting job this year, and probably beyond.  Ozzie Albies, a second-baseman and the Braves top prospect, made his major league debut in July.  After his first major league hit was a homerun, Albies became the first batter born in 1997 to hit a homerun in the majors.
There were also developments with young pitchers.  A stronger season from Mike Foltynewicz has established him as possibly the best pitcher of an otherwise weak rotation.  Newcomer Sean Newcomb has shown promise in his rookie season, and Lucas Sims has also cracked the majors for the first time.  While the rotation certainly hasn't been good, this year the Braves have finally started to see the results of their rebuilding efforts in the major leagues.  It is now not too difficult to envision a solid young rotation solidifying within the next two years.
The offseason is approaching and despite their strong start and young players, the focus of the Braves is no longer on this season, but on what comes after.  They have to make some decisions with their team.  Let's take a look at the veterans that they have that  could be trade:
The first is Matt Adams. Nicknamed "Big City", Adams was brought over from St. Louis to play first base after Freddie Freeman got injured. Later, when Matt Kemp went down with an injury, Adams replaced him in left field.  Despite his solid season and the good bench present that Adams presents, Big City doesn't appear to be a big part of Atlanta's future.  Both of the positions he can play are already locked up by Freddie Freeman and Kemp.  Additionally, the Braves bench has been very good with or without him last year, as the the Braves have combined for the most pinch hit RBIs in the league, due mostly to the younger, cheaper and more versatile alternatives of Lane Adams and Jace Peterson.  Peterson, for example was the first person to play every infield position this year, and can also play outfield.  Because of this, Adams would be more important to another team, and should be able to pull some pretty decent prospects in a trade.
Next is Kemp. What the Braves do with him in part depends on Adams.  If the Braves decide to keep Adams, then there is a good argument to be made for trading Kemp.  He is on the wrong side of 30, injury prone, and expensive ($20,000,000 a year).  However, Kemp has been productive in his time in Atlanta, and could help the next good Braves team.  Ever since he arrived last August, the Braves offense as a whole, and especially Freeman, have been a lot better, in part because of the threat of another big bat in the middle of the lineup.  There is also something to be said for the attraction of having a former superstar, who could still turn into one next year.
Someone that the Braves could definitely pass on next year is Brandon Phillips.  He will be a free agent after this year. There is no reason for the Braves to pursue him due to the inield trio of Albies, Swanson, and Camargo which they already have.  However, Brandon Phillips has publicly expressed a desire to end his career in Atlanta.  Despite his interests, it seems that the future of the Braves' infield has already arrived. Brandon Phillips would probably have to be willing to accept a pay cut and less playing time to stay with the Braves.
The last player in question is Tyler Flowers. Not only is he having a breakout offensive season, but Tyler Flowers is also contributing to the Braves through his defense.  He is the best catcher in the league at framing pitches, that is umpires call more borderline strikes for him than for anyone else.  Additionally, none of the Braves' top 25 prospects are catchers, so he isn't prohibiting any young players' development.  With all of these factors, Flowers' 4 million dollar contract next year is a steal, and the Braves should definitely keep him.
After the first transition year, the Braves will likely have a busy offseason, and hopefully the team on opening day next year is a little bit younger and more exciting than this year's team.