Grady parent makes his mark on the music world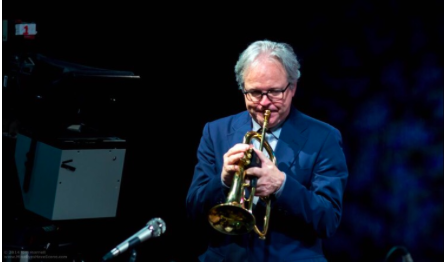 By Cory Dillard
Mr. Robert Denton may have a lot to deal with by keeping up with his son in college, and his daughter in high school, but he still has time to travel all over the United States and even the world. He travels around the nation to perform at various clubs. He plays the piano, trumpet, guitar, and even percussion. He does usually work as a soloist, but on occasion he partners up with other bassists and drummers in duos and trios.
The type of music he plays varies in different locations. Most often, he plays classical music in the United States, but his personal favorite is jazz and Latin jazz. However, clubs aren't the only venue in which he plays,
"I also perform for special events, corporate parties, jazz festivals, and recording studios." Denton said. He added that his mood changes venue to venue, whether it's a night club in Denmark or a corporate party down the street, and this affects what he decides to play
He has also played at private events and for celebrities, including Michael Jordan, Shaquille O'Neal, Hank Aaron, and Muhammed Ali. He has had many people inspire him as well. Many jazz and blues pianists in Chicago really inspired him, and he said it was a thrill to play his first recording session at Chess Studios in Chicago in 1970.
"I was influenced by Miles Davis, Bill Evans, Wes Montgomery, Django Rheinhardt, and Sonny Rollins among other musicians." Denton said. He also considers meeting Chic Corea one of his biggest thrills.
"[Chic Corea] stayed at my whole gig at the Ritz and invited me to be his guest at his performance at Dragon Con." Denton said. He also performed with Duke Ellington's vocalist, Lil Greenwood, and John "Jabo" Starks, drummer for the famous James Brown.
While  his first recording session was in Chicago, in 1970, he is still recording his music and plans to play as long as he possibly can.
"I have a photo of me playing piano at age of 2! I got my first Union Card in 1968, and started performing in school bands. In 4th grade, I performed as a singer and guitarist in a folk duo with my sister, Charla, in 1964!" Denton said. He plays at home everyday and often travels with his instrument so he can sit in with musicians all over the world. He also wants to pass on his musical talent to his children.
"Lena had to take piano lessons when she was little, and Charlie did years of violin but I don't teach them, I just give pointers," Denton said. "Both of them continue to be active musically with my encouragement. Lena also plays Ukulele and Guitar."  He also taught jazz piano and jazz guitar at Kennesaw for four years, and he has been on the faculty at Agnes Scott for about 20 years.
He was gifted with musical talents from his side of the family who is very active musically. His wife, Carol, can recognise just about any classical composition you can name, but she does not play any instruments.
Denton said music has had a very big impact on his life, and thinks he can really communicate with everyone around the world through it.
"Music has made my life such a joy and an adventure," Denton said. "Every performance is different. Playing music has allowed me to connect with people everywhere." . He loves having the opportunity to travel the world and meet all of these really cool people.
While he hasn't produced any of his own albums,  he has been hired in the past to play on other folks' albums such as Lil Greenwood, Nicole Chillemi, Garrison Elliott, and Amy Thorn. He has written his own songs, however
"I have written instrumental works and occasionally lyrics, but I am more interested in performing music live and at clubs or other venues." Denton said.
He really enjoys music the way he has it right now. He loves playing at these various clubs and loves meeting all of these very big name people on his journeys.
He is a very talented musician, and it is very obvious he loves what he does. Robert Denton will continue to do so as long as he possibly can. Mr. Denton is much more than a father of two children or just a husband, he is an artist.