Young Knights basketball team hopes for Final Four return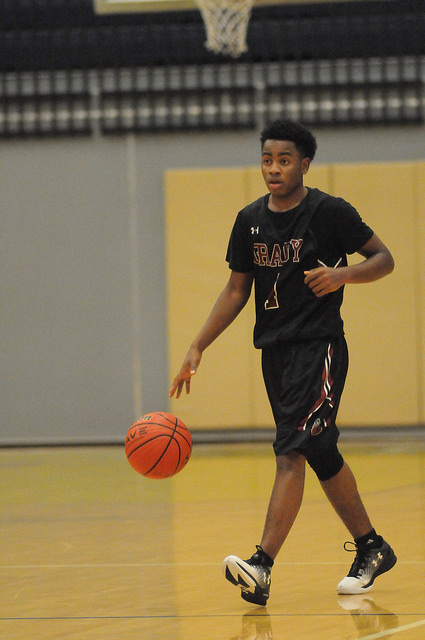 The Knights' varsity basketball team is coming off a successful season, going 28-4 and advancing to the region championship. The 2015-2016 team also advanced to the Final Four of the state playoffs, marking the farthest run in the playoffs since reaching the Final Four in 1994. 
The region championship and 10 wins were stripped after the school self-reported a player later determined as academically ineligible. After the forfeits, the team's record was 18-14.
"Everything that happened last year was handled," coach Brian Weeden said. "Our athletic director took care of it."
Lithonia, which was on the other side of a game-winner from halfcourt by now graduated point guard Christian Bryant in the region championship, is listed as the region champion for that season.
With only junior Devonta Brittain as the lone returning starter, this year's team is seeking to prove it can bounce back and be as good as its predecessor.
"We are all just working to be better than them and trying to get back to the Final Four, and even win state," senior guard Kolby Morton, one of four new starters said. "We just have to keep pushing and working hard to get to where they were."
The Knights may benefit from a classification change. Grady moved from Class 4A to Class 5A. The new region doesn't include state contenders such as Lithonia and St. Pius X.  Region 6AAAAA includes North Springs, Decatur, Carver, Lithia Springs, Banneker, and No. 8-ranked Riverwood. Although these schools may prove to be quality competition for the young Grady team, the new opponents are not as dominant as the teams played previously in Class 4A.
"I think the move was good for us, considering how tough our region was last year," senior guard Charles Martin III said.
After losing so many critical seniors, the team is facing a change of pace with younger and faster players. Weeden plans to run a guard-oriented line-up. 
"We're young,  so I'm looking for guys to step in and get in the fire and get acclimated with what we are doing quickly," Weeden said. "We want them to make their mistakes early so that we can learn from them and get better."
The team is looking to play as a unit and not have just a few stand-out players control the dynamic.
"We don't know who is going to have a show-out season, but we are all going to work together," Morton said. "If someone is having an on game, then someone is going to have an off game, and we just have to learn how to play with each other."
The Knights opened the year with an 81-45 loss in a scrimmage to No. 8, nationally-ranked Greenforest Christian Academy on Nov. 10. With the regular season underway, the team has started 3-3 through six games. After the initial scrimmage loss to Greenforest Christian Academy, the Knights got their first win of the season with a 84-76 defeat of Harris County at a Thanksgiving tournament.
Following this non-region win, the Knights  beat the big, Class 6A Douglas County  75-63. The Knights put up a good fight on Dec. 6 against region opponent Maynard Jackson, but ended up on the wrong side of the score board, losing 73-57.