Senior athlete ends varsity career on runner's high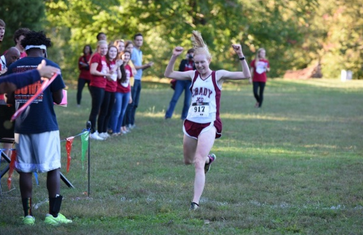 The Southerner
April 15, 2016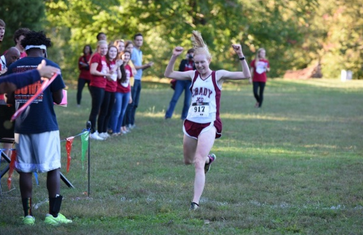 By: Emily Ng
It's 6 a.m. on Thanksgiving Day. While the rest of the city sleeps, an energetic crowd gathers around the entrance of Turner Field. Excitement and nerves mix with the cold, brisk air as the runners make their way to the starting line. Among the most dedicated runners is a relatively new face, a girl with a look of fierce determination and calm confidence. A few minutes earlier, her parents and aunt had stood beside her. They had wished her luck and promised to find her at the finish. Now, her only focus is on the gun and the shot that will signal the beginning of a 13.1 mile race.
While this would prove to be one of her most challenging endeavors yet, senior Gracie Griffith was more than prepared to succeed.
Griffith, who competed in her first game of T-ball at the age 5, plays varsity in every high school sport she participates in: soccer, basketball and cross country. With as many as three practices a day, she trains from the moment the last bell rings until as late as 10 at night.
"A lot of people love when practice is canceled and that's just not me," Griffith said. "If practice is canceled, I'm doing something else."
When she has a physical injury, Griffith can be found at the pool maintaining her high level of fitness.
"Gracie has always had a will to her,"  girls soccer head coach Rodney Thomas said. "She's always ready to go, and that's never changed."
At practice, she is a quiet and intense force. While she mainly keeps to herself, she can be counted on when it comes time to play.
"She's not going to complain or whine," Thomas said. "She's going to do what is asked."
In addition to the sports she does at Grady, Griffith is involved in a variety of athletic activities outside of school, such as club soccer. Rob Di Figlio, who coached her at Inter Atlanta FC, recognizes her mature nature.
"She observes and takes everything in," Di Figlio said. "Whenever situations came up with the group, she would have a very well thought-out suggestion."
Though she had only played with the team for a year, Di Figlio awarded her with the role of team captain, which she considers one of her greatest achievements.
"I had never been captain of any sport I've played because I'm quiet," Griffith said.
As captain, Griffith became a more active part of the team.
While she maintains a drive for soccer, Griffith fosters an even greater love for running.
"It allows me to push myself in a way that a team sport doesn't," Griffith said. "In running, you are the sole decider; you get what you put in."
Griffith began running with the cross country team during her sophomore year. She discovered long distance running demanded a higher level of commitment, a dedication she had not been able to cultivate in any of the previous sports she had played. She quickly became emotionally and physically invested in the sport. However, double stress fractures forced her to sit out during her junior year.
"For some people that would have discouraged them, but for her that was a real motivator," cross country coach Jeff Cramer said.
Griffith was determined to make a comeback as a senior during her final season of cross country. Despite her enthusiasm, she was not always able to perform at the top of her game.
"She wasn't getting weaker, she was getting tired," Cramer said.
Di Figlio could also see the negative effects of her rigorous training.
"She got so down on herself, and no one else ever did," Di Figlio said. "Fatigue definitely contributed to that."
Cramer and Di Figlio, however, both agreed that Griffith bounced back in the face of defeat. She followed their suggestions to pay closer attention to her body.
"When my achilles flares up or when I feel a shin splint, I know I'm overloading my body," Griffith said. "It needs time to rest."
Through perseverance, hard work and patience, Griffith was victorious and took first place at the 2015 APS Cross Country Championship. She later went on to take third place at the 4A State Championship.
After the cross country season ended, Griffith began entering 10ks and half marathons. On March 6th, she ran the Intown 10k and won the title of first female overall with a time of 42 minutes and 46 seconds. Her hard-earned success continues to fuel her passion for the sport.  
"It's not something that will be given to me," said Griffith. "I have to keep working every day for it."
Though sports remain a major priority for her, Griffith has found a way to balance them with the other parts of her life. She credits the stability of her life to a close relationship with her parents, particularly with her mother who acts as her trusted adviser.
"She puts things in perspective, that there's more to life than athletics, which I seem to forget," Griffith said.
Her mother, Patricia Griffith, has also served as her most influential role model. She played basketball and tennis in college, before transitioning into a competitive marathoner.
"She's so successful professionally," Griffith said of her mother. "Being athletic and having a great career makes me want to emulate her."
Her father, Andrew Griffith, has been an invaluable source of moral support at big games and meets.  
"Anytime he's there, I always perform better," Griffith said.