Guiney departs, Bockman serves in interim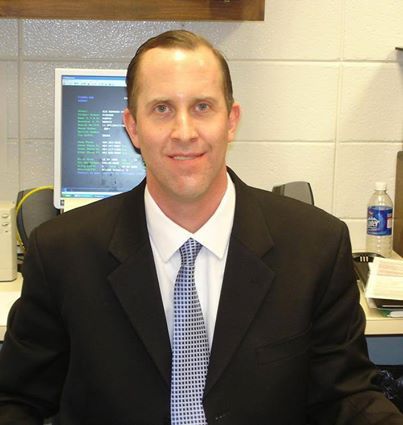 Grady Principal Timothy Guiney will leave effective Sept. 9 to become Associate Superintendent in Clayton County Public Schools pending board approval Aug. 29. Guiney declined additional comment after announcing his departure in a staff meeting earlier today. 
"While we are all disappointed that Mr. Guiney is leaving Grady after two years as principal, we are excited that he leaves for even greater opportunities and responsibilities with Clayton County Schools," Dan Sims, Associate Superintendent of Atlanta Public Schools, said. 
Following Guiney's departure, Dr. Betsy Bockman, principal at Inman Middle School, will serve as Interim Principal at Grady for the remainder of the school year. Emily Boatright, assistant principal at Inman, will become interim principal to fill Dr. Bockman's position.
"Dr. Bockman is a highly-experienced principal who understands the needs of the Grady Cluster, and I am confident she will ensure a seamless transition," Sims said.  
Matt Westmoreland, the District 3 Representative on the Atlanta Board of Education, shared similar sentiments about his confidence in Dr. Bockman.
"She's a phenomenal principal," Westmoreland said. "She's respected by parents and staff at every school she's been at. She's a strong leader for the school, and I know that she will continue to lead Grady well for the remainder of the year."
Guiney's announcement came as a surprise to many staff members. Paul Nicolson, supervisor of Grady's print shop and yearbook co-adviser, was looking forward to a longer relationship.
"I was waiting to enjoy where he was taking this ship we call Grady," Nicolson said. "Guiney came in during rough waters and calmed everybody's fears through action. In the leadership role and being able to see us through the controversies and climate of change with the new superintendent and directives."
Guiney took over after the school was rocked by an investigation into allegations of out-of-district athletes on the football team and other negative media coverage, including an incident in which a student brought a gun to campus and accidentally shot herself. His permanent replacement will be charged with guiding the school through an expansion with a new building to be constructed as enrollment continues to climb. Voters approved a special local option sales tax this spring to fund district building projects, including Grady's new building to replace portable classrooms near the gym.
Guiney began his tenure at Grady during the 2014-2015 school year, replacing Dr. Vincent Murray, who had served as Grady's principal for 23 years. Mary Van Atta, AP European and US History teacher, believes Guiney was successful in carving his own legacy. 
"Mr. Guiney has managed to follow a principal who had been here for so many years and establish his own way of doing things but also navigate the different groups, whether its faculty, parents, district, students," Van Atta said. "He has continued a sense of excellence at Grady."
The selection process began March 5, 2014 with 155 original applicants. After reducing the applicant number to 42 candidates, those selected were asked to write, give an initial interview, give a community interview and then an interview with Superintendent Dr. Meria Carstarphen.
In the spring of this year, the search for a new principal will begin. According to Westmoreland, the process that Guiney had to go through has been adjusted to involve the community more.
"The process has become a little more robust," Westmoreland said. "Since [Guiney's application process], we've grown the process a little bit. It starts with engaging parents and staff about what they're looking for in a school leader and then that feedback is used to create a job profile on the website."
Westmoreland described that once applicants apply through the website, there are screening processes in order to meet the candidates, and eventually the information is sent to the superintendent to make a decision.
Grady parents agree that the application process should be adjusted from when Guiney was hired, to account for Grady's shifting needs.
"I would imagine this time, I mean Grady is at a very different place than we were three years ago," Grady parent Sharon Bray said. "Three years ago, we were really working on that transition out of the academies and back into one school, since then we have transitioned from [End of Course Tests] to Milestones (which replaced End of Course Tests) and this new [school] ranking system and all of that. So, I think that's going to be important going forward just to navigate those changes and other changes."
Members across the community appreciate the work that Guiney has done for the school and said they are "saddened" to see him go.
"The past couple of years he has run a good ship," said art teacher John Brandhorst, who served on the committee two years ago that recommended Guiney as principal. "He managed to do it with great rationality. I'm very sorry to see him go. I hope the transition to Dr. Bockman will be a smooth one. She knows the Grady community very well, and [the community] knows her."
Westmoreland agreed that Guiney fit in well with Grady and had an incredible impact.
"I appreciate all the progress the school has made under his leadership," Westmoreland said. "I know every parent and staff member speaks very highly of him, and I'm grateful for his service to APS and the kids."
Guiney previously served as principal of Adamson Middle School, in Clayton County, for four years. In 2013-2014, Guiney won Principal of the Year for Clayton County Schools.
He began his career as a language arts teacher at Morrow High School in 2002. 
"Once I got out in the business world, I realized that I really had a passion for literature and language, and I also felt like I had a passion for helping kids," Guiney said in a previous interview with the Southerner. "I thought teaching would be a good fit so I actually went back [to school]." 
Students said Guiney made an impact. Some who also went to Inman said they remember Dr. Bockman as enforcing strict rules, particularly dress code.
"I feel like Guiney's been here for a while and everything's been pretty stable," said junior Graham Williams, who also attended Inman."I feel like it [the transition to Dr. Bockman] will be a little rough at first, but it will be fine. I think she runs school pretty tightly from what I've seen at Inman when I was there. All I'm saying is that I don't want to tuck in my shirt."
Dr. Bockman, who will begin as interim principal Sept. 12, has also previously worked at Morningside and Garden Hills elementary schools, Coan Middle and as an area superintendent. Her involvement and familiarity with the Grady cluster will be an advantage to her in the upcoming year.
"During the past two years, I've watched Dr. Bockman and Mr. Guiney work together; so I've observed the strong working relationship that they've forged. I think because of that, Dr. Bockman has a better idea of what's going on at Grady," Bray said.
Grady parents have high hopes for the rest of this school year under Dr. Bockman.
"She's a consummate professional and has high expectations for her staff, for her students, for her community," Abby Martin, former Grady parent who is still active in her community, said. "To her, it's about including all kids and valuing their education."
 -With reporting by Alex Langan and Cory Dillard.