New baseball coach emphasizes focus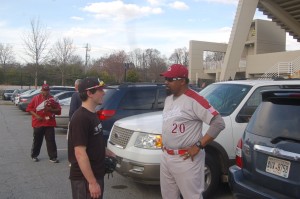 Hang on for a minute...we're trying to find some more stories you might like.
By Matt Wood
This season, the boys varsity baseball team hopes to improve from a mediocre finish last season with the help of Darryl Pearson, the new head coach. Pearson has a wealth of coaching experience in baseball, football, track and softball at a number of different levels.
Pearson began coaching because of his desire to mentor athletes.
"I got into coaching because I have a passion to serve young student athletes and watch them grow, mature and excel in their desired sports," Pearson said. "My favorite part is when young student athletes go on to college and come back with a college degree or athletic honors and serve in their communities."
As the head coach at Grady, Pearson brings a "no excuses" attitude, staying on players to help them stay focused and develop in practice.
"[With coach Pearson], we have a more structured practice, and a lot more discipline when it comes to missing practice, which helps with attendance," senior Charles Bailey said. "He's very stern in practice, nobody is allowed to mess around, everybody has to stay focused and I think it will pay off. I think that's what we needed in the past few years, and it will help us get further in the state playoffs."
While Pearson is strict during practice, he still brings a positive attitude to the team. "[Coach Pearson] has a very supportive attitude, and talks about how nobody is better than us and how we need to compete each time we come up to the plate," freshman Ben Lepik said.
Before serving as a coach, Pearson played baseball and football in high school, going on to play collegiate football at Alabama State University, and eventually to play professionally. After two years of playing wide receiver for the New York Jets, Pearson moved on to start coaching in the various sports he played.
Pearson began his coaching career at Alabama State University as an assistant football coach, then filled the same role at Fayetteville State University, also taking on the role of head softball coach. He  then moved into high school coaching and became an assistant football, baseball and softball coach at Selma High School in Alabama, before moving to Georgia, where he began coaching football and track at Pebblebrook.
Next, he served as an assistant football, head softball, and head track coach at Booker T. Washington High School. He then moved on to become the assistant football coach for Northview High School while serving as head baseball coach for Jean Childs Young Middle School. Finally, Pearson landed at Grady as the head baseball coach, where he hopes to lead the team to new heights. 
"Our success will come from the players that buy into the program through hard work, discipline, dedication, desire and focus all of these traits toward playing the game of baseball.
"Given coach Pearson's leadership," Lepik said, "I believe we can be a very successful team, and am excited about the opportunity we have to do well."