Baseball team rides stellar pitching to win over Redan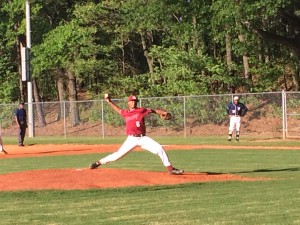 On April 21, the Grady Knights baseball team earned a 1-0 victory at home against the Redan Raiders. After losing to Redan 16-1 earlier in the season, Grady buckled down to hold the Raiders scoreless and keep their playoff hopes alive.
While the offense was only able to muster one run, that turned out to be enough as junior starting pitcher Charles Bailey, who entered the game with a 4.80 earned run average, held the Raiders' hitters in check for seven innings, lowering his ERA to 2.78.
The first two innings were quiet, with no runs for either team. Redan came close to scoring first in the top of the second. A single up the middle and a walk followed by a wild pitch put runners on second and third with two outs. Bailey was able to end the threat, getting the next batter to hit a weak ground ball to the pitcher.
Bailey got some help from the defense in the top of the third, as second baseman Davis Schwartz turned a grounder up the middle into an inning-ending double play, stepping on second base himself and firing to first to turn two.
The bottom of the third looked to be uneventful when Grady's first two hitters were called out on strikes. Things changed when the order turned over, as senior Amyr Smith coaxed a walk. Schwartz came up next and drilled a line drive that hit the Redan pitcher in the chest and bounced away, allowing both runners to be safe. Smith and Schwartz took second and third on a wild pitch with senior Cameron Tucker at bat, who then walked to load the bases.
On the 2-2 pitch to senior Brandon Cannonier, Smith broke for home. Luckily, the pitch was in the dirt and bounced away from the catcher, so Smith was able to slide in safe with the only run of the game as Cannonier struck out on the next pitch.
Redan threatened again in the fifth, as a runner reached on an error and took second on a wild pitch with two outs. The next batter struck out on a dropped third strike and reached first safely. Catcher Vernon Colton made a heads-up play, throwing to third and trapping the runner in a rundown, tagging him out to end the inning.
Though Grady couldn't push anymore runs across, they protected their lead until the end of the game. Redan opened up the seventh inning with a single and a sacrifice bunt, putting a runner on second with only one out. Colton promptly threw out the runner trying to steal third, and Bailey struck out the next batter to end the game.
Grady improved to 8-7 in the region, now only one game behind Arabia Mountain in the standings. The Knights next game is Wednesday, April 22 at home against the St. Pius X Golden Lions.