More than a team, G3 is a family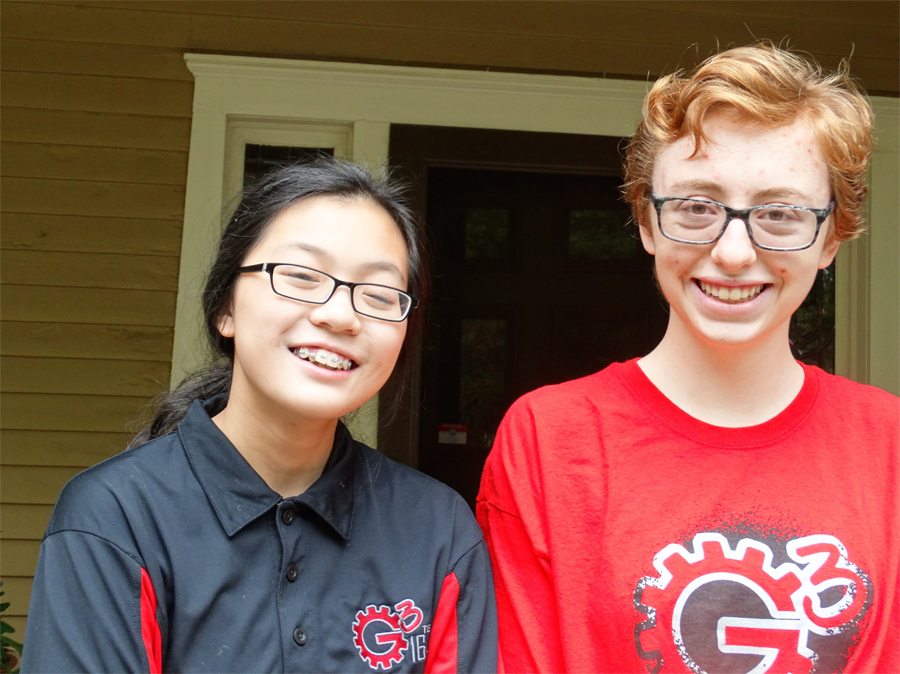 By Clarissa Mullig
When asked what her favorite part of being on Grady's robotics team is, Alex Lin immediately responded, "Competition. Sitting in the stands. screaming and cheering with your buddies for an amazing robot that you helped and collaborated with others to build, a magnificent product of your sweat and hard work and innovation."
"All the hard work really pays off," Coach Andrew Nichols said. "The camaraderie and excitement of being part of a successful team more than balances the time and work that students put in."
The robotics team, better known as G3, helps students obtain engineering experience, teaches marketing techniques and develops leadership skills.
"While engineering is the focus of our activities, our ultimate goal is to grow students as leaders and problem solvers," Nichols said.
A typical robotics meeting begins with a briefing detailing the day's agenda. Once the briefing adjourns, members split up and begin working. In the fall, new members take part in the VEX Robotics Competition, which is designed to help them learn the ropes of robotics. In the spring, the team prepares for the FIRST Robotics Competition, a program for high school robotics teams all over the world.
"No matter whether you are building robots, raising funds or mentoring elementary school kids, hard work and a dedication to excellence are central to everything we do," Nichols said.
Lin, a sophomore, joined robotics in the beginning of her freshman year. Though she was initially unsure she'd enjoy the frantic piecing together of robots, Lin is now one of the most enthusiastic and involved members of the team. The program has not only given her a deeper understanding of automation but made her more proficient in mechanical design and tools.
Lin believes the most valuable thing she's gained from robotics, however, is a boost in her social skills.
"I'm normally quiet and uncomfortable around people I don't know well," Lin said. "But I believe my own confidence has risen since joining robotics. I'm willing to lead a group of rookies in designing their robot this year and introduce them [to] the world of robotics."
Sophomore Emma Slutsker recently made the robotics team as well. Tryouts, which took place during the second week of school, involved icebreaking activities, teamwork games and debates. Slutsker decided to tryout after several members recommended it to her but was perhaps even more reluctant than Lin, fearing the challenges she might face as a robotics rookie.
"I didn't listen to anybody because I wasn't that big into engineering, so I was just like, 'No. I like biology. Don't make me join this,'" Slutsker said. Slutsker soon found she didn't need to worry. G3 emphasizes that new recruits don't have to be experts; any necessary skills can be taught to them once they join. Their encouraging attitude convinced Slutsker to give it a try.
"It's been a great experience so far, and I think that it's going to benefit me a lot," Slutsker said.
Both girls highly recommend that others consider joining G3. "We're a friendly group," Lin said. "We reach out to all kinds of people."
"I recommend that any student interested in building team-work and leadership skills consider joining," Nichols added. "There is really a place for almost every interest on our team."
Slutsker agrees. "There isn't really a 'robotics type,'" she admitted. "There are a lot of robotics people, and they're all really nice and fun."
"I think 'family' is a good word to describe us," Lin said. "As we get to know each other, we get to develop connections that may last a lifetime. Each one of us cares for each other. We're willing to sit with someone and give them help when they need it."
Nichols has seen the impact that G3 has on its members.
"I see inexperienced freshmen grown into confident leaders and problem solvers before leaving the team for other amazing opportunities," Nichols said. "I enjoy working with the students most of all.  Building a team, building young leaders, and building robots; it's all a lot of fun and very rewarding."