A sweet 16 seconds on the 16th; Walker 3-ball sends Knights to state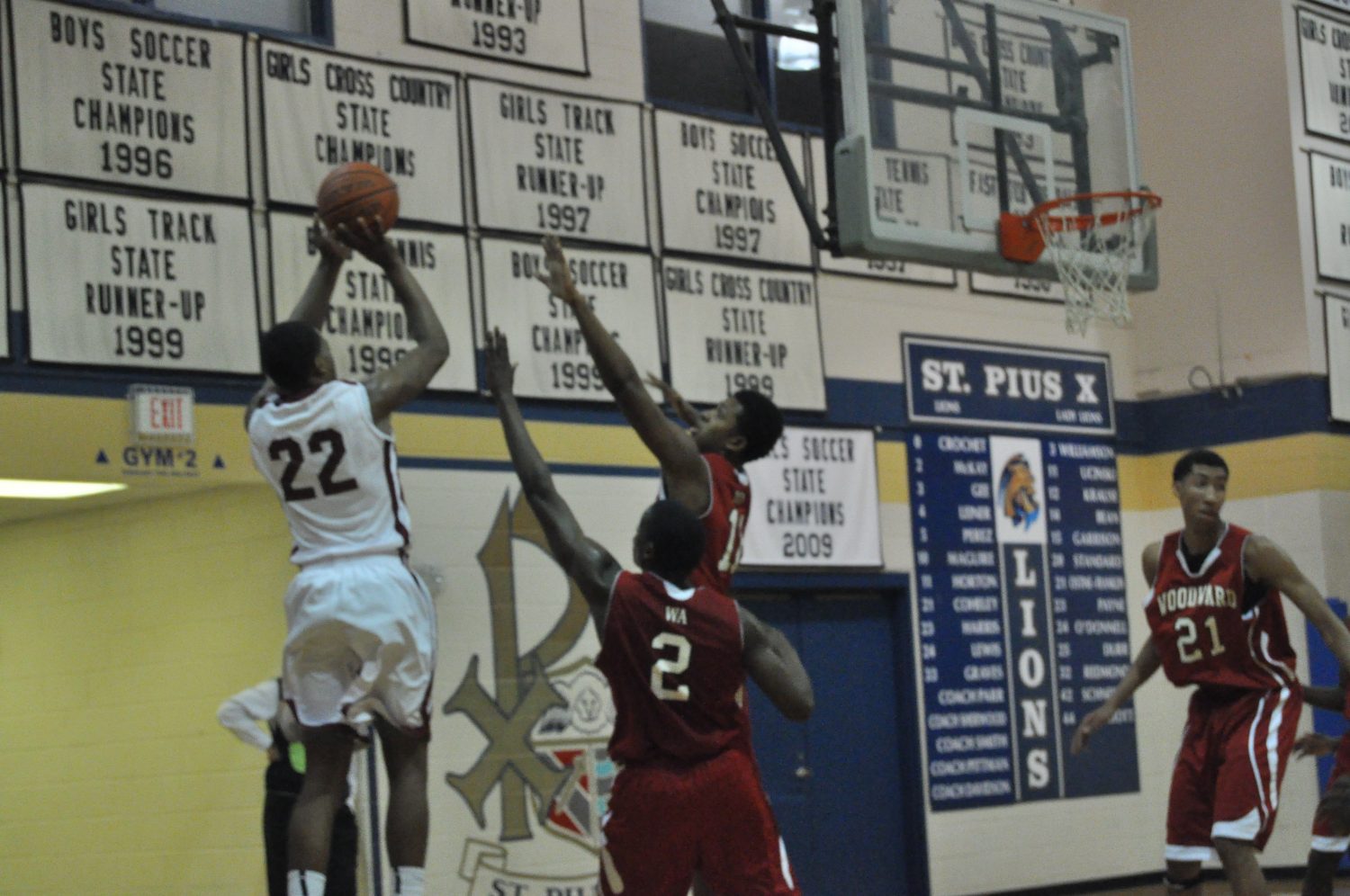 The Southerner
February 24, 2012
By Phillip Suitts
16 seconds.
16 seconds to score two points.
16 seconds to make state.
That's the challenge Grady's boys basketball team faced last Thursday, Feb. 16, in the opening round of the 5-AAA regional basketball tournament.
Down 50-49 Grady faced the prospect of missing the state playoffs after one of the team's most successful seasons in recent memory.
This is where junior guard Chad Winfrey comes in.
With the clock winding down and the offense stalling, Walker hoisted up a 3. As the ball went through the basket, the crowd of 15 or so Grady fans exploded in a cacophony of excitement. After Woodward's desperation heave fall well short, the fans stormed the court, surrounding Walker and his teammates.
The game's exciting finish made up for a slow start.
Woodward jumped out to an early 7-2 lead, foreshadowing the tough game it would give heavily favored Grady. Junior center Brandon Watkins scored five of Grady's next six points, culminating with a jumper from left of the key, giving Grady a 8-7 lead, its first of the game.
Woodward would re-take the lead on the next possession on a put back, but the first quarter ended with Grady still up by one, 12-11, after senior forward Gregory Jennings converted a three-point play.
Grady extended that lead to 8 points with about 2:30 left in the second quarter, but a 9-0 run by Woodward to end the half gave them a one-point lead, 27-26, at the break.
Watkins picked up his third foul with 6:50 left in the third quarter and had to sit out for a couple minutes. In his absence, Woodward extended their lead to six points, 36-31. Watkins return re-energized Grady. Watkins had a block on back-to-back possessions and then scored inside to bring Grady within one.
A driving layup by senior guard Sedarius Smith with less than a minute left in the third quarter gave Grady a 37-36 lead, their first lead in the second half. Woodward took the lead right back though, scoring on their next possession, and ending Grady's 6-0 run.
Grady scored the first four points of the fourth quarter to take a 41-38 lead. Woodward pulled within one and then Watkins scored five straight points, extending Grady's lead to six.
After two straight baskets by Woodward brought them within two, junior guard Chad Winfrey scored on a runner in the lane, giving Grady a 48-44 lead.
After a charge on Jennings, Woodward scored on its next possession.
Winfrey then dribbled through Woodward's defense and found an open Watkins, who was fouled. Watkins made one of two free throws putting Grady up 49-46.
Woodward, however, just wouldn't go away and a jumper from the top of the key made it a one-point game.
As Winfrey tried to dribble out the clock, he was stripped of the ball. Woodward's guard had an open lane to the basket and was about to score, until Winfrey came out of nowhere and swatted the ball out of bounds just as Woodward's guard was going up for the layup.
But Woodward still had the ball with about a minute left, and with no shot clock in high school basketball, could run down the clock and take the final shot of the game.
Woodward, however, decided not to shoot with enough time for a rebound and put-back. The decision paid off initially as Woodward controlled the rebound and scored on a short-range jumper
But the quick rebound and bucket left time for Walker to be the hero.