Former Grady student charged with murder of Lee Lowery, Class of 2010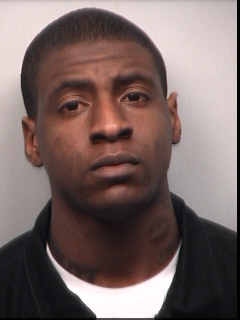 Hang on for a minute...we're trying to find some more stories you might like.
After his friend Lee Lowery III was murdered on Nov. 12, Oliver Blalock watched the security camera footage of Lowery's final moments. The clip, released to the public by the Atlanta Police Department, shows Lowery waiting to be buzzed in to a residence inside the Ford Factory Lofts on Ponce de Leon Avenue. A tall, thin man with short dreadlocks, wearing camouflage pants and a sweatshirt, approaches and grabs the package Lowery holds. The segment abruptly ends as Lowery turns toward his assailant; the footage of the shooting was not released.
"I thought I didn't know the guy who [allegedly] did it," said Blalock, Georgia State University junior and a member of Grady's Class of 2009.
When Antonio Johnson was arrested on Dec. 24 and charged with the murder of Lee Lowery, Grady Class of 2010, Blalock realized he had been wrong. Johnson was a classmate of Blalock's at Inman Middle School and Grady.
"He never had hair like that, so I didn't recognize him," Blalock said. "But then I saw the mugshot, and he had cut his hair I guess, and he looked like the same. It was just really surprising that I actually know the person and kind of grew up with the person who [allegedly] did it."
Johnson walked Grady's halls from 2005 until at least the fall of 2007—Lowery's sophomore year. After Grady, Johnson began running into trouble with the law. The Fulton County jail inmate information website shows he was charged with burglary in August 2008; disorderly conduct in 2009; and armed robbery, aggravated assault and possession of a firearm during the commission of a felony in February 2011. After 10 months in jail, Johnson was released on a $40,000 bond. On Nov. 12, the date of Lowery's murder, Johnson was awaiting conviction for those charges.
Forty-two days after the shooting, around 3:30 p.m., a patrol officer apprehended Johnson while responding to a vehicle theft in the Old Fourth Ward neighborhood, according to an incident report filed with the APD. It was Christmas Eve and officer D. Smith II was called to the scene of a car accident; the driver had abandoned the wreck. A few moments later, Smith received a dispatch that the owner of the vehicle was reporting his car stolen—apparently, the car thief wrecked the vehicle and then fled the scene.
When Smith arrived at the corner of North Avenue and Parkway Drive, he found the vehicle owner accompanied by Antonio Johnson. After searching for Johnson's name in the police database, Smith realized there was a warrant for Johnson's arrest for murder.
Johnson is currently being held in the Fulton County jail on charges of felony murder, murder, armed robbery, aggravated assault with a deadly weapon and possession of a firearm during the commission of a felony. APD public affairs officer Sgt. Greg Lyon declined comment saying he cannot discuss details of the ongoing investigation.
"NORMAL KID STUFF"
Still mourning the loss of Lowery, who was widely remembered by members of the Grady community, faculty and former students had to wrack their brains to recall Johnson. Registrar Chinaester Holland said federal privacy regulations prevent her from disclosing whether and when Johnson attended Grady. Former teacher Janet Milton, however, said she taught Johnson in an 11th-grade American literature course in 2007.
"I recall that he was not the loud, rambunctious type of student," Milton said. "Actually, he was quiet and unassuming. He often appeared to have been troubled. Something was terribly wrong at home or elsewhere."
Milton did not recall Johnson returning to the class for the second semester of the 2007-2008 school year.
Sage Adams, who graduated in 2009 with Blalock, spent time with Johnson at Inman and Grady and believes Johnson attended Grady from 2005 to 2007 or 2008. Adams never saw Johnson as violent or disruptive.
"We had classes together in eighth grade, and we both liked video games," Adams said. "Normal kid stuff. We just hung out based off that after school."
Adams rarely saw Johnson after he left Grady at some point during the 2007-2008 school year. But in 2010, during Adams's sophomore year at Georgia State, the two reconnected and began spending time together again. Johnson had joined the Grady rap group Rebel Gang and taken the name Trigger Slim.
"People like to be hard for rap," said Adams, who discounted the significance of Johnson's new moniker. "That's what I kind of thought of it as."
Later Adams realized "Trigger Slim" was more accurate than he'd thought. In January 2011, Adams and Johnson had been hanging out fairly regularly during Adams's winter break. One day, Adams said Johnson brought a friend to his house to play video games. Adams said the friend pulled out a pistol and stole his video game console. Adams said he believes Johnson led the friend to his house with the intention of robbing him.
"He planned it, but they couldn't ever actually put the charges on him for being an accessory to it," Adams said.
During the same month, Johnson was accused of robbing a MARTA commuter at gunpoint on Jan. 25. Johnson was indicted on Feb. 18, 2011 for armed robbery, aggravated assault and possession of a firearm during commission of a felony, documents obtained from the Office of the Clerk of the Superior Court of Fulton County show.
Transcripts of trial proceedings show assistant district attorney Stephanie Graham, who was prosecuting Johnson for the MARTA robbery, said the case was strong. Graham said Johnson was looking at up to 20 years in prison—but the case was not settled quickly.
A YEAR OUT ON BOND
Transcripts from Johnson's second bond hearing for the January armed robbery, held in November 2011, reveal the judge in the case, Marvin Arrington, was initially skeptical about granting Johnson bond. Johnson had already been denied bond in the summer of 2011.
"I think if he's released he's going to be a threat to the community," Arrington said. "He's going to commit additional crimes."
During the hearing, Johnson's defense attorney, public defender Derek Rouse, brought Johnson and Johnson's mother, whose name was not recorded because she was not sworn in, before the court.
"First of all, I want to know how you doing, sir," Johnson said.
Johnson went on to claim the case against him was the result of "a misunderstanding" and told Arrington that he had graduated from Grady in 2009, although a copy of the 2009 graduation program obtained by The Southerner did not include Johnson's name.
During the hearing, Johnson's mother described the difficulty she had visiting her son, who had been moved to a facility in Hall County.
"He's not on the bus line; that's why we are trying to see [if he can be moved to the Fulton County jail]," Johnson's mother said. "We don't have a car. I won't be able to see him."
Although Johnson's attorney told the judge additional conditions, such as daily curfew or ankle bracelet monitoring, could be imposed on the defendant, Arrington's bond motion for the MARTA armed robbery did not require those restrictions. The document stipulates Johnson will be notified of his next court date by mail, will be arrested if he does not appear on that date and must not have direct contact with the victim, whom Johnson claimed he had never met before the robbery.
"When you see so many of these young people, particularly Afro persons, get in trouble, and they don't have no money, they don't care," Arrington said.
Atlanta criminal defense attorney Patrick Deering said it is quite common for suspects awaiting conviction to be released from jail in Georgia, particularly when the county gets overloaded with cases and inmates. In fact, overcrowding in Fulton County had spurred Johnson's transfer to the Hall County facility, according to the bond hearing transcript. Johnson was released from jail on Dec. 24, 2011—one year before he would be arrested for Lowery's murder.
Exactly two weeks after Lowery's murder, the lead investigator in the case, Detective Dwayne Sutton, signed an affidavit issuing a warrant for Johnson's arrest. Police reports show Johnson became a suspect after a witness to the murder picked him out of a photo lineup. A second person called the APD after he watched the security footage of Lowery's final moments; according to the documents, the person told the police he had attended high school with Johnson.
Deering said in his experience homicide investigators usually turn a case over to the fugitive squad if they cannot find a suspect within 48 hours. The fugitive squad may search for another few days, and then stop actively pursuing the suspect. A general warrant remains on the books in the hopes that an officer will eventually apprehend the suspect—exactly what happened in Johnson's case.
"They'll find notorious criminals just on a traffic ticket," Deering said. "That happens quite often. You can't have a homicide detective doing nothing but looking for this guy."
"SHOCKED ON BOTH ENDS"           
As Johnson headed back to the Fulton County jail on Dec. 24, 2012, exactly a year after being released on bond, many who knew him were shocked at the news of his arrest—if mainly because they never expected a friend or acquaintance to be accused of murder.
"It was just really surprising that I actually know the person and kind of grew up with the person who did it," Blalock said. "He was never like a good kid, but I didn't think he would kill someone."
Oliver Blalock said Johnson was not a great student and got in fights at Inman.
"He was like really small and skinny, but he wasn't afraid to fight people frequently," Blalock said.
Adams recalled Johnson was known for borrowing things and never returning them. But there was nothing especially extraordinary about Johnson's middle school unruliness, Adams said.
"All kids jone a little bit and all of that, so he wasn't like famous for joning," Adams said. "In middle school, we had another class together, I think like a foreign language or something. We'd do prank calls to students. Nothing mean or anything."
Blalock ascribed Johnson's discipline issues to his upbringing in a rough neighborhood near Centennial Olympic Park.
"[At Grady] there's a lot of kids like coming from rough neighborhoods," Blalock said. "Part of their whole mentality is to not do what they're told. I guess as Johnson got older it became more serious."
Tasha Kendrick, the mother of Diamonte Kendrick, a member of Rebel Gang and Grady's class of 2011, said she had invited Johnson into her home and considered him a "nice, quiet young man."
"Tony would be the one that would be laid-back," Kendrick said.  "He's a good listener."
Kendrick said she knew Lowery as well, mainly from brief interactions in the halls of Grady when Diamonte was a student. She said she was shocked by the news of Lowery's murder, and even more disturbed when she learned Johnson had been arrested and charged with the crime.
"I was shocked on both ends," Kendrick said.  "Shocked that it was Lee, and of course when I found out that Antonio was arrested for the crime. I'm shocked and saddened by Lee's mama having to lose her son, and I'm shocked by Antonio being in jail."
Blalock said he found it difficult to understand how the middle-schooler who loved video games and pranks could grow up to be accused of murder.
"It's weird, hanging out with someone that young and then them transforming so greatly," Blalock said. "I think he was too far in to back out. The way his mind thought, he did what he had to do."