Grammy Awards highlight people of color, female artists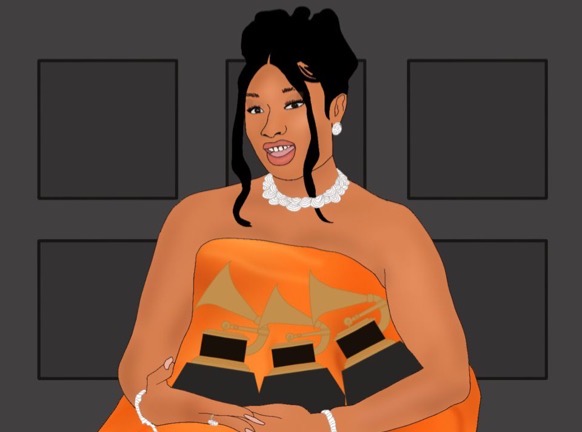 Award shows in 2021 have been far from normal, and the 63rd Grammy Awards were no exception.
The show rotated between an outdoor seating arrangement around the Los Angeles Convention Center, where artists accepted their awards, and an indoor stage for performances. Those attending the show in-person were tested for Covid-19 prior to the show, were required to wear masks and were seated at socially-distanced tables.
"I found it a bit ironic that everyone wore masks but then hugged and took their masks off to speak," junior Jamie Roode said. "I think the masks were just to show they were being safe, but I think nobody really cared about it because they all got tested. They could've been more safe about contact with each other, but that's on the celebrities, not the Recording Academy." 
The Recording Academy recognized several female artists throughout the evening, including one who made history. With her contributions to Megan Thee Stallion's "Savage (Remix)" and her Best R&B Performance win for "Black Parade," Beyoncé Knowles-Carter became the woman with the most wins in Grammy history, totaling 28 awards.
"Beyoncé's accomplishment is a really important message to women, especially women of color," sophomore Triston Cruz-Tucker said. "She gives girls everywhere a great role model to look up to."
However, the Grammys didn't stop for the Knowles-Carter family. Beyoncé's 9-year-old daughter, Blue Ivy Carter, was awarded her first Grammy for her role in Beyoncé's music video for "Brown Skin Girl."
"I think winning a Grammy is awesome for her especially at her age," senior Mady Smith said. "The song sent an inspiring message to Black and Brown girls all over the world, and for her to not only be a part of the song but to win a Grammy for it is really exciting." 
Taylor Swift also made history as the first woman to win the award for "Album of the Year" three times.
"I think the accomplishments of both Beyoncé and Taylor Swift are incredibly impressive, and they both deserve it," junior Maggie Opsahl said. "It also shows that women hold a lot of power in the music industry and shows young girls who may be aspiring musicians that they can do whatever they set their mind to."
Other female artists, like Billie Eilish, Dua Lipa, H.E.R. and Megan Thee Stallion, dominated the event in a variety of categories. Megan Thee Stallion took home three awards including "Best New Artist," "Best Rap Song" and "Best Rap Performance."
"I think the abundance of female nominations shows the audience that the Recording Academy is trying to be more inclusive," Roode said. "It's wonderful, but they are nowhere close to holding the same standard for artists who are people of color. I think it's really important that the Grammys shined light on all the women nominated and involved, and they should continue to do so in future years."
Other artists used their performance time to bring more attention to social injustices plaguing the nation.
Lil Baby captivated audiences with "The Bigger Picture," his anthem for Black Lives Matter, in a performance set in a staged police brutality scene. He was joined by activist Tamika Mallory and rapper Killer Mike.
"Lil Baby's performance was really impactful," Cruz-Tucker said. "I feel like it was meant to reach every audience member no matter the race. The social problems we face today affect everyone no matter age, race or gender, and I think the performance did a really good job of showing that to people."
However, not all artists received deserved recognition, according to Smith. K-pop band BTS, which holds the record for most-viewed YouTube video in 24 hours, lost the Grammy for "Best Pop Duo/Group Performance" to Ariana Grande and Lady Gaga. The award would have been their first Grammy win.

"I personally was hoping that they would win but wasn't surprised when they didn't because of the reputation that the Grammys has for snubbing people of color," Smith said. "The other songs in the category were good, but their song outperformed everyone in the category, so it was disappointing to see the loss."
Harry Styles opened the show with a performance of his hit song "Watermelon Sugar." He then passed the spotlight to Billie Eilish, Haim and Black Pumas.
"I loved everybody's performances, and my favorite part was watching the artists watch each other perform," Roode said. "It showed a real sense of unity that I think we aren't used to seeing."
The focus of the show was the artists and performances, while the awards themselves seemed to be an afterthought. 
"I really liked how the show focused more on the artists this year," Smith said. "There's always controversy with the awards since they're seen as the most important part of the night. Focusing on the artists and their performances was a really nice change." 
Several small music venues, such as the Troubadour, Apollo Theater and Station Inn, received special segments to share their history and present awards to nominees.
"Small businesses have suffered so much throughout the pandemic, especially the kinds of performance spaces that were spotlighted," Opsahl said. "I think it's cool that the Grammys shed light on all of these venues, because now more people are aware that they exist."
From start to finish, the show highlighted important issues and provided important recognition to artists.
"The show felt really personal and not so much like I was just watching an award show," Roode said. "It felt like I watched a mini documentary of the lives of the artists, and it made the buildup towards the awards that much better."