Atlanta Braves 2014 Season Preview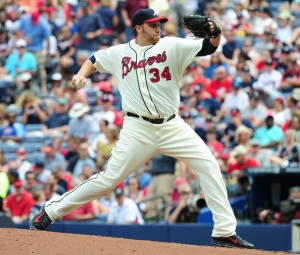 Last year the Braves exceeded expectations by finishing with a record of 96-66, beating out the Washington Nationals to finish first place in the National League East division. They accomplished this despite dismal performances from some of their regular starters, including a historically awful season from centerfielder B.J. Upton, an offseason acquisition from the Tampa Bay Rays.
The Braves continued the Atlanta tradition of poor playoff performance, though, as they were beaten out in the National League Division Series by the L.A. Dodgers three games to one.
Highlights from the season include the emergence of several young stars, including Freddie Freeman, Julio Teheran, Mike Minor, Evan Gattis and Andrelton Simmons. The Braves had a lot to look forward to going into the offseason, despite losing all-stars Brian McCann and Tim Hudson to free agency.
Though the Braves had great success in 2013, there were many aspects of the team that needed improvement. Second baseman Dan Uggla continued to struggle, as his batting average dropped for the the third season in a row and his strikeout totals increased during the same period.
Many fans also wanted the Braves to pursue a veteran starting pitcher to stabilize a rotation full of young arms. They invited second base prospect Tommy La Stella to spring training camp in order to assess the possibility of giving him the starting job assuming the Braves could work out a trade for Dan Uggla. The Braves also looked into getting second baseman Brandon Phillips from the Cincinnati Reds, but were unable to work out a deal.
The Braves also showed interest in Rays former Cy Young Award winning starting pitcher David Price, but a deal for him was never finished. The Braves hadn't made any big moves until that point, so it seemed like it would be a quiet spring. Instead of signing new players, however, they began a trend of handing out massive contracts to their young star players. It began with first baseman Freddie Freeman, who received a contract extension over eight years, and agreed to a two-year deal with right fielder Jason Heyward. A week later they signed starting pitcher Julio Teheran for six more years, closer Craig Kimbrel for four more years, and shortstop Andrelton Simmons for seven more years.
This trend of extending contracts caught on with other teams as well, with the Angels, Tigers, and Dodgers all signing Mike Trout, Miguel Cabrera, and Clayton Kershaw, respectively, to long contracts.
The future was bright for the Braves, but midway through spring training, disaster struck. Starting pitcher Kris Medlen was forced to miss the entirety of the 2014 season to get his second Tommy John surgery performed. Likewise, starter Brandon Beachy would also miss the entire year to undergo his second Tommy John surgery in as many years. Mike Minor, another starter, wasn't expected to pitch until mid-May due to a shoulder injury. This was a tremendous blow to the Braves' pitching staff, as Julio Teheran and Alex Wood would be the only returning starters from last year. Also, since the Braves chose not to extend starting pitcher Freddy Garcia's contract, they were forced to use some pitchers with no prior major league experience.
With time running out before the season began, the Braves made two moves to bolster their rotation by signing free agent starting pitchers Ervin Santana and Aaron Harang to one-year contracts. Santana had previously had a career year with the Royals, and Harang, a veteran, was coming off a disappointing season looking to bounce back.
With the rotation set and a lineup full of emerging stars, the Braves burst onto the scene, commanding the division lead within the first two weeks of the season. Left fielder Justin Upton won the National League Player of the Week award by hitting four home runs in four games against the Nationals and Mets. Another highlight is that the two pitchers signed by the Braves in the offseason, Harang and Santana, have been incredibly dominant, with Harang taking no hitters into the 6th inning on two separate occasions as well as leading the league in Earned Run Average.