Sessions scorches Red Devils for 38 points; girls improve to 9-9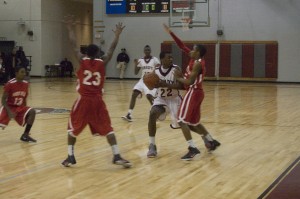 The Southerner
February 14, 2012
Hang on for a minute...we're trying to find some more stories you might like.
By Phillip Suitts
Friday, Jan. 27 was a doubly good night for Grady basketball as the boys and girls  teams both beat their Druid Hills counterparts at the Grady gymnasium.
Senior forward Gregory Sessions paced the boys with a team-high 38 points in a 78-62 win and effectively ended the game with a 30-foot 3-pointer at the end of the third quarter, which got the crowd to its feet and gave Grady a 11-point lead it would not relinquish.
Sessions also scored the game's first points on a 3-pointer on the Knights' first possession. But it was Druid Hills who jumped out to an early 6-3 lead before Greg Jennings hit another 3 to tie the game up.
Just as both teams offense stalled, Jennings hit two 3-pointers on back-to-back possessions to give Grady a 16-12 lead and force Druid Hills to call a timeout.  The first quarter ended with Grady ahead by three, 20-17.
Druid Hills came out firing in the second quarter, putting together a 6-0 and 5-0 run en route to a two-point halftime lead at 34-32.
The third quarter was a back-and-forth affair until Grady seized control with about three minutes left in the quarter. The crowd rose to its feet when juniors Kivon Taylor, a forward, and Brandon Watkins, a center, combined for an alley-oop that gave Grady a 52-46 lead, which tied for its biggest of the game at that point.
Sessions' 3-pointer at the buzzer ignited the crowd once more and gave Grady a 57-46 lead heading into the fourth quarter. Druid Hills cut the lead to 7 at one point, but it would get no closer as the Grey Knights improved to 18-3 on the season and solidified its hold on first place in Subregion 5-AAA, Division A.
While the boys needed three quarters to put away their opponents, the girls needed only two.
A 15-0 Grady run that included the first and second quarter gave the girls a lead they would never lose.
Druid Hills was up 6-2 early and forced Grady to call a timeout with 3:44 left in the first quarter. Grady came out of the timeout and scored 15 straight points, holding Druid Hills scoreless for approximately 6 minutes.
By the time Druid Hills scored again Grady had built a 10-point lead, a lead that ballooned to 18 points by halftime, as Grady led 29-11.
By the end of the third, Grady had increased their lead by two and led 39-19.
Druid Hills tried to comeback in the fourth, but its effects were merely cosmetic,  reducing the final deficit to 15 points as Grady won 49-34. The win meant the Lady Knights no longer have a losing record, as they improved to 9-9.
Next up for the Grady Knights is St. Pius and Senior Night. The Golden Lions swept Riverwood on Jan. 31, the girls winning, 37-27, while the boys won 49-37.
On Tuesday, Feb. 7. Then, the Grady boys and girls will finish out their regular seasons with an away doubleheader at Washington.  If the boys win their final two regular season games they will win their sub-region.