Young Grady student makes his wave with music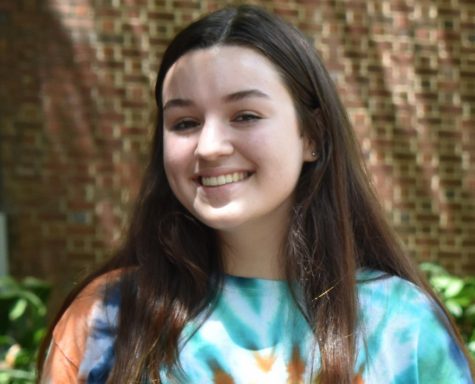 More stories from Ellie Winer
Tuesday afternoons in the band room are typically quiet. Any other day of the week, it would be bustling with students getting ready for practice. Right now, though, only two students are in the band room.
Sophomores Msemaji Anderson and Jaxon Stewart are setting up at a large iMac. As Stewart finds a beat off a sample on YouTube, Anderson goes over the lyrics he wrote the night before.
Anderson, who calls himself "Maj", released his first extended player (EP) on July 27, 2018. Titled "Wonda Boy," his EP includes  five songs, with titles including "Critic" and "Villian". He also just put out a new single, titled "'03 Flex."
''It's a good feeling that people really want to hear your music and hear your voice.," Anderson said.
Anderson started writing music when he was in fifth grade, but didn't start recording until the summer before his freshman year. He first recorded song was based off a diss track he heard.
Unlike basketball which he has loved since he was young, he has more recently developed a love for music. He used to dream of playing with the New York Knicks, but has since shifted his focus towards pursuing music.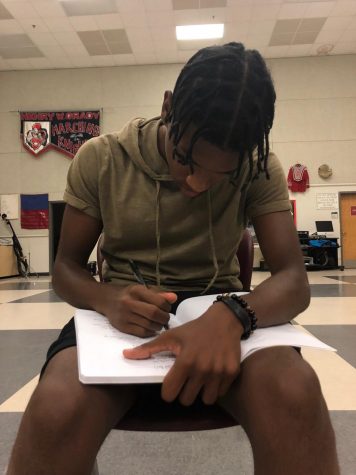 "'That was the toughest decision of my life," Anderson says. "Music slowly started overtaking my love for basketball. As of right now, I feel like music is where I want to go and what I really want to do."
He starts off writing every song with just a beat. Anderson either finds one off of YouTube or another student gives it to him. Then, he starts his creative process. He finds that it is best to write with pencil and paper and write from his heart. The song "Critic" was partly based on a breakup he experienced, and the emotions that followed.
"They say you write the best music out of emotion," says Anderson. " Whatever comes to mind, you just write it on the paper and make a good song. That's what the greatest rappers did."
Sophomore Joseph Scott has known Anderson since the beginning of his freshman year, and recognizes that Anderson is doing a lot to advance his musical career.
"I used to see the stuff he'd write," Scott says. "He's actually really good at it."
Anderson then records his songs in his makeshift studio, in his closet.
One of the first songs Anderson put out was titled "Wave", and it received 33.1K plays on Soundcloud. 
Right now, Anderson has 85 followers on Soundcloud, and almost 12,000 monthly listeners on Spotify. Anderson doesn't get the statistics for "Wonda Boy" until September, but he has high hopes. He says he's received a lot of positive verbal feedback from family and friends and was even featured on an Instagram page he didn't recognize.
The EP title "Wonda Boy" was inspired by artist Drake's producer, named Boy Wonder. Along with Drake, Anderson pulls inspiration from artist YBN Nahmir as well.
Last March, Anderson met with Stewart, a music producer based here in Atlanta. Shortly after, they starting working on music together. Anderson believes his new music will be out by October.
"We get a lot of different vibes going, a lot of different flows," Stewart says. "We are trying to work on a lot of stuff right now."
Though he has his parent's support, they don't help with his music.
"The only help I get is somebody else's beat," says Anderson. "Other than that I record, publish, put everything out by myself."
During his high school career, Anderson hopes to "blow up". He doesn't plan on going to college if this happens because he hopes to pursue a full-time career in music.
"I'm really just proud of him," says Scott. "He's dedicated to it, he's a hard worker."
Even though Anderson receives a lot of support for his music, he knows he receives criticism and hate too. However, he knows he is being true to himself and his values, which he finds very important.
"Always be you," Anderson says. "Don't try to copy anyone. Make your own wave."
Leave a Comment
About the Contributor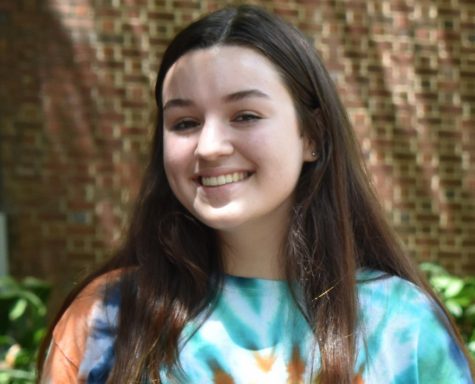 Ellie Winer, Multimedia Editor
Ellie is happy to be a photographer for the Southerner. Besides that and writing for Nexus, she enjoys music, and is a member of the Grady Mock Trial team.