Zoning plans create big stir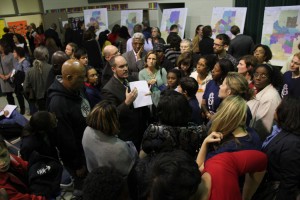 The Southerner
December 9, 2011
Hang on for a minute...we're trying to find some more stories you might like.
By Elizabeth McGlamry and Rachel Citrin
Packed like sardines, more than 700 concerned APS students, parents and administrators filled the auditorium at Parkside Elementary School on Dec. 1 to hear demographers explain their plans to rezone APS elementary, middle and high schools for the School Reform Team-3 zone. People still streamed into the overcrowded room half an hour after the meeting started, lining the back and sides of the auditorium, sitting on stray chairs or tables or even the floor, all eager to hear what the demographers had to say about their controversial plans.
The McKibben Demographics Research group, based in South Carolina, compiled four sets of maps, each representing four different proposals for each school level. Each group of maps changes the zoning lines and feeder patterns for some schools and includes plans to build a new "Midtown Middle School" on the current North Atlanta High School campus. According to the demographic report, the redistricting is necessary because many APS schools face extreme overcrowding while some schools are operating at 30-50 percent capacity. The insufficient use of resources is a drain on the APS budget, according to the demographics group.
The demographers also anticipate an enrollment "bubble," a large group of young pre-K and elementary school children, that will tax the capacity of existing middle and high schools in the next few years. The demographic group reported that if nothing is changed, Grady feeder school Inman Middle School would rise to 184 percent capacity at the peak of this "bubble," and Grady would balloon to 127 percent capacity.
Sharon Bray is a parent of three kids at Grady, Inman and Morningside—three schools directly affected by all four of the proposed redistricting plans. Bray believes redistricting had to happen but that it may come at a cost.
"[Redistricting] is hard, but overcrowding has reached a point in which we have to do something," Bray said. "But it causes more problems than it solves."
At the meeting, the demographics group stressed that these reports were preliminary and open to community revision, starting with a ranking sheet of the options given at the beginning of the meeting. People could rank the options for each school level in the four proposals or write that they didn't agree. The demographers encouraged people to fill them out even if they didn't support any of the options.
APS plans to release the survey data three weeks after all of the meetings have been conducted, sometime in late December or early January.
Ken Bleakly, president of Bleakly Advisory Group, chosen by APS to counsel the demographers, stressed that the plans were still going through edits and won't be final until the end of the year.
"We will come back with a new set of scenarios in January," Bleakly said. "We will have another set of public meetings; everyone will come and give us comments. My guess is we will then revise it one more time, and then we will make a recommendation to the superintendent. The superintendent may accept or not accept our recommendations. If he does accept them, he then turns to the school board, and they may accept it or not accept it. So there are like, four steps left in the process."
APS board member Reuben McDaniel specified that after considering community input to these four solutions, two newer, more comprehensive resolutions would be presented for consideration.
"We will create two new options based on feedback and information that we will get out of this, based on review of board members and [their] recommendations. Then we will come up with two new plans," McDaniel said. "That is when people really can say, 'How upset am I really about this?'"
Bray said she will continue to send her kids to their current public school. If the redistricting plans changes where her kids go to school, however, she may consider moving out of her re-zoned district.
"We will always send our kids to public school. I do not know if we will stay here because it is logistically not feasible," she said. "We chose the area because of the diversity and walking benefits. I feel like we will lose some of this, so we may have to move."