Hail, Boys' High
November 28, 2021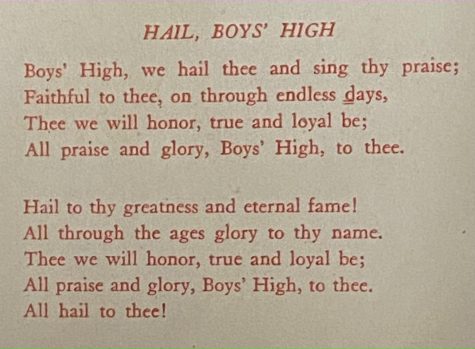 Dr. Joe Arnold, a student of Boys' High until the winter of 1946, fondly remembers his time at the school.
"It was wonderful, everything about it," Dr. Arnold said. "My time there was a blast, and it was the best place to be and to learn. There were kids there from all over the Atlanta metro area, and it was a melting pot for all different people. The atmosphere was amazing, and getting the chance to go there is one of the best things that happened to me."
One of the main features of Boys' High School was its academic programs, which were often considered the best in Atlanta.
"My educational experience was excellent at the school," Dr. Arnold said. "What was offered to us was like college, and many of us, including myself, were straight-A students, and we ate that stuff up. In the state of Georgia, the education at Boys' High was second to none, and at that time we were sending more students to higher education than anyone else."
An important reason for the quality of education at Boys' High was the faculty, some of whom had attended Ivy League universities.
"They were really what made the school what it was," Hailey said. "They were supportive and engaging, and were instrumental in what I was able to do later, just outstanding men."
In addition to academics, Hailey remembers the fun he had during his time at Boys' High.
"We didn't have any way to heat the buildings, except with a little pot-bellied stove," Hailey said. "I've been on the rifle team and knew that, obviously, if you put bullets in a hot stove, they explode. It didn't hurt anybody, but it went, pow, pow, and scared people to death."
In 1947, APS transitioned to geographic zones. Boys' High and Tech High were combined to create Henry W. Grady High School, which served a smaller zone, rather than the whole city.
"I was very upset that Boys' High ended, and still am," Hailey said. "I wanted to go ahead and continue because I wanted to be a graduate of Atlanta Boys' High School. I didn't want to go to Bass High School for my senior year."
"
It was the best place to be and to learn… getting the chance to go there is one of the best things that happened to me."
— Dr. Joe Arnold, former Boys' High student
Although he had to leave, Dr. Arnold said he still carries important lessons from his time at Boys' High.
"The school turned us from boys into men, and they taught us how to succeed in the real world after college," Dr. Arnold said. "I still carry the life lessons I learned at the school with me today."
Boys' High's primary goal was preparing students for college. According to an article in the Saporta Report by Boys' High alumnus Leon Eplan, over 90 percent of the students in Boys' High classes pursued higher education after high school.
"The college prep at the school was very good, and many of the courses taught at Boys' High were the same courses taught at colleges, including Biology, Chemistry, Physics and Calculus," Hailey said. "If you graduated from Boys' High and applied yourself, you could basically sail through the first year or two of college."
However, the benefits of Boys High weren't accessible to everyone. Boys' High was an all-white, single-gender school, meaning female and African-American students were both excluded.
"I think there was a perception that white men were the ones who were going to carry the torch, and everybody else would follow them," Brandhorst said. "I don't think that it's the way that it should be; there shouldn't be any white male-only institutions."
At that time, schools for African-American students were often considered subpar.
"African-American students were forced to attend schools that were just ridiculous," Guest-Holloway said. "Some students studied maybe with their local church, or they may have received studies from local black colleges."
In 1947, APS shifted to a co-educational model. The school was renamed Henry W. Grady High School and began enrolling female students. It took until 1961 for the school to become integrated.
"[The 1947 transition] was just part of the push of Atlanta becoming a real city," Brandhorst said. "It was a time to be modern at that point and modern meant co-ed."