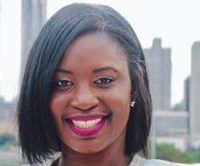 D'Jaris James
James has worked as a Human Resources professional for nearly 10 years. Throughout her career, she has partnered with students to educate and guide them on plans after graduation. She founded Secrets of a Southern Belle & Gent, a college and career coaching program designed to help students make more informed educational and career choices to encourage youth to succeed.   
Curriculum
Wants to emphasize that children succeed, become high school graduates and productive citizens.

Intends to implement a 4-point plan P.A.C.E. Promoting Financial Literacy, Civics 101, and Career Planning & Development, looking to achieve higher overall ratings of APS and increasing funding for Project-Based Learning (PBL).
Social Equity
Equity is James's leading factor for guaranteeing community transparency in her work. 

Ensures that APS will continue to support every student.
COVID-19
Community Engagement
Wants to collaborate with the community and local businesses, establishing partnerships for student enrichment and high school transition readiness.
The Southerner intends for this area to be used to foster healthy, thought-provoking discussion. Comments are expected to adhere to our standards and to be respectful and constructive. Furthermore, we do not permit any of the following inappropriate content including: Libel or defamatory statements, any copyrighted, trademarked or intellectual property of others, the use of profanity and foul language or personal attacks. All comments are reviewed and approved by staff to ensure that they meet these standards. The Southerner does not allow anonymous comments, and requires a name and valid email address submitted that are variable. This email address will not be displayed but will be used to confirm your comments. Online comments that are found in violation of these policies will be removed as quickly as possible.