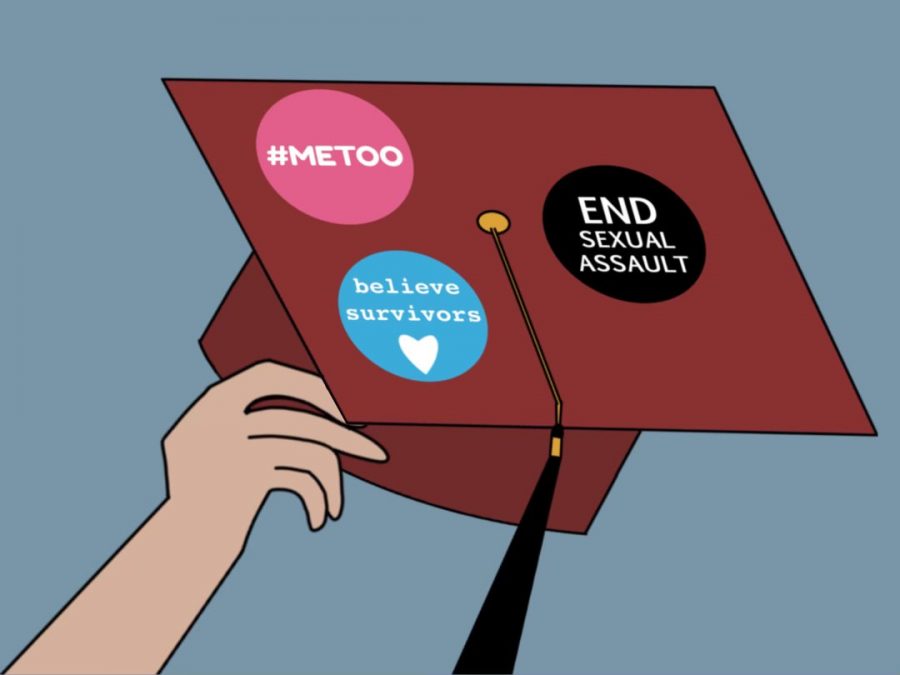 Alumni speak out in response to 'bracket incident'
When some recent Grady alumni found out about the circulation of a March Madness style bracket ranking female students, they were disgusted but not surprised.
Many alumni felt as though this bracket incident was only the tip of the iceberg of a greater cultural issue, and they promptly took to social media to confront this issue by sharing their own perspectives.
Sarah Likins, Class of '20, said that while junior boys were the only ones involved in this particular incident, it fits into the pattern of behavior exhibited by male students in the grades that came before the current students.
"What I've seen in the past is just that boys at Grady in general are very bold because they see no reason for consequence," Likins said. "They don't get consequences from these instances. I feel like the grade learns from the grade above them that they never get in trouble and that they can get away with things."
Likins described what she witnessed while she attended Grady and notes that it's similar to what she hears from her younger sister, Ava Likins, who is a sophomore at Grady. She believes the problem partially stems from a lack of respect for female students.
"When you're going to school with the other gender and you see them every day, you would think that you would have some amount of respect for them, for your fellow students," Sarah Likins said. "You go to school together. You do recreational activities and extracurriculars together. I was really disappointed that it's right there in the community."
Other alumni took this situation as an opportunity to come forward with their own accounts of instances of sexual harassment and assault they experienced while at Grady.
As a freshman, Molly Haynes, Class of '19, was sexually harassed by a male classmate via text message while on campus. When they said it made them uncomfortable, the male student claimed it was just a joke.
"You don't expect that the kind of t-shirt you're wearing is going to make you feel so uncomfortable when you're supposed to be talking about 'To Kill a Mockingbird' or some stuff like that," Haynes said. "It's just this constant culture of boys being allowed to say that sexual assault and harassment is a joke, and then when girls report it or make it known that it makes them uncomfortable, they're too emotional for reacting to this joke that we don't understand."
Sovereign Marshall, Class of '20, said a classmate would pressure her into uncomfortable and inappropriate physical situations while on the Grady campus.
She didn't fully realize the extent to which she had been assaulted until a few years later, a common effect of trauma, and at that point, she felt as though there was little to be done. When it happened, she didn't tell the administration at Grady because she didn't trust them to bring justice to her situation.
"The amount of times that I've heard things get passed off as a misunderstanding is unbelievable; so, I never went anywhere about it because it was embarrassing to me at the time, having my personal space violated like that, but to go to an administrator, I never really felt comfortable doing that," Marshall said.
Haynes agrees that many survivors at Grady didn't want to come forward because they didn't think anyone would validate their experience.
"The school is constantly victimizing the males in that situation," Haynes said. "They're like 'Oh they made a mistake. I don't want this to ruin their future or whatever.' They completely ignore the fact that this is trauma that will reside in teenage girls forever."
The administration reaffirmed its commitment to creating safe spaces for survivors to share their stories. The school plans to continue "healing circles," which are counselor-guided small group sessions for survivors and allies, for as long as students want while also developing other seminars addressing the issue of sexual harassment and assault.
"The administration takes these matters very seriously," Assistant Principal Carrie MacBrien said. "We are building programs to address these concerns which began with the listening session two weeks ago, the session with district personnel that included discussion of Title IX last week, and the healing circles with the counselors that began this week. We also met with members of the PTSO yesterday and began planning ways to include families and the community as partners in this work. We look forward to engaging with the SGA as student leaders in this effort."
Haynes is a proponent of including sexual assault awareness and consent in health education. They are optimistic that the response to the bracket incident has opened up avenues for long-lasting conversations and action surrounding the topic of sexual harassment and sexual assault in school.
"I think that there's definitely been a shift this time around versus when it happened in my grade or in the year after us because of how many people stepped forward and talked about it," Haynes said.
While it took Marshall time to emotionally process what happened to her, she's grateful the community has instantly rallied to give a platform for those sharing their stories.
"It was kind of like we all said 'finally,'" Marshall said. "We all took a huge exhale, and it was like I feel like I can finally vocalize everything I've been feeling for the last five years. One, our blood was boiling, but two, it was just like this weight off our shoulders in a way like we never felt like we could speak about this at this capacity."