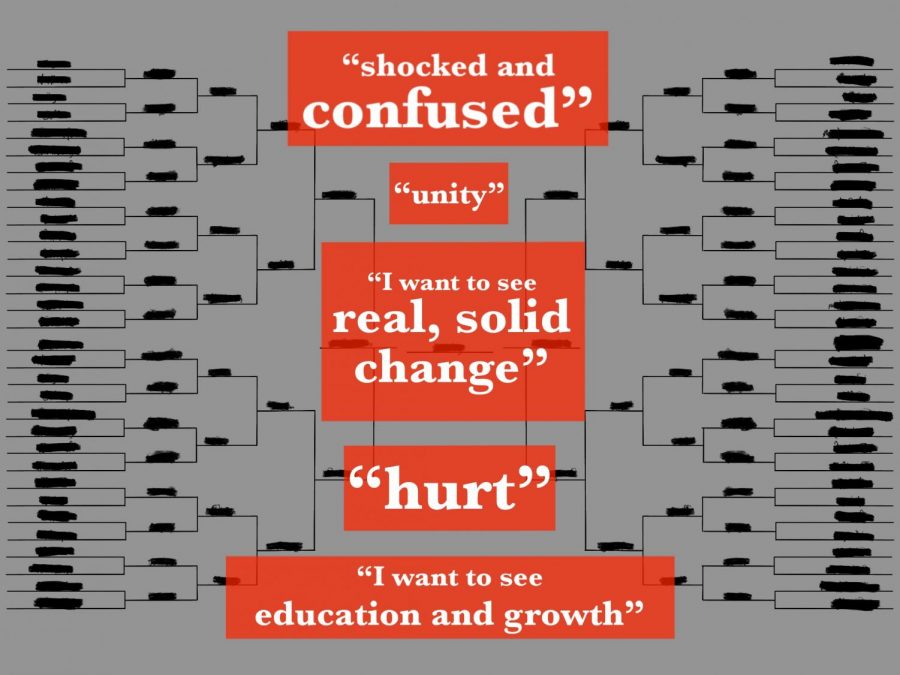 Students react to 'bracket incident'
After an incident on social media prompted a discussion about social issues at Grady, classmates separated by Covid-19 restrictions found a sense of community.
In the off-campus incident over spring break, a small group of junior boys ranked 64 junior girls by name in a March Madness-style basketball bracket. The bracket was then posted on social media, leading to instant backlash and a wave of student emotions.
"I was shocked and confused and maybe a little bit curious," junior Autumn * said. "I was wondering if it was juniors that wrote it, if my name was on it or if any of my friends' names were on it. When I heard about it more on social media, I felt disgusted and upset."
A number of female students across the Class of 2022 shared similar feelings of distress.
"The fact that these people are doing things, like a group of fourth-grade boys would do, it makes me sick," junior Alaya Foote said.
Some students felt a collective sense of worry for the entire junior class, not just the 64 girls in question.
"I was definitely worried for my peers —all of them," junior April* said. "I was upset with the situation in general. I was worried about girls on the bracket, girls not on the bracket and even friends of the boys involved. I was worried about how out of hand this situation could get also."
When junior Anna Westin heard about the bracket, she was with four of her friends, who are also junior girls. Their presence helped her process the event.
"We were all on the same page about it," Westin said."I feel like we all understood how frustrating it was to be ranked; so, we were all on the same page. It was more comforting than anything because we all supported each other and made sure that none of us took it too seriously, as it wasn't a personal thing."
The bracket incident also resulted in a broader sense of school community, centered around support and bringing attention to the issues at hand. Students of various gender identities, including male, have joined in a collective dialogue about these issues, such as sexism, sexual harassment and assault.
"It kind of instigated more people to come out with sexual harassment and assault stories that happened at Grady, which I think is very important," Autumn* said. "This bracket started a movement to make people more aware of sexual harassment."
Others want to see change from Grady's curriculum and administration.
"I think after this bracket was posted, people have started to start important conversations," Autumn said. "The school needs to offer more support to girls at Grady and some classes or assemblies to teach about sexual assault and harassment. People need to learn what's okay and what's definitely not okay."
Principal Dr. Betsy Bockman issued an email to Grady families condemning the actions of the boys and addressing "proper channels" to report more serious allegations of student misconduct. In the April 13 email, Bockman addressed support for students, including counseling sessions and school-wide listening sessions.
While some students support this discourse, others are skeptical about the possibility of change.
"I don't think the bracket will spur systemic change," Foote said. "In 10 to 20 years, things will get better if people are taught better. It's not Grady's fault because Grady itself is just a place; it's the people. It's the people around who are bringing these kids to their environment that are making the change."
April* thinks students of the past, present and future will embody a movement to change the culture at Grady.
"I hope that some things will change, and I think it will change for some people," April* said. "Overall, I don't think it'll start systemic change in the administration, but I think through the students, it'll be more of a change."
While students are looking to peers to be voices of change for tomorrow, Westin wants action from the administration today.
"I feel like the administration needs to take this really seriously because at the end of the day, these are people at Grady," Westin said. "It's the environment being created at Grady that makes people feel uncomfortable or unsafe, and I just want to see the administration take this really seriously. I want to see change."
Grady is holding school wide listening sessions to promote student conversation and community growth and education. The next "Title IX Student Session" is scheduled for Wednesday, April 21 from 11:45 a.m. to 12:15 p.m.
Regardless of students' personal feelings about the bracket, some believe it has created an opportunity for students to come together, in a school year that has kept everyone apart.
"If anything, I'd say it brought a lot of unity to our grade, the Class of 2022, like I've never really seen before," April* said. "A lot of people joined together and were like, 'Hey, this is really messed up.' We all might not agree on certain things, but we can all agree that this is something that we don't stand for."
* Autumn and April are anonymous names