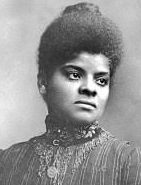 Proposed name Ida B. Wells honors influential historical figure
Many community stakeholders who support renaming Grady after Ida B. Wells believe that her life's work speaks to the values that the Grady community prioritizes: activism and communication.
Wells was a prominent Black journalist and advocate who lived during the same post-Reconstruction era as Henry W. Grady.
She wrote many investigative pieces about the prevalence of lynching in the South for the Memphis Free Speech, and due to her candid reporting, was threatened to the point that she had to leave the South for her own safety. But Wells continued to write, contributing to The New York Age, The Chicago Defender and The Conservator. Her continued coverage of lynching was so impressive that abolitionist Frederick Douglass praised her as a "brave woman".
In addition to her commitment to truth-telling journalism, Wells also dedicated her life to advocating for civil and women's rights. She is considered a co-founder of the National Association for the Advancement of Colored People (NAACP) while also founding the National Association of Colored Women and the Alpha Suffrage Club, which were crucial in the fight for women's suffrage.