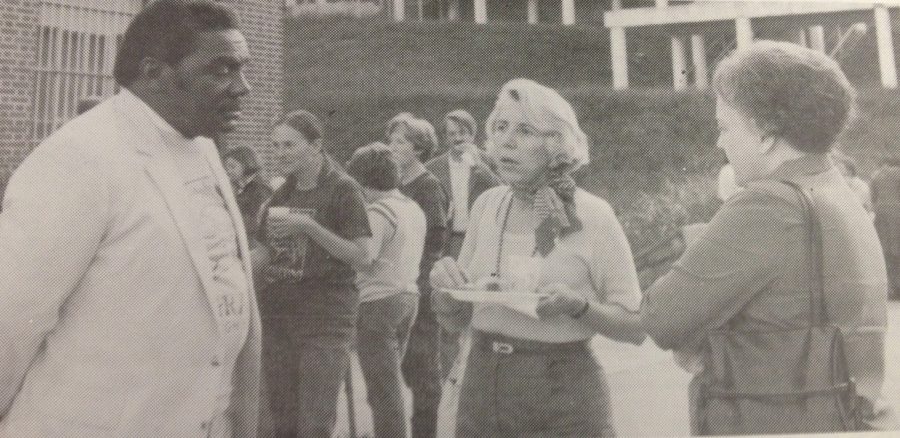 Grady High School Yearbook, "The Orator"
Dr. Thomas E. Adger name proposal pays tribute to Grady's first African American principal
Dr. Thomas E. Adger served as principal of Grady from 1981 to 1991. He was promoted from Assistant Principal to Principal, making him Grady's first African American principal. After leaving Grady, Dr. Adger served as an interim principal at North Atlanta and then worked as a mentor for other principals.
At the time he became principal, Grady was a struggling school in the district. Dr. Adger helped turn the school around. Lisa Willoughby, a current Grady literature teacher who was hired by Dr. Adger, said she saw changes even in the first few years.
Dr. Adger fostered many of the programs that make Grady what it is today including Grady's Communications magnet program that had been started shortly before he became principal.
Not only did Dr. Adger bring in teachers who would help improve the instruction that Grady students were getting, but he was also committed to being a mentor that supported the teachers. For example, the debate team, which is now an 11 time state champion team, was started under Dr. Adger. Even at a time when very few public schools had a debate team, Dr. Adger got behind the idea and the team,
Having lost his own son, Dr. Adger treated the students as if they were his own. He was approachable, gentle and treated people with respect.
Dr. Adger's strong leadership was essential in the context of the time. Becoming principal during the height of the AIDs crisis and around the end of the Murdered and Missing Children era, he was able to build trust between the school and the community.
"You meet people in your life that are really special and are examples to you of the kind of life you want to live," Willoughby said. "He is definitely one of these people."