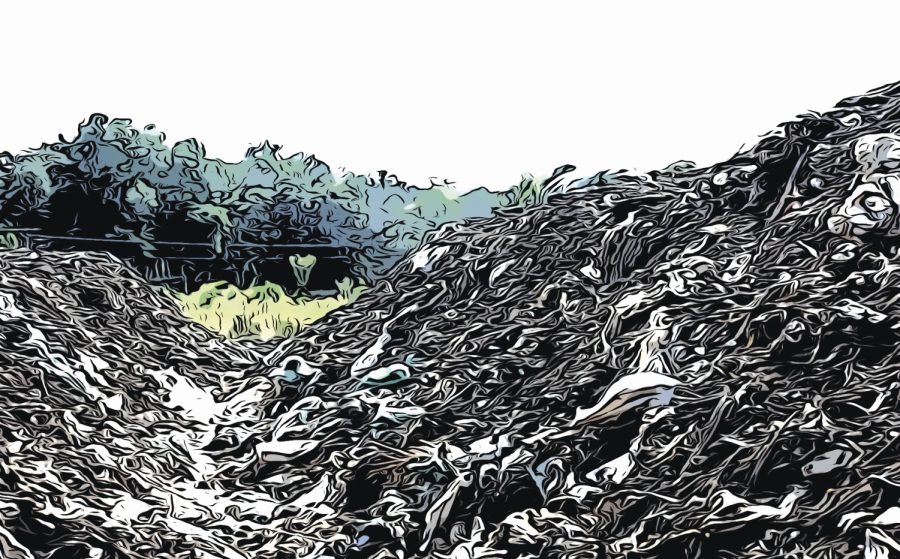 In Atlanta
Atlanta residents, like students, raise concerns about waste management.
When someone throws a plastic water bottle into a recycling bin, it is easy to believe it travels to a factory and magically transforms into something new. But for much of the recyclable waste thrown out by Americans, this is not the case.
Studies from the National Resource Defense Council and other non- governmental organizations found that for decades prior to 2017, United States and other developed nations paid Southeast Asian nations to take thousands of tons of American waste and turn them into usable goods, such as polyester clothes. This changed as a trade war between the U.S. and China heated up. China stopped accepting American trash as a part of the National Sword Policy. The policy banned certain types of recyclables due to increased labor costs and increased attention for domestic recycling.
Like other cities across the nation, Atlanta's municipal waste department operates daily, picking up garbage and recyclable waste such as paper, metal, plastic, and glass.
Just as students throw trash into recycling bins, Atlanta residents also help to make some recycling difficult.
"The number one containment that people put into their bin that they shouldn't are plastic bags," said Kanika Greenlee, Atlanta Public Works environmental programs director. "[It is] either putting single-use plastic bags from retailers or bagging their recyclables in a kitchen trash bag."
These plastic bags clog the sorting facilities that divide different types of materials and can contaminate a whole load of recyclables. Other than the sorting process, the Department of Public Works notes that Atlanta does not handle much of the 15 thousand tons of the recycling or 118 thousand tons of garbage itself.
The city does not operate any active landfills. Instead of sending all garbage to private contractors like Waste Management Inc., Pratt Industries handles almost all of the city's recycling needs.
Some citizens are concerned about the city's ability to process recyclable materials and are taking action. The Center for Hard to Recycle Materials, or CHaRM, is a community-led facility in South Atlanta that recycles everything from paint to pesticides.
CHaRM Founder Peggy Whitlow Ratcliff remembers when she could not recycle pesticides she found owned by her parents after they passed away.
"There was no place to do it," Ratcliff said. "The City of Atlanta didn't provide anything."
Since its inception in April of 2015, CHaRM has diverted over 250,000 tons of material from the Atlanta waste stream and is open three days a week.
The facility functions as a drop-off location and makes sure that materials are being recycled in the state and not shipped overseas. Ratcliff notes that many plastics are converted into carpeting and other goods all within the state of Georgia.
"People are very interested in doing the right thing in having their materials recycled. They just need the opportunity, and that's what CHaRM provides," Ratcliff said.
Composting as a means of waste management is growing in popularity in Atlanta with the help of private companies. CompostNow is a door-to-door service that picks up compost from homes and is looking to expand.
"We just make sure that our [customers] are able to have a clean experience and that we will handle all of the dirty work," said Cloud Dukes, community growth leader for CompostNow. "We try to put as little work on our members as possible and [are] really just trying to change the whole idea of what composting can and will be. We are the composting Uber."
Cities such as Seattle and San Francisco now offer curbside municipal composting to residents, a practice CompostNow is encouraging in Atlanta.
"Composting municipally is really the future," Dukes said. "It's going to happen; it just depends on the city and the counties and how quickly they can get moving on that. I know that there are a lot of eyes watching us as far as how we operate. There are several people within our company that believe if and when it does get to that point at the municipal level that they would either come to us or try and mimic what we are doing."
Dukes hopes that composting, still in its infancy, may soon become a part of everyday life through the advocacy of a small group of passionate individuals.
"It is our goal to go worldwide with CompostNow," Dukes said. "We really want people to be composting. That is the foremost idea in all of our heads."
The city has focused mainly on improving education and access around recycling. Atlanta only has a 52 percent capture rate for recyclables, meaning that 48 percent of recyclable materials end up at a landfill.