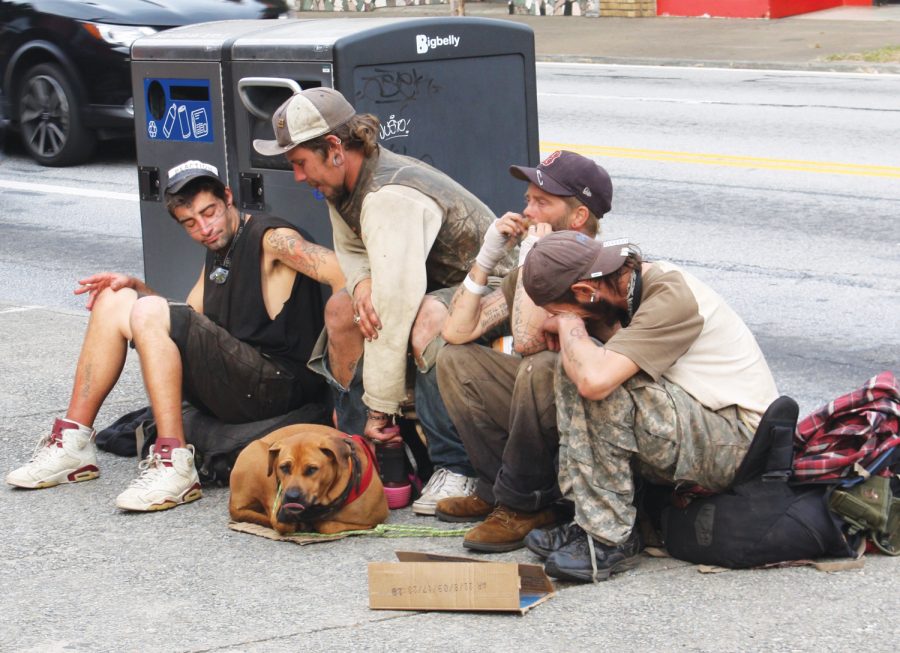 A stereotyped society
Little Five Points draws in people from all over to witness its distinct personality. Some use it as an escape to a more exciting and interesting world.
"The motorcycle 'gangs' that meet at the Euclid Avenue Yacht Club are Cobb County business people who are dressed in cosplay," Grady cross country coach and former physics teacher, Jeff Cramer, said. "They come into Little Five Points on the weekends and act real tough and then they get back on their bikes and ride back out to Cobb County and put on their suits and go to work."
However, for some, Little Five Points is their residence. The large homeless population that arose in the 1970's and continues today is of concern to many.
"Because it has a reputation of being an accepting place, homeless people have come to camp out here and that has had a negative impact," Bender said.
Cramer believes the issue stemmed from a lack of inexpensive housing in the surrounding neighborhoods as well as within Little Five Points.
"You don't have those old houses broken up into 12 different units that had ridiculously low prices for ridiculously terrible accommodations," Bender said. "[The homeless] were the people who were doing those low-paying jobs through Atlanta."
Under CID, the Little Five Points Alliance was created as a non-profit group that includes residents, shop owners and property owners.
"Part of their focus is on responding to the homeless situation in a humanistic way, but in an adult way, not a fuzzy 'anything goes' way at all," Bender said. "We want to have alternatives for the homeless, but we don't accept that they should be camping out in public spaces."
Cramer notes that the way the community handles the homeless problem is a tricky issue.
"I think the Candler Park and Inman Park neighborhood associations have been constantly trying to address those kinds of societal, social and moral issues," Cramer said.