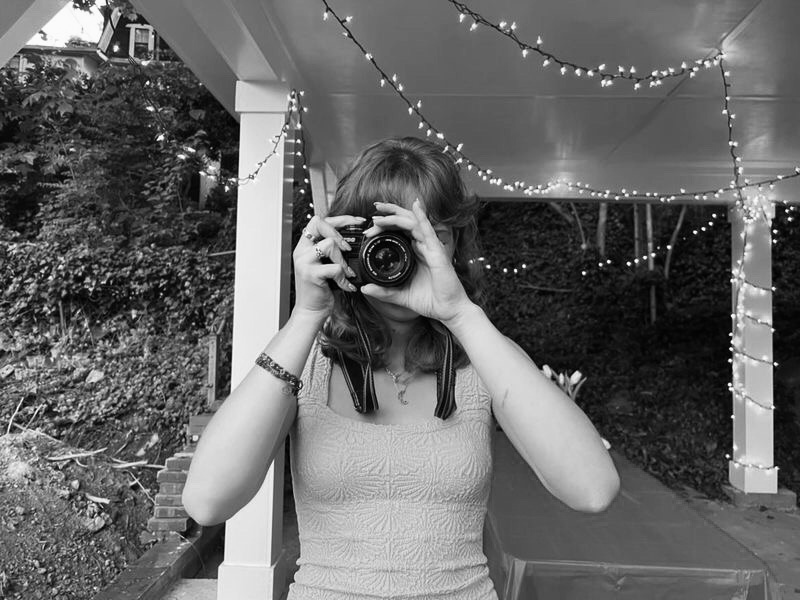 While quality digital photography has become more accessible than ever through mobile devices, senior Evelyn Lowry prefers developing film by hand. Lowry has experimented and perfected her means of developing and printing pictures, a hobby she transformed into a business. 
"I love being involved in the process," Lowry said. "Physically participating in the developing and printing process allows me to bring my photography work to life. It feels so much different than taking photos with an iPhone where you can instantly see it; film is so much more rewarding." 
Junior Donovan Mikula is a level behind Lowry in the photography pathway. 
"My class is at the point where our teacher, Ms. Wadsworth, allows us to do our own thing," Mikula said. "We get shooting assignments with different themes and we get to work with our photos however we want. I have learned how to make a photo look really dreamy, almost ethereal. It's something you can't do with an iPhone camera."
When the pandemic began and in-person learning was no longer an option, Lowry decided to continue her newly discovered passion from home. 
"We have this bathroom in my house under the stairs and it doesn't have any windows so I made it into my own darkroom; I'd go in there to load my film. I was able to get chemicals from B&H Photo and would mix the chemicals on my porch," Lowry said. "Instead of having an actual enlarger to print pictures, I digitized them with a film scanner and used software to clean up the images." 
Developing film at home has granted Lowry more creative license over the resulting printed pictures.
"Being able to do it myself rather than paying to take it somewhere else has definitely saved me a lot of money at the end of the day," Lowry said. "I can go in and really play around with the colors and the contrast and have complete control of how the pictures turn out which I really enjoy."
The pandemic allowed Lowry the time to start her developing and printing business on social media. 
"The business aspect just kind of came naturally," Lowry said. "I thought it could be fun to print for other people so I created the Instagram account to facilitate that. It was definitely surprising to see how many people wanted me to develop their film. It gave me a chance to interact with people I probably never would have and allowed me to see into so many random lives."
Through the use of a google form, Lowry was able to expand her market of customers. 
"The google form was the main way I got my orders," Lowry said. "People would fill out information like how much film they had and their contact information. I even had a couple of people who mailed film in from different places around the country, which is really cool." 
Developing film is a time-consuming process, one that Lowry is still working out the kinks of. 
"It can take up to five hours to develop one roll of film," Lowry said. "It was definitely a learning process. The most common error I found was that it was not a developing error but an error with the camera and the pictures themselves. Now I really feel like I have solidified what I'm doing but at the beginning, it was definitely nerve-wracking."
While Lowry enjoys the artistic and creative process of developing her own film, her friends express appreciation for the physical memories that her film has captured for them. 
"Evelyn has always brought her camera to record basically all of our friends' memories, whether it be film or digital," senior Emmy Freidman said. "I am glad that we have a way to look back on memories and be able to reminisce because sometimes it's hard to capture the moment through a phone." 
Lowry attributes the growing popularity of film photography, such as disposable cameras, to a constant cycle of recurring trends from the past. 
"We're constantly going to follow trends and cycles of old things as they become more popular because it's something we didn't grow up with as much," Lowry said. "Now you can just look at your phone and see the photo you took but there is no fun in that. I think a lot more people have realized how much fun it is to have pictures come out really beautiful."
Lowry plans on continuing her hobby of film photography throughout college. She encourages others to try developing film for themselves and to have fun experimenting with the process.
"Once you start doing photography, it's hard to stop because it's so gratifying," Lowry said. "Digital photography is great but there's just something about film photography that's really special. It's just the perfect type of photography for capturing what's right in front of you."