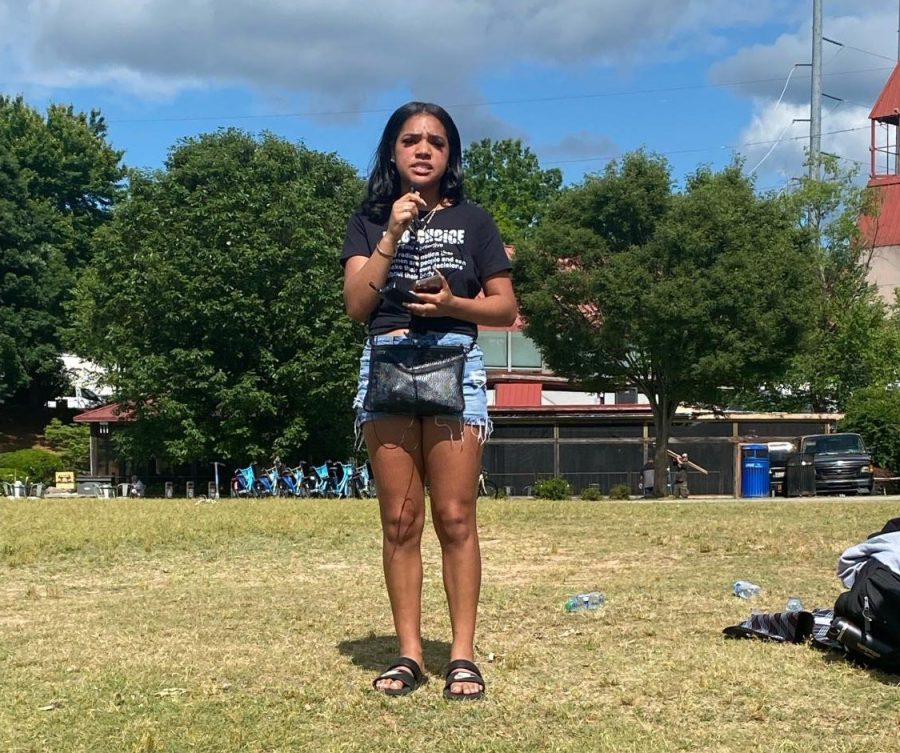 Carys Brightwell
Midtown students participated in a student-organized rally against a possible Supreme Court ruling this summer that could overturn Roe v. Wade and eliminate women's rights to legal abortion.
"As I look out into this crowd, I see the future. I see future voters, future taxpayers, but most importantly I see future leaders of our generation," senior SGA President Aaliyah Rapping, one of the rally's organizers said in her speech during the rally on May 13. "Most of you in the crowd are high schoolers, barely 18, if even. And you all took time out of your day to Rally for Roe, to fight for reproductive justice. Being here today shows a commitment to justice and change."
Freshman Anna Hutcherson and Rapping planned the after-school rally at Piedmont Park to spread awareness about the potential of Roe v. Wade being overturned. They took to Instagram about a week before and started spreading information about the rally. Hutcherson and Rapping spoke at the rally, along with Kwajelyn Jackson and Agbo Ikor. Jackson is the Executive Director of the Feminist Women's Health Center (FWHC). Ikor is the Director of Advocacy and Policy at SPARK Reproductive Justice (SRJ).
On May 3 a possible decision to overturn Roe v. Wade was leaked to the general public. Roe v. Wade was the Supreme Court ruling that protected women's rights to bodily autonomy and gave women the freedom to have a medically-safe abortion without a state's involvement or concern for prenatal life, up until the point of viability. The point of viability is the point at which the fetus may be able to survive outside of the mother's womb with the help of medical aid.
The rally began with opening remarks from Hutcherson, who touched on the important details of Roe v. Wade, as well as emotional aspects of the possibility of it being overturned.
"Just as one has the right to vote, the right to freedom of speech, the right to a lawyer and fair trial, women should be guaranteed the right to her own bodily autonomy," Hutcherson said. "I want to ask the men who are making the decisions to revoke this right and the men who support the decision to revoke it, how would you feel if your bodily autonomy over your reproductive system was taken away."