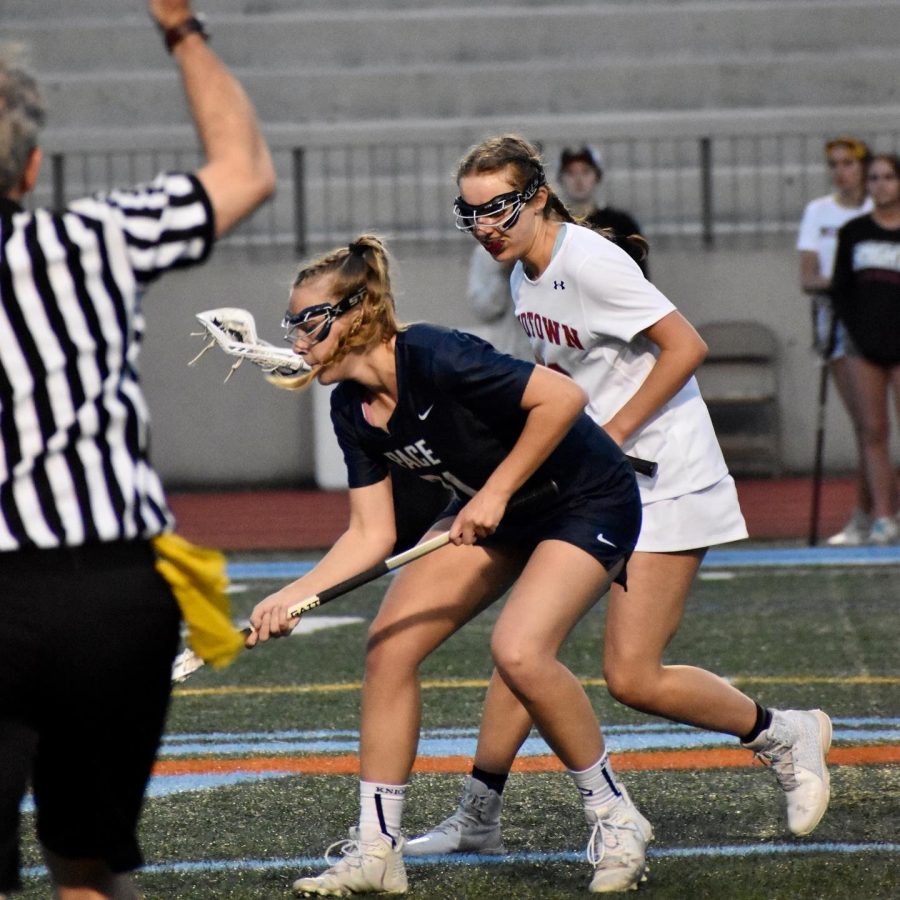 Katie Sigal
Wrapping up the regular season with a 2-10 record, the girls lacrosse team will enter the state playoffs.
After losing four players last year to graduation, including Vassar lacrosse commit Zola Sullivan, the seniors this year had big shoes to fill.
"Our seniors came through this year," Coach Lisa Liang said. "They've come up in the shadow of some legends and they really learned how to use their voices. I think the girls definitely grew individually and created a unique and strong team bond. It didn't often translate into wins but many times because we were plagued by a huge number of injuries or absences."
This season was struck with multiple hard-hitting injuries, including the loss of sophomore midfielder Shea Edwards.
"We had a lot of injuries this year on varsity and junior varsity," Edwards said. "I think that is something that has brought us down this season. When someone gets injured, especially during a practice or a game, it takes a toll on the team spirit."
To combat these injuries, junior captain and attacker Mia Otoski said that training should start earlier in the year.
"Next season we need to start weightlifting and getting into shape much earlier than we did this year," Otoski said. "It's really crucial that we build endurance early on because this year we had so many injuries."
Liang said the key to fighting off injuries is staying in shape throughout the year.
"[For] next season, continuing to build the lacrosse pipeline [is a goal]," Liang said. "Encouraging girls to play lacrosse and stay conditioned in the off-season may reduce injuries too. And of course, next season, keep growing lacrosse knowledge and team bonding to win games."
The overall goal for the team this season was to learn the game, due to the fact that many girls on the team had never played lacrosse before.
"The season was focused on the basics," Otoski said. "There were lots of girls who had never picked up a stick, so we focused on building a foundation that we could build on. We were motivated not to win, but to be together as a team and be each other's friends and teammates."
Otoski said there was a highly present lack of commitment from some players which presented obstacles for the entire team.
"This season felt really out of place," Otoski said. "The team as a whole had little to no motivation and very little commitment. We communicated well towards the end of the season, but…the connections between the team were weak. It fell on us as the captains to bring up spirit and motivation, which obviously reflects in how we play. When we're putting in the effort and not getting anything in return, it is hard to run a team."
Despite their losing season, some players look back on the time with a positive view.
"I am excited to win and come back with more motivation next year," sophomore midfielder Ryan Carter said."My motivation for the season was to be the best I always can be for my teammates."
Senior captain and defender Milan Ziegler said that even with the lack of attendance at practice, team spirit was present on game days.
"Everyone does a great job at building each other up during games and I think that helped us a lot this season," Ziegler said. "We also tried to take it one game at a time and focus on our personal goals as well."
Next year the team hopes to continue to improve the overall team environment.
"I think next year if we start conditioning and working out during the pre-season, we will do better," Carter said. "Gathering together before the season starts also helps morale and the overall environment of the team."