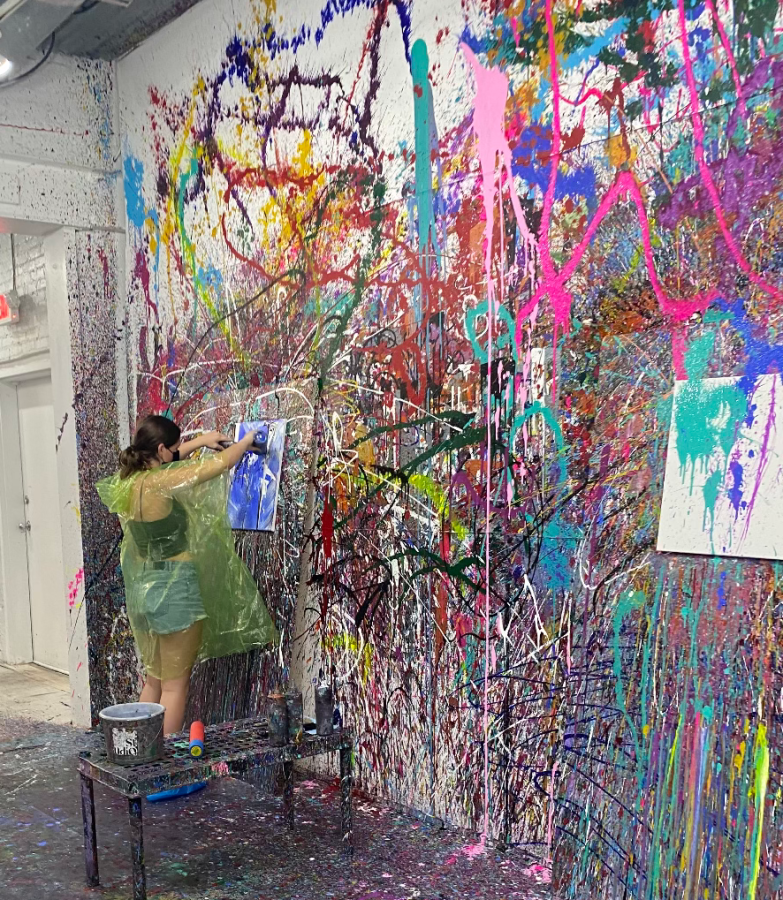 Courtesy of Ryan Carter
Paint splatters, brush strokes and imminent masterpieces greet the customers of Splatter Studio's new Virginia Highland location.
Previously located in Ponce City Market, Splatter Studio offers an all-inclusive, unique artistic experience. The store's recent move to Virginia Highland was inspired by the area's creative past.
"The Virginia Highlands is historically art-based," Assistant Manager of Splatter Studio Aaron Wilfred said. "A lot of the businesses here have been here forever. Our next-door neighbor has been here for 100 years. So, there's a lot of history in the area."
Many customers who experienced the Ponce City Market location were eager to try out the different space.
"I had done Splatter Studio previously at Ponce City Market when it first came out," sophomore Ryan Carter said. When it moved to the Highlands, I thought it would be a fun thing to do, so my friends and I all went together."
Many first time customers had never heard of the studio before and didn't know what to expect.
"I had never been to a place like that, and it was really cool," sophomore Delia Schroeder said. "When you walk in, the walls are covered in paint with splatter everywhere, and I knew it would be a fun experience."
Customers are taken into an event space with little instruction from employees and are thrown straight into the creative process.
"You get led to your own little canvas and you have a big area around you so that you can do whatever type of painting you want," Carter said. "You're instructed about the different kinds of materials you can use to paint. You can take a water gun and splatter with it, you can pick any type of paint and do whatever you want. It's really fun."
After artists feel satisfied, they can take their creations home with them.
"It's so fun to go with friends and be in that environment, but also, it's nice to be able to have art to take back home," Carter said.
Schroeder notes an interesting part of the studio was how each person's creation was unique to them.
"I was very happy with the result of my painting," Schroeder said. "Everyone made something very different, and it was cool how everything looked good, but they were definitely very different pieces of art. Each person could choose their color scheme, what tools they wanted to use and what they wanted to do with their art overall."
Customers are encouraged by the staff to return after their first visit and try the experience again.
"We get a lot of neighborhood locals who have come before and continue to come again," Wilfred said. "Most of the time, people leave wanting to come back again either solo, with another group or with their kids."
Wilfred said Splatter Studio is a unique experience compared to other art studios that offer activities, such as pottery painting, due to the customers' independence in the process.
"I think the thing that keeps us standing out is that it's more of an experience based on your own intuition and spirit whereas in the group painting spaces people may follow a guide or a tutorial," Wilfred said. "In those instances, you're limited to what is in front of you whereas here, we can expand the limit. People can create a masterpiece, something abstract."
Many customers don't have an artistic background, Carter says.
"It's definitely more recreational," Carter said. You don't have to be an artist to go there, it's anyone. Anyone can get an awesome painting out of going."
With limited direction, artists at the Splatter Studio are free to choose any path they want with their painting.
"We bring in more of an experience-based product that is not judgemental," Wilfred said. "There isn't a right or wrong, and we provide an outlet that is both creative and allows people to let off aggression or steam. It's an experience that gives you so much more than what you're creating or what you walk away with."