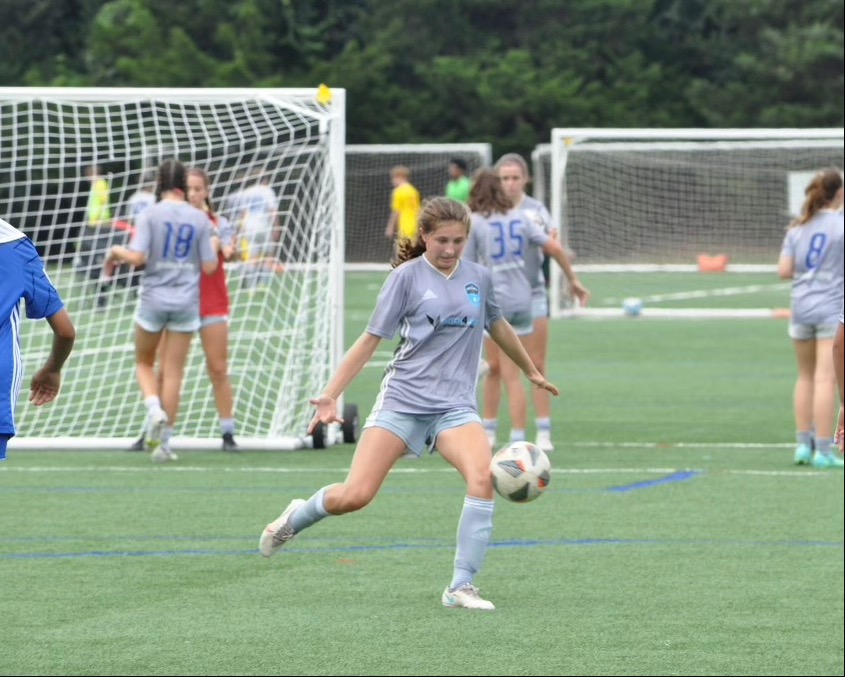 Moshe Haspel
The alarm goes off at 5 a.m. Time to run three miles with a time of 20:12. Then a full soccer game and an entire basketball game. That is a day in the life of freshman Cate Barton. 
Barton runs cross country, is a starter on the basketball team and plays club soccer. In 2021 alone, she placed 21st at the state cross country meet, broke the Midtown freshman 5K record, was team MVP in the varsity basketball game against Heritage, made the top soccer team of the Olympic Development Program and won State Cup with her club soccer team, Inter Atlanta FC Blues. 
"Cate has a motor that I have never, ever seen in my life,"  girls basketball assistant coach Jillah Moede said. "She goes at 150 percent, 24 hours a day, seven days a week, 365 days a year."
Barton's high school athletic career started with cross country. She was one of the seven runners selected to run on the varsity team at the state meet, and she placed 21st out of 212 runners. 
"In terms of her being able to score points, to run fast, and to beat people … she was invaluable," cross country head coach Jeff Cramer said.  
Barton enjoyed the challenge cross country gave her.
"Cross country is like no other sport," Barton said. "It's more painful than fun compared to soccer or basketball. But finishing a meet is one of the best feelings because of the adrenaline rush it gives." 
Once the cross country season was over, Barton jumped straight into basketball where she earned the nickname "Smiley." 
"The very first Zoom meeting we had she just never stopped smiling," Moede said. "I think for the whole hour and a half she had a smile on her face."
Barton has started in nine of 10 games this season. She averages eight rebounds, four steals, and three assists per game. 
"She comes in, day in and day out, and just works her tail off," Moede said.
Throughout both the cross country and basketball seasons, Barton also plays soccer for Inter Atlanta's 06 Development Player League team. She has been playing soccer since she was three years old and of her three sports, she considers soccer most important… 
"Soccer always comes first," Barton said. "I missed nine cross country meets for soccer, and a couple of basketball games."
Barton's club soccer team went 13-4-1 this season and won its bracket at the Capital Area Soccer League (CASL) Tournament in Raleigh, N.C. Barton's teammates appreciate her work ethic. 
"Cate is a very hard worker," said freshman Sinclair Richman, a friend and teammate of Barton's. "She is very good at every sport she plays, and she hustles, which is definitely a key point in why she is so successful."
Richman and Barton have been friends since third grade, and are also teammates in basketball. 
"I'm insanely jealous of Cate, to say the least," Richman said. "Her work ethic is amazing; she never gives up, and she always works her absolute hardest and brings a lot of positivity and cheer to the team."
Despite the importance of soccer in her life, Barton is hesitant to consider playing at a college level. 
"If I got a good offer from a school with a good education, I would take it," Barton said. "But if I got an offer from a school with not as good of an education, I most likely would not accept it."
Barton recognizes the importance of her high school education, as well. 
"Academics are the most important to me," Barton said. "I know that I can't play sports forever and that my academics will take me farther than sports can."
Being a multisport athlete and a straight-A student can come with a lot of stress and anxiety. Barton has faced pressure to perform at her best in both sports and academics from her friends, family, teammates and coaches.
"It definitely gets to my head a lot," Barton said. "It's very nerve wracking because the sports I play come with certain expectations and standards."
Another factor contributing to Barton's stress is her dwindling social life. Sports and academics can take time, and Barton said they prevent her from having a normal social experience. 
"My social life, outside of sports, is very limited," Barton said. "But [being a multi-sport athlete] benefits a lot of my social relationships with friends that do the sports with me."
Barton's mental and physical health are also affected by her being a multi-sport athlete. 
"I didn't really worry about her when she was younger," said Todd Barton, Cate's father. "But now, as a freshman, she's playing at different levels of people's physical maturity. So, I just encourage her to talk to the trainers, get rest, eat healthy and to utilize her downtime."
Despite the difficulties that come with being a multi-sport athlete, Barton's high school athletic career is just getting started. She plans to play Midtown soccer in the spring and do it all over again next year. 
"She has fun competing," Todd said. "So, if she's not competing, then she's not having fun."