On To Victory
November 27, 2021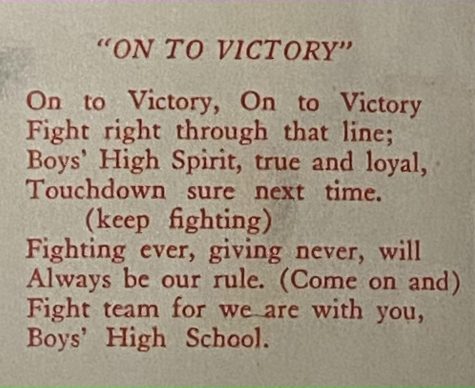 Although its primary goal was preparing its students for college, Boys' High was also known for its athletics. Larry Hailey was a member of the Boys' High baseball and bowling teams.
"Playing sports at Boys' High was a great experience because I, of course, loved the sports," Hailey said. "The whole school also gave a lot of support," Hailey said. "I learned a lot by playing sports at the school about leadership, teamwork and being a team player."
Although Boys' High had many successful teams, it was most notable for its football team. Led by coach R.L. "Shorty" Doyal, the Boys' Purple Hurricanes won nine state championships between 1932 and 1946. The high school sports website Max Preps ranked Boys' High/Tech High as the sixth-best defunct dynasty in high school sports, in large part due to the football teams.
"Shorty Doyal believed in symbolism," said Todd Holcomb, co-founder of the Georgia High School Football Historians Association. "He kind of played up the purple colors for royalty and that's how the players in the team sort of thought of themselves as being something special, and opponents would look at them the same way."
Doyal's success at Boys' High helped him establish a reputation as one of the best football coaches in Georgia.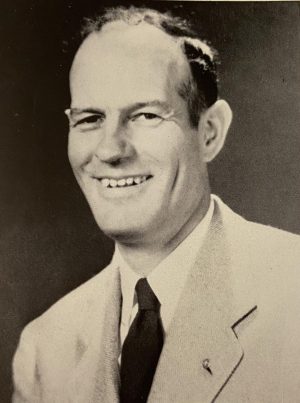 "[Doyal] didn't have a rival as a coach, and he was considered the greatest coach up until the 1960s or so," Holcomb said "For the first 50 years of high school football in Georgia, he would be the most well-known coach."
Jack Cotter played quarterback under Doyal at Marist, where Doyal moved after Boys' High closed.
"[Doyal] was very demanding," Cotter said. "If you didn't pay attention [or] you made a mistake, his favorite attention-getter was 'we'll run laps after' or 'we'll do wind sprints.' He was a very good coach, very smart."
The football successes of Boys' High were also due to the talent of the players. Cotter remembers playing with some Boys' High transfers who followed Doyal to Marist.
"They were really good guys, very talented athletically, and big guys," Cotter said. "Some went to Georgia, some went to Georgia Tech as scholarship athletes. Chuck Reynolds, who I admired, played halfback for Doyal, and he was very speedy, very fast. He went to Boys' High with [Doyal]… these guys came over [to Marist]."
Before Doyal transferred to Marist, many of the talented players came to Boys' High because of his success.
One player who emerged from Boys' High was Clint Castleberry, who finished third in the Heisman Trophy voting in 1942 as a freshman. Castleberry was killed in World War II after his freshman season.
"Clint Castleberry was probably the best high school football player of his time and he may be one of the four or five best that has ever played," Holcomb said. "He went straight from high school to Georgia Tech where he almost won the Heisman Trophy as a freshman. …He was a giant, the best anyone had ever seen."
As a result of their success, the Purple Hurricanes often traveled around the South to play other powerhouse programs. However, their biggest rival was their building-mate, Tech High. The Tech High Smithies won five state championships between 1924 and 1947. Each year, the Purple Hurricanes and the Smithies played against each other in a rivalry game, attracting crowds from all around Atlanta.
"Everyone participated and came to the football games, especially the rivalry game between Boys' High and Tech High, which was like Georgia and Florida," Dr. Arnold said. "The atmosphere at the Boys' and Tech High rivalry game was jovial, especially if we won, which we would more often than not. Thousands of kids came, and there were always some fights orchestrated between the schools. It was very raucous and wild at times, but just a great place to be."
"
Everyone participated and came to the football games … The atmosphere at the Boys' and Tech High rivalry game was jovial, especially if we won, which we would more often than not."
— Dr. Joe Arnold, former Boys' High student
Although the Purple Hurricanes were successful, segregation prevented the school from playing African-American high schools, likely helping them win more games and state championships.
"This was during segregation; so, you know Boys High [and] Tech High [were] all white," Holcomb said.  "All the players were white; all the students were white. Atlanta had an African-American high school, which still exists, Booker T. Washington, and they had really good teams, as well, but there weren't as many opportunities for black players and teams, and they didn't get the recognition … When you start talking about greatest teams, nationally, it's almost like black high schools are ignored, which is a shame and a tragedy."