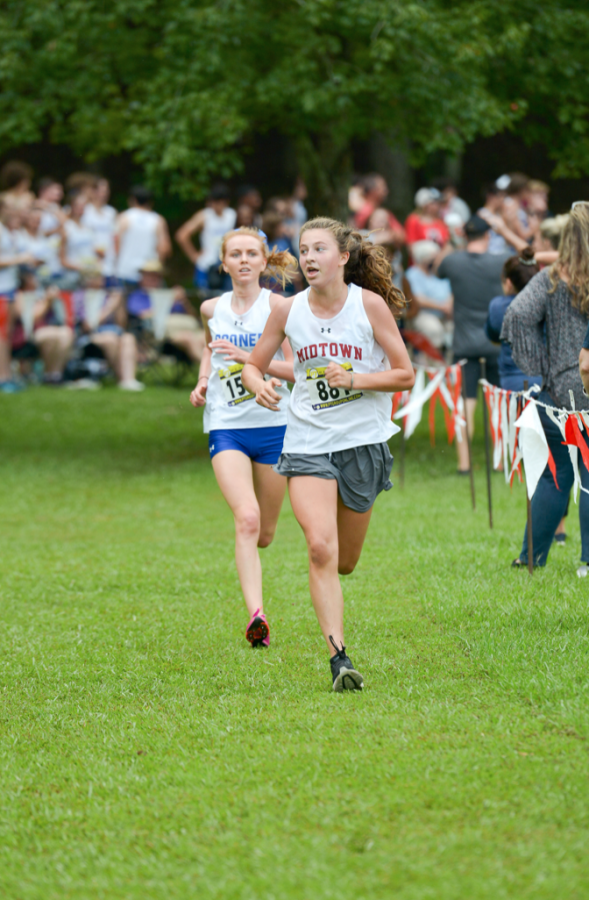 Lyn Schroeder
The girls cross country team is hoping to repeat as region champion and make state, just like they did last year.
"I'm feeling pretty confident about the team this season, definitely more than in the past because we have a lot of underclassmen promise," junior Jamie Marlowe said. "We've been training together all summer, we've all been showing up, and we have a much bigger team this year with new people."
Head coach Jeff Cramer has been impressed by the underclassmen this season, and believes their work ethic and performance so far will make them a key aspect of the team.
"The 9th and 10th grade newcomers to the team should make a huge contribution," Cramer said. "Some of them will either be running in the top seven or pushing the upper class girls to be even faster than last year."
The girls have been training since the beginning of the summer to prepare for the season ahead. Summer workouts were composed of long runs and speed work.
"Most of the girls began running as soon as school was out last May," Cramer said. "We have had a good core group who attended many summer workouts and attendance has been very good since the beginning of August."
The girls have found success in pushing not only themselves, but the rest of their teammates.
"We emphasize a team concept, so I don't like to name names before we begin to compete," Cramer said. "The top 14 girls are running very well, both as individuals and as a team. They support each other in practice and will run the first few meets together as a group."
The girls performed well with their first meet at Grant Park winning with a perfect score. Emilia Weinrobe placed first followed by Sierra Pape, Cary Schroeder, Jameson Knight and Sarah Prevost.
"I think we have a good chance to win the region, but let's wait until we have seen the other teams run a few meets before getting too cocky," Cramer said. " We hope to have 7 girls run sub 21:00, and a few under 20:00. Winning state requires at least 3 who can break 20:00 on the state course, a very hard layout."
The girls are hoping to win region again this year and place in the state meet.
"We have the same goals every year," Cramer said. "We would like to finish in the top four at state. We have managed this several times in the past 24 years, and most years have been at least in the top 10. We hope that the team will bond and the girls will celebrate their successes as a group, even those who are not selected to be in the top seven on the team. We have a deeper team this year, so our expectations are higher."