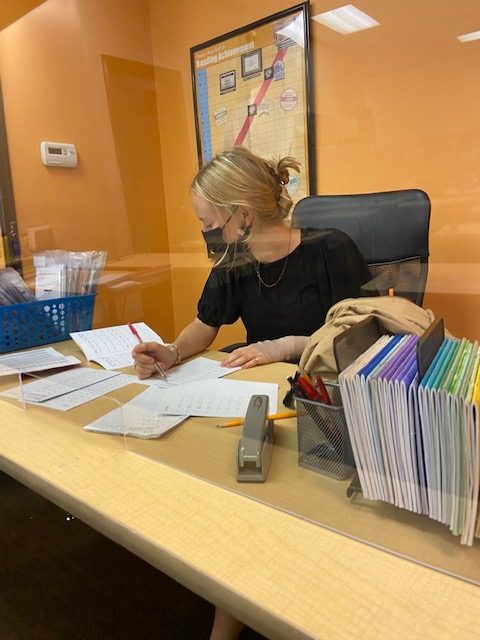 Lindsay Ruhl
For many Midtown students, a job provides an escape from the fast-paced environment of school, an opportunity to meet new people and pocket a bit of extra cash.  
Senior Jack Collins works part time at Batter in Ponce City Market, and is excited about working during the school year. 
"I enjoy working because I get to interact with customers," Collins said. "Some of them are really nice, and I often see friends while at work."
However, this excitement is not without concern. Many students speak on their worries surrounding COVID and the new Delta-variant, juggling sports and other extracurriculars and keeping their grades up.
"When I started the job I was pretty concerned about COVID," Collins said. "In terms of school, it can be difficult to manage your time properly. I'm taking a couple of AP classes, so being at work takes away from studying, clubs and other things, which is always a concern."
Senior Audrey Isakov works at Kumon tutoring center and shares Collins' concerns. 
"Aside from making sure I'm on top of my school work, it's important to both my parents and I that I can get to my other commitments on time," Isakov said.
Junior Amelia Smith works at Bantam and Biddy and shares that her largest concern with her job is the strain it can have on her mental health. 
"It can get really overwhelming," Smith said. "At times, your boss wants you to come in as soon as possible, but you have schoolwork to do. It's hard trying to please everyone and juggle everything." 
For Isakov, managing her other commitments has been her greatest challenge. As Kumon is an after-school tutoring center, its peak hours overlap with those of clubs at Midtown.
However, working yields many benefits, such as a break from the busy Midtown campus. Students find work as an opportunity to meet new people of various ages, schools and socio-economic backgrounds. 
"Being in a social setting with other people, I've become good friends with my co-workers so I really like that, it's helped my social skills a lot too, and just having to work under pressure and being polite," Collins said.
But each type of job yields different benefits. For Isakov, working with little kids is more mentally demanding than physically. 
"The only drawback is that a lot of my peers that work at restaurants or vendors for food is that they get paid a lot more than I do, which isn't a big concern, but it's an eye-opener for me," Isakov said. 
Every student worker is going to have their own unique experience based on what industry they're in, what place they work at and the people they are catering to. 
"I'm educating kids," Isakov said. "While I'm getting paid less than someone who works in the food industry, it's a big perspective switch. If a college wanted to look at what I did with my time, I'm not only benefiting myself by keeping myself academically involved with my job, but also helping out my community and teaching kids how to read and do math. That seems a lot more beneficial to my community."
Collins notes that despite the changes the pandemic has brought, having a part-time job helped to restore a sense of normalcy to his daily routine.
"I found that going to work, even in a mask and everything, was just a nice little escape from my room and it was just nice to be outside," Collins said.
It's hard to ignore the obvious. Making money is a major benefit to working a part-time job. For Collins, having extra money is a positive.
"Having that extra cash in your pocket is always just a nice little thing to have," Collins said.