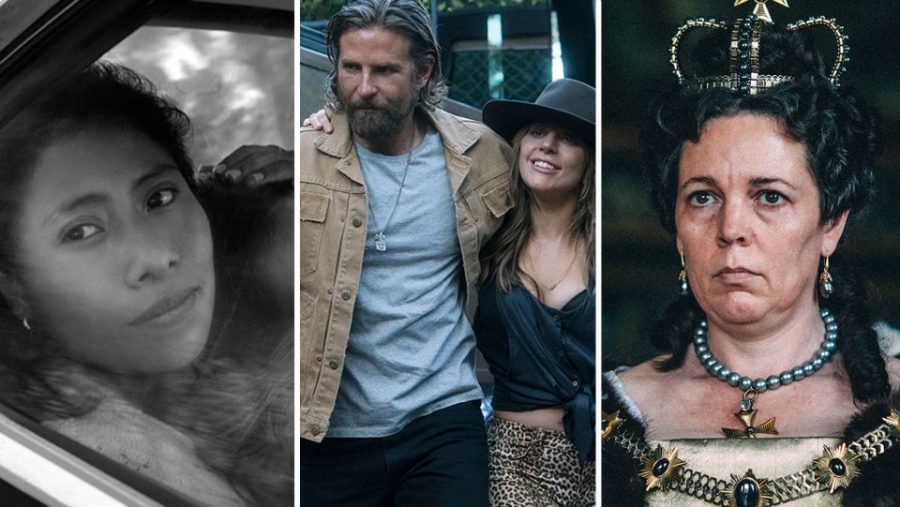 Courtesy Photos
The nominations for this year's Oscars, which will be on February 24th, were released Tuesday morning. "The Favourite", an indie Victorian film, and "Roma", a look at Mexico in the nineties from director Alfonso Cuaron's eyes, tied for the most nominations with ten each.
BEST PICTURE
"Black Panther"
"BlacKkKlansman"
"Bohemian Rhapsody"
"The Favourite"
"Green Book"
"Roma" WINNER
"A Star Is Born"
"Vice"
"Roma" perfectly fit the similar pattern of former Best Picture winners. An indie, simple yet thought-provoking movie based on Cuaron's childhood in Mexico City, "Roma" has a similar style to past winners such as "Birdman", "Moonlight", and "Shape of Water". Cuaron won Best Director for "Gravity" and is also nominated for Best Director this year.
ACTOR IN A LEADING ROLE
Christian Bale, "Vice" WINNER
Bradley Cooper, "A Star Is Born"
Willem Dafoe, "At Eternity's Gate"
Rami Malek, "Bohemian Rhapsody"
Viggo Mortensen, "Green Book"
Bale is a shoo-in for this award. Portraying the strong-willed former Vice President Dick Cheney, Bale was phenomenal at perfecting Cheney's mannerisms and voice. The one-time Oscar-winner is known for undergoing complete physical transformations for his roles. He lost 63 pounds to play his Oscar-winning role in "The Fighter" and gained more than 40 pounds to play Cheney.
ACTRESS IN A LEADING ROLE
Yalitza Aparicio, "Roma"
Glenn Close, "The Wife" WINNER
Lady Gaga, "A Star Is Born"
Olivia Colman, "The Favourite"
Melissa McCarthy, 'Can You Ever Forgive Me?"
Close has been previously nominated six times but has never won an Academy Award. Her role as an estranged wife with a cheating husband in "The Wife" won her a Golden Globe and Critics' Choice Award for Best Actress. Lady Gaga also delivered an amazing performance as a budding musician who falls for a superstar in "A Star Is Born". However, Close is more likely to win with her seventh nomination rather than Gaga's first.
ACTOR IN A SUPPORTING ROLE
Mahershala Ali, "Green Book" WINNER
Adam Driver, "BlackKKKlansman"
Sam Elliott, "A Star Is Born"
Richard E. Grant, "Can You Ever Forgive Me"
Sam Rockwell, "Vice"
Timothee Chalamet was definitely snubbed for this award, as his role as a crystal meth addict in Beautiful Boy was impressive, to say the least, for a 23-year old. Ali, however, is well-deserving of both a nomination and a win. Portraying jazz pianist Dr. Don Shirley, Ali received his second nomination for Best Supporting Actor. He was also nominated for Best Supporting Actor for "Moonlight", which won Best Picture in 2016.
ACTRESS IN A SUPPORTING ROLE
Amy Adams, "Vice"
Marina de Tavira, "Roma"
Regina King, "If Beale Street Could Talk" WINNER
Emma Stone "The Favourite"
Rachel Weisz, "The Favourite"
King's role as a mother determined to free her daughter's lover from wrongful imprisonment already won her a Golden Globe for Best Supporting Actress. Adams also delivered a strong and realistic performance as Lynn, loyal wife of Dick Cheney. However, Bale managed to outshine her with his stellar acting.
DIRECTOR
Spike Lee, "BlackKKKlansman"
Pawel Palikowski, "Cold War"
Yorgos Lanthimos, "The Favourite"
Alfonso Cuaron, "Roma" WINNER
Adam McKay, "Vice"
This race is between Lee and Cuaron. Cuaron delivered a beautiful take on his homeland. Shot in black and white, the movie remained visually entertaining and realistic. Lee conveyed an unbelievable story about an African American detective infiltrating the KKK with a highly-entertaining film. Cuaron already has an Academy Award for Best Director while Lee has been nominated for Best Original Screenplay and Best Documentary Feature. Cuaron is likely to win because of the raw beauty of "Roma".
ORIGINAL SONG
"All The Stars" – "Black Panther"
"I'll Fight" – "RGB"
"Shallow" – "A Star Is Born" WINNER
"The Place Where Lost Things Go" – "Mary Poppins Returns"
"When A Cowboy Trades His Spurs For Wings" – "The Ballad of Buster Scruggs"
"Shallow" is the definite winner in this category. Although Lady Gaga's vocals trump those of Bradley Cooper, the blend of their voices is phenomenal. The ballad is a mixture of country and pop that has stayed on the Billboard Charts in a time when rap reigns supreme. "All The Stars" is also a worthy contender, but it can be somewhat repetitive with SZA's tone and lyrics.