After school snacks to carry you through finals
Throw together these delicious snacks when you come home from school. Their prep time is minimal, and once you stick them in the oven, your work is done. Cooking experience not needed!
Pizza Bombs (makes 8):
Better (and cheaper) than ordering a pizza. Make these savory, bite-size snacks and satisfy your hunger. Difficulty level: 1
What you'll need:
A muffin tin

Crescent dough

Pasta sauce of your choice

String cheese

Pepperoni

Dried basil (or, even better, fresh basil!)

Spray vegetable oil (for greasing the muffin tin)
Directions:
Cut each triangle from the crescent dough and drape one over each muffin tin hole.

Add about a teaspoon of pasta sauce, then two slices of pepperoni, a quarter of a single string cheese, and two more pepperoni slices.

Fold over the corners of the dough, forming a tight ball.

Bake at 350 degrees on the center rack for about 15 to 20 minutes.

Eat immediately while hot, or, if eating a few days later, warm them up in the oven at 300 degrees for a few minutes.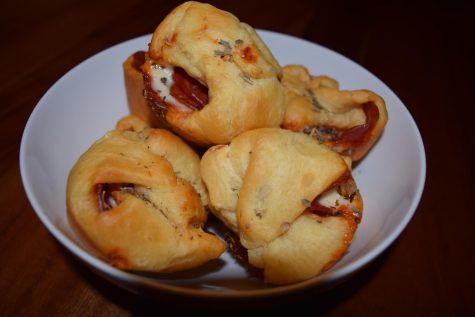 Roasted Chickpeas:
These healthy, crispy chickpeas are great to eat when hot and to throw in your lunch the day after they're made. Difficulty level: 1
What you'll need:
A nonstick cookie sheet

Two cans of chickpeas (garbanzo beans)

Extra virgin olive oil

Coarse sea salt
Directions:
Drain, rinse, and dry the chickpeas.

In a bowl, glaze them with about 3 tablespoons of olive oil.

Pour them on a cookie sheet, shaking it to lay the chickpeas evenly.

Stick them in the oven on the center rack at 350 degrees for about an hour. They may take a little longer to bake, but last for much longer.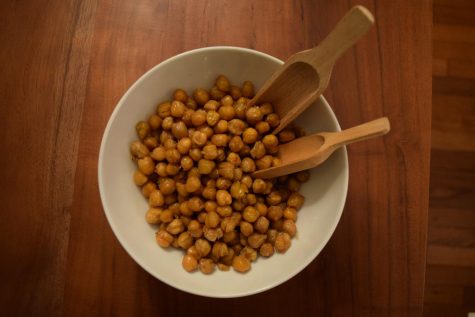 Homemade Sweet Potato Chips:
These require a steady hand to slice each sweet potato, but are 100 times better (and healthier!) than binging on a bag of potato chips. Difficulty level: 2
What you'll need:
A nonstick cookie sheet

Two sweet potatoes

Extra virgin olive oil
Directions:
Cut each sweet potato into ? inch slices. A sharp knife is needed, so be careful not to cut yourself.

Throw the slices on a cookie sheet and pour on olive oil, making sure every potato slice is glazed. If you run out of room, use another cookie sheet.

Bake them in the oven on the center rack for 20-25 minutes, flipping each chip at the halfway point. If using two cookie sheets, put one on the center rack, and one on the bottom rack. Watch them closely towards the end to make sure they don't burn.

Let them cool, then enjoy!