Inman Pumpkin Patch Brings Autumnal Spirit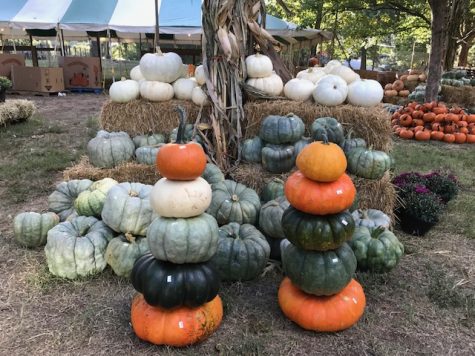 Everyday the air gets a little cooler than the day before. The leaves are beginning to fall from the trees. Autumn is slowly approaching and Halloween is waiting just around the corner. It's now the perfect time to fill your front yard with bright orange pumpkins and colorful gourds, and what better place to do so than your neighborhood pumpkin patch.




Inman Middle School will be hosting their second annual pumpkin patch starting October 5th. The patch carries a large variety of fall related items ranging from classic orange pumpkins and mini pumpkins to white, grey and pinkish colored pumpkins, gourds, pumpkins with 'warts', mums, pansies, small Halloween decorations and an assortment of jams.




The patch will be run by Barefoot Mountain Farms for the second year which is the same company that runs the Christmas tree lot at Inman every winter. Some of the proceeds that are made at the patch will go to Inman's PTA to help support the school.




"We pay a flat fee for the field space and then the school gets a commission of sorts that increases depending on how many pumpkins we sell and how well we do," Danny Dollar, the manager of the pumpkin patch, said. If the patch is as successful as it was last year, the PTA should have a lot of money headed their way.




"Last year the patch was filled with families with their kids and people with dogs, especially at night time and on weekends,"Tina Hollcroft, owner of Barefoot Mountain Farms, said, "I suspect the patch will start to get a lot of business this year as Halloween gets closer" This business is very beneficial to Inman because the PTA gets money off a commission.




"The patch was very successful last year," Cathy Lepik, co-president of Inman's PTA, said, "In fact, we had to order more pumpkins than we originally planned for," The patch's popularity last year is what has brought it back for a second annual pumpkin patch.




"If we continue to be successful this year and we can give back to the community, I think we should continue to make it an annual Inman/Virginia Highlands pumpkin patch," Hollcroft said.




The patch not only benefits Inman, but it provides a great opportunity for kids at Grady High School to earn community service hours.




"Working at the patch is an easy and fun way to earn community service hours," Luke Langan, a sophomore at Grady, said, "It also will help get you a spot to volunteer at the tree lot."




Helping kids earn their services hours is just one of it's many perks.




"We've been so successful I don't see why we shouldn't make it annual. As long as it works for the farmers and the community," said Lepik. 


Others agree.


"Last year we had people stopping in here with their little kids or their dogs when they are on their way to the park," said Dollar, "Sometimes, it was the same people day after day because the patch is a fun thing that people of all ages can come and look around in and enjoy. Also, you would be surprised by how many people come here to take pictures."




The Inman Pumpkin Patch is a great benefactor to the Virginia-Highland community offering a place for people to buy pumpkins, get in the fall spirit and give back by volunteering.




"Having something like this local really bonds the community and gives you the feeling that you are part of a big family," said Hollcroft.