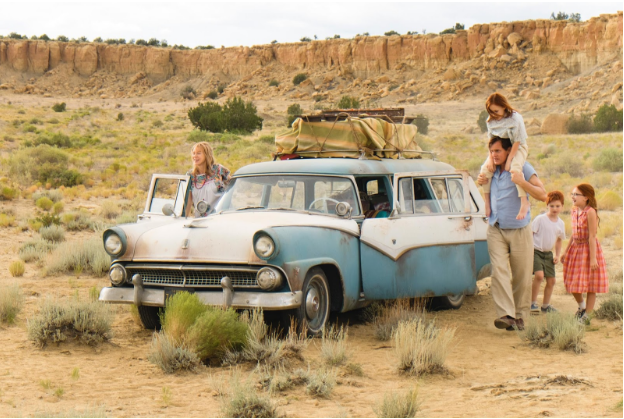 By Charlotte Spears
A far cry from the typical childhood memoir, "The Glass Castle" explores a strange combination of comfort and chaos while telling the true story of Jeannette Walls, a little girl whose life is shaped by of her wild, spontaneously nomadic family. Walls' unbelievable story of a dysfunctional family and intangible hope is told perfectly by the cast and director, Destin Daniel Cretton.
The movie was painfully relatable. Seeing the cast exhibit undeniable chemistry on screen allowed for a completely believable story. Brie Larson and Woody Harrelson display such impactful, raw characteristics. It's as if you are watching the story unfold right in front of you.
Based on the memoir, the movie follows a curious girl who absorbs her father's words like a sponge. He teaches her and her three siblings about the world as they move from rotting house to rotting house across West Virginia. In between the bouts of adventure, Rex Walls torments his family with drunken, unstable behavior. For the kids, it's an unrestricted and unstable life filled with sweet lies and bitter endeavors. It's hard to watch the children in the movie grow up in such conditions. As sad as it is sweet, the underlying message of what matters most will cling to every fan.
Hollywood is producing movies that show the world ending, suffering or unrealistically pure. "The Glass Castle" shows truth, damage and the marvels that can result. The movie shakes something inside of the soul, something no movie has ever shaken, because it's very relatable. The audience is sure to leave with a feeling of connectedness to the them and the characters.
The audience feels the determination and unconditional love brought unleashed by a career-best of Woody Harrelson, who played the father, Rex Walls. He created a consistently fiery character who molded into the theme. Brie Larson gave perfectly placed, child-like qualities to Jeannette Walls' younger self. Naomi Watts gives impeccable instability to her character as she plays the whimsical, artistic mother. The flashbacks to the child actors, however, is where the film fell short. Throughout the movie a total of nine child actors were used and most were not worthy of a big production. Nevertheless, the movie was a clear example of perfect casting.
Director Destin Daniel Cretton proved that real-life stories are the ones that touch us the most. The story of Jeannette Walls was one that needed to be heard by a larger audience, for its message in giving hope and forgiveness is one all too hidden in today's doubt. "The Glass Castle" is a film that will be treasured as long as people enjoy honesty, family and hope: or in other words, "The Glass Castle" is a film that will be treasured forever.