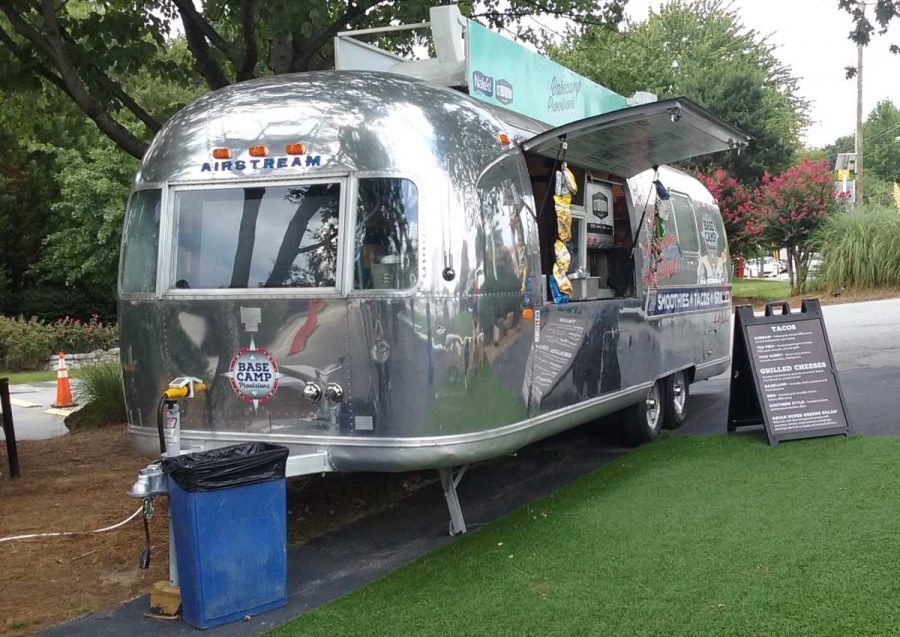 Margot McLaughlin
Park Tavern has been feeding the midtown community since 1999. Recently, the bar, restaurant and event space have welcomed a new addition to its family: Basecamp Provisions, a charming airstream food truck located in the parking lot of Park Tavern. This spot provides food and refreshments for people roaming Piedmont Park and for those traveling on the BeltLine. It has been steadily growing in popularity.
"The foot traffic is very heavy," said Tim Lewis, the cook at Basecamp Provisions. "It's growing. Every weekend is getting busier and busier. Soon enough we are probably going to have to get a few more people in here to help me out."
Lewis has been cooking for a long time and is seasoned when it comes to handling a crowd. This is his first time working for a food truck but he enjoys the job and the venue.
The food truck is eye-catching. The airstream gives it a classic feel and the turf lawn and wooden stools give it a laid-back and inviting atmosphere.Located right next to Piedmont Park and across from a BeltLine exit at the corner of Monroe Avenue and 10th Street, Basecamp Provisions experiences lots of customers.
"Most people, when they stop by, they usually want waters of Gatorade or something because they are on their workout or an early morning run," Lewis said. "So it's not like they are always coming for food. Usually the food is later like nights; like 6 or 7."
Owners Paul and Angela smith hoped to create an easy, laid back environment serving fresh tacos, grilled cheese sandwiches, salads, smoothies, kombucha, artisan soda floats, tea and coffee, as well as their new breakfast menu including a wide variation on avocado toasts and açaí bowls.. The selection is extensive for the small space they are working in.
Basecamp Provisions is a fitting addition to both Park Tavern and to the BeltLine and Midtown area community.