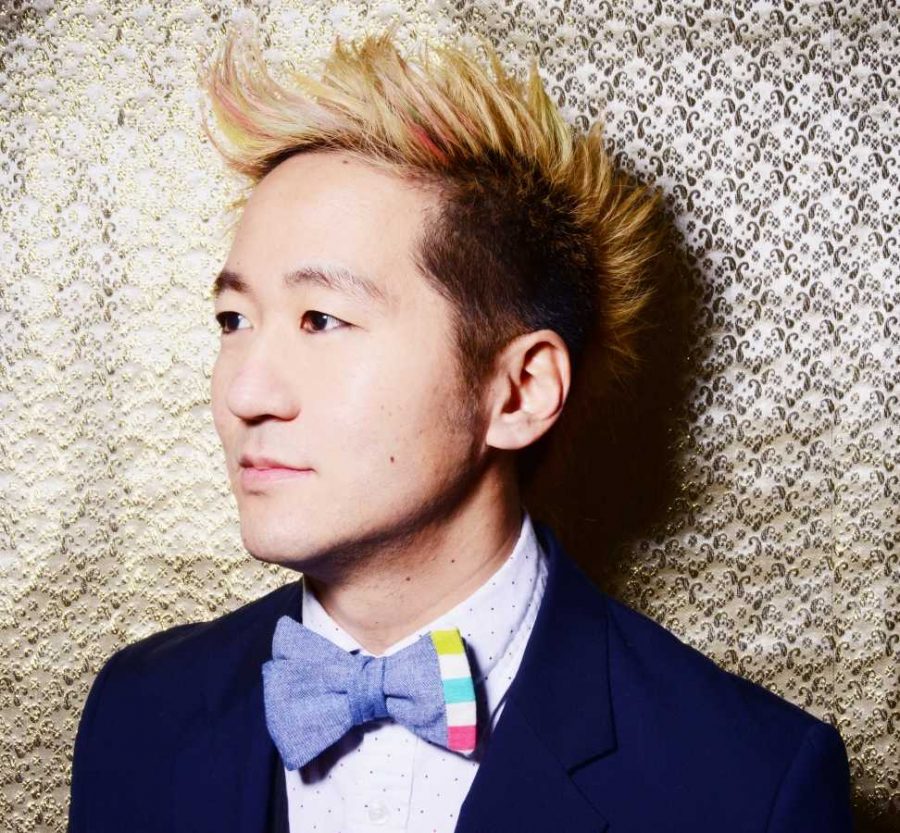 Kishi Bashi
       "151a," a traditional Japanese saying pronounced "ee-chee-go ee-chee-eh," roughly translates to "once in a lifetime chance," or more literally, "one time, one meeting," defining the importance of treasuring the moment that was fated to fall upon you. The virtuosic music of Kishi Bashi, a Japanese-American singer/songwriter/looper-violinist based in Athens, Ga, expreses   by the title of his debut LP, "151a."  His organic performances are with a band including a percussive and illuminating banjo, solo with just his violin and his voice, or with a string quartet. Every arrangement of his pure voice and presence release a vibe of "151a" that is hard to let go of. And while this may seem like a strange message from whose credits include touring with Of Montreal and Regina Spektor, his upbeat chamber pop music performances are something you cannot get enough of from just a "one time, one meeting."
Known primarily by singing and looping over his principle instrument, the violin, Kishi Bashi infuses his performances with the avant-pop spirit of an artist who knows how to nurture his music. His ubiquitous lyrics feature lines such as
which provoke and open up a listener's imagination and ability to sink into the fantastical realms of his songs. In addition, his music includes Japanese lyrics that bounce along the toe-tapping tune that just might be among the catchiest, but most difficult to sing along to.
Finishing up a national tour with his band and string quartet, Kishi Bashi dropped by the Sunset Sessions, a weekly performance series in August and September presented by the Park Tavern, a neighborhood venue right in front of Grady. Nexus Magazine caught up with the multi-instrumentalist for a "Q&A" (a title of one of his tracks) about his early music career, a teenager's guide to pursuing the music scene, his quirky fashion sense.
Nexus:  Please tell me about your childhood/high school life. Were you interested in music/entertainment? How does young Kishi reflect you now? What were some trends (fashion, music, art etc.) that you took part in?
K: I was a pretty normal Asian- American child. I was good at math, kind of a dork, braces and played Suzuki violin from an early age on. I never considered a career in music until I was an adult.

Nexus:  You incorporate Japanese in a lot of your music. Why?
K: I use the Japanese language as a musical instrument.  Another layer that I can add to create a depth on the song meanings (if you understand Japanese). Japanese is also a very rhythmic language.

Nexus: Music programs (band, orchestra, chorus) are getting cut in many schools lately. (Including the elementary schools in my county). In fact, Georgia is 50th in the country for music funding. How important do you feel is the impact of music in young people's lives?
K: Music is so important for children. It helps develop discipline, boost confidence, creates an outlet for frustrations and creativity, and connects them with the joys of humanity.

Nexus: Many students that are interested in pursuing music as their career fear how they will make money, or get their music out there to the people, and many end up changing their path. Do you have any advice for aspiring teenage students?
K: The only advice is that if you want to make music, be resourceful and do lots of different things. Compose, play different instruments, always be mindful to develop other skills to supplement your income. I bounced between playing in bands, to playing weddings, teaching,  and composing for film. There are plenty of musicians who make a living, but it's a challenging road for sure. Don't ever give up!

Nexus: Do you have any interest in classical music?
K:  I love Vaughan Williams, especially, Fantasia on a Theme by Thomas Thallis, and Lark Ascending. I also love the Takemitsu viola/harp/flute trio. It's fantastic.

Nexus: I noticed that your attire on stage is very classy, quirky, and unique. Who is your style icon?
K: I decided at some point to maintain a "semi-formal" look, especially with the bowtie. I feel like it's not out of place because I play the violin. My heart is 100 percent Rock 'n Roll, so I think it's a good duality that I'm going for.

Nexus:  Your lyrics to your songs are very abstract and poetic. What inspires you to have such an inspiring sense of creative writing. (ex. what is The Ballad of Mr. Steak really about?)
K: I don't like to divulge what my personal inspirations for the songs are. I prefer the listener to get whatever he/she desires from them. I'm also afraid to disappoint the listener with a less-than-prophetic meaning behind the songs.

Nexus: What would you say is an overarching theme to your music?
K: The struggle.

Nexus: Finally, what are some big goals you have for the future? Will you write a symphony? More and more albums? Anything you aspire to be?
K: I would like to write a symphony. Although my more immediate goal is to be able to perform a full concert with a symphony. I've had string chamber concerts so far.
Kishi Bashi's new live album String Quartet Live! is now available for purchase.
Download at joyfulnoiserecordings.com