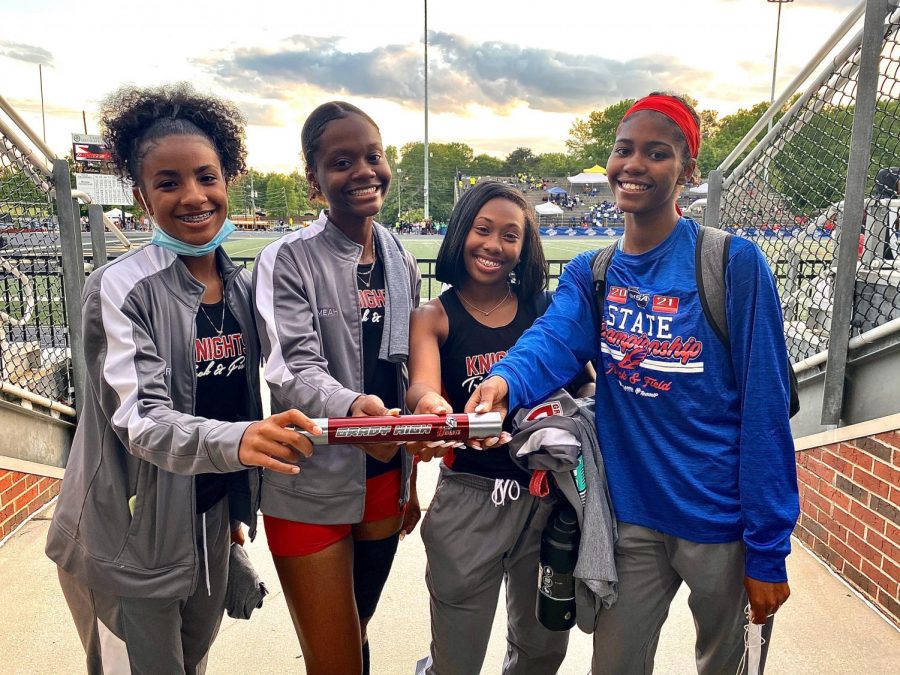 Rady Kronenberger
The girls track team recently concluded their season with a successful state meet.  
"The team did extremely well this year," Head Coach Josh Washington said. "We either won or placed top 5 at every track meet we attended. Additionally, everyone on the team set personal records this year in all of their individual events."
The Knights finished 10th in the state meet. Not only was there some success at the state meet, the season as a whole was productive and set many records. .  
"The team has worked so hard over these past years and we're constantly trying to beat our best self," senior hurdler Ameah Richardson said. "This year eight school records were broken."
Richardson credits a lot of the team's success to the chemistry they've built through the years. 
"The team is more like a family than just teammates," Richardson said. "We all are very close and support each other through everything." 
While Washington pushes his athletes, he also believes in discipline training which has benefited the Knights. 
"In the beginning of the season our practices are based primarily around conditioning and getting in shape," Washington said. "We then transition into speed training where the goal is to train the body to do everything faster. Overall, our approach to practice is to train hard so when we are in our meet we feel prepared." 
The practice regiment put into place by Washington has been extremely beneficial to the Knights. 
"Usually on Mondays and Wednesdays we would have a workout until we are tired and want to sleep, and every other day are easy run days except for Fridays when we usually hit hills," sophomore relay runner Emilia Weinrobe said.
This year, the girls have worked hard, leading them to break records and qualify to regionals and state. 
"Regionals were very important because you had to qualify in the top eight in order to move on into sectionals," Wienrobe said. Then in sectionals, you had to qualify in the top four in order to move onto state. These events were all very nerve-racking and intense," 
With the Knights wrapping up their season, the team did amazing overall and way better than what was expected. This year the team made it to state and broke multiple records to end their season.
Reflecting on the season, team members such as Weinrobe, feel proud of their performance. 
"The team has definitely improved," Weinrobe said. "At the beginning of the season we were good but we definitely still had a lot of work to do. Towards the end of the season, the hard work really showed out because a good amount of the team went to state. I think this year has been the best year we have had in a while for the girls."