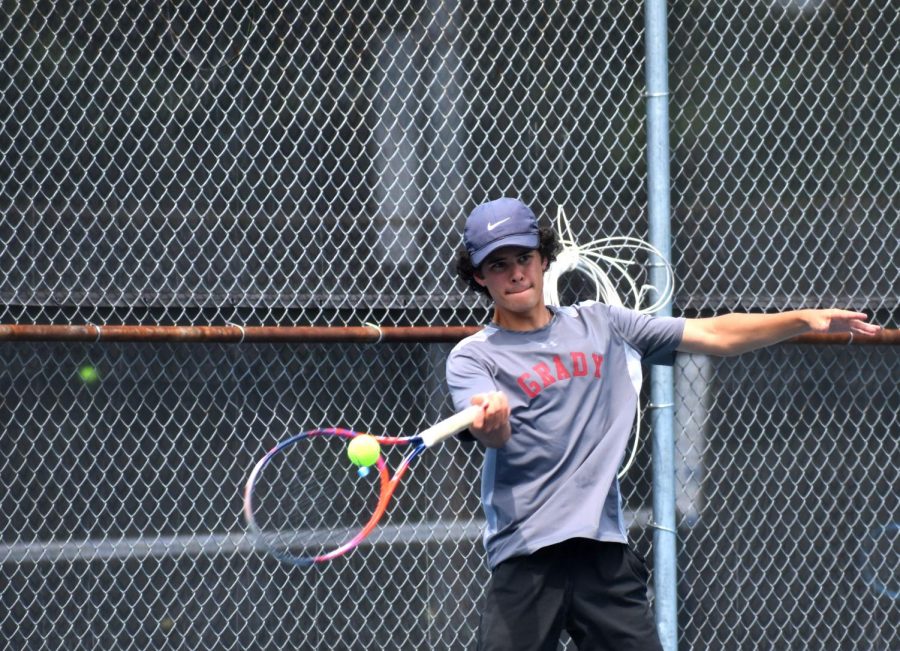 Duncan Tanner
After a promising regular-season record of 11-4 and a region championship, the boys tennis team advanced to the 5A state championship on May 8. The Knights fell to Woodward 3-0, finishing as state runner-up for the second time in three years.
"I think going into it, we were definitely the underdogs because Woodward hadn't lost a match all tournament," sophomore Ethan Bass, who plays number one singles for the Knights, said. "I think we played well, but Woodward just played better. They were a really solid team."
The Knights started their playoff run strong as they defeated Hiram 5-0, Chamblee (the defending 2019 state champion) 3-2 and Starr's Mill 3-0. The Knights then defeated Coffee 3-2 to send them to the state finals.  
"Everybody [on the team] is great from top to bottom," head coach Val Taylor said. "They've become very, very, good players, and what's changed over the course of the semester is the doubles. We [could] almost count on Teddy [Suazo], Simeon [Smith], Scott [Whitley], Colin [Stanley] and Elliot [Wilner]; they really know how to play doubles."
Throughout the entire tournament, the doubles didn't lose a match. But because tennis matches are best-of-five, and only two doubles matches are played, a third point had to come from a singles match. In the semifinals, that third point came from sophomore Cooper Cavalier at number three singles, who was able to make a comeback that sent the Knights to the finals.  
Cavalier was down one set and down 4-2 in the second set. After tying it at four-all, Cavalier went down again 5-4, 40-love. Then, Cavalier saved three match points and went on to win the tie-break to force a third set, which he won 6-2, allowing the Knights to advance to the finals.  
"I was a little nervous because it was all up to me," Cavalier said, "but I was motivated by all of my teammates and fans cheering. I never gave up even though I was down and came all the way back to win."
Senior co-captain Colin Stanley attributes Cavalier's come-back win to something the entire team shared throughout the season: a desire to win.
"One of the main reasons for the team's success is the overall drive to win and be the best," Stanley said. "When [Cavalier] had one of the biggest comebacks in Grady history, I was just astonished and proud that I was part of this team; all of us wanted to be state champions."
Going into the finals match, the Knights were confident in their lineup and their ability to secure a state championship.
"Coach Taylor really fixed the lineup so it's the best possible one," Bass said. "When we played Woodward last time, it was a different lineup than what we did [against Coffee], so I think the doubles and singles were the strongest possible."
The main change made by Taylor was putting senior Simeon Smith at number one doubles with Scott Whitely. The duo won multiple crucial matches and was key to the team's success, especially in the later rounds of the playoffs.
"We definitely changed our momentum," Smith said. "We had a rocky start and lost quite a few matches. And then towards the end of the regular season, and once we got into the playoffs, we just got on a pretty good winning streak."
The Knights previously faced Woodward towards the end of the regular season and won 3-2. However, according to Taylor, the finals were a completely different situation than they had faced when playing Woodward before.  
"When we played them before, they didn't have their full lineup, and we didn't have ours," Taylor said. "They're good at number one, and they're good at number two [singles]. Suazo and Wilner played at number one doubles, and they crushed Woodward's, but they didn't have their top line, and we didn't have ours."
Taylor said in important situations like the state finals, she encourages the team to be confident and remember their hard work. 
"I wouldn't go into it without thinking that we would be champions," Taylor said. "We just [had] to lay all the cards on the table and see how we play. With all the strict, consistent practice throughout the season, we showed what we could do, and we weren't playing around."
In the finals, although both doubles were tied at a match apiece, the Knights ended up losing all three singles to Woodward, ultimately conceding the match. Despite the outcome, Stanley is proud of the team and everything they've done.
"I am so proud of how hard this team has gone and how hard we have worked," Stanley said. "They deserve every bit of it. It has been an amazing season and I am so lucky to have been through it."
Despite losing key seniors including  Stanley, Emeades, Wilner and Smith, the Knights have an optimistic outlook towards next season.
"Five seniors are leaving, so that's a big loss for us," Bass said. "We need to help the new freshmen who are coming in, so they can help us out as a team, but I think we just need to improve at singles and just keep on working."
Although Smith will be graduating this year, he sees the team continuing to prosper in the future.
"To see them come back and do what we did this year would be unbelievable," Smith said. "I just see the team building from this and trying to be the strongest possible next year."