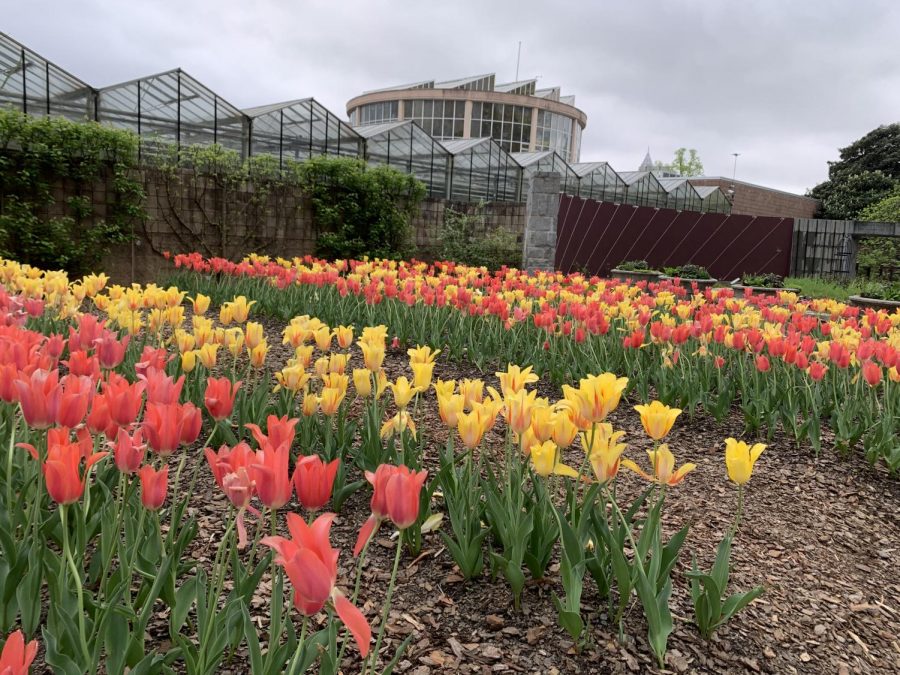 Greta Gustafson
It's been over a year since the Covid-19 pandemic began, and people worldwide have adjusted to limited options for outdoor activities. Despite the current circumstances, the Atlanta Botanical Garden are offering visitors a sense of normalcy in a safe environment. 
"Going [to the gardens] was almost as if Covid was never a thing," sophomore Keegan Kronenberger said. "Even though we had to wear masks, the plants and other amazing exhibitions brought the attention off the pandemic, and it felt like we were back to normal."
The botanical garden has taken extra measures to ensure visitors feel safe, including limiting capacity, requiring social distancing, mandating masks and providing hand sanitizer dispensers throughout the garden.
"Being outdoors, along with the measures we have taken, reassures guests they can enjoy a safe experience," said Danny Flanders, Public Relations and Marketing Manager of the Gardens.
The garden has set up a new system where guests are required to purchase tickets online for a specific time to allow management of the number of guests present at any time.
"We can control how many people are in the garden at any given point," Flanders said. "Three hundred[people are allowed] per hour on weekdays and 400 people per hour on weekends." 
Aside from wearing masks and maintaining distance, the garden is not much different from the pre-pandemic experience. During the winter months, the garden still hosted its "Garden Nights Holiday Lights" exhibit, and currently, the "Orchid Daze" exhibition, which features a building full of orchids, is on display. 
"It was still very enjoyable, and it didn't feel much different than it has previous years,"  freshman Ryan Carter said. 
However, the botanical garden has encountered some difficulty safely executing the Orchid Daze exhibition. The orchids in the exhibit are kept in a confined space, where there isn't an air conditioning system, which the orchids need to thrive. However, the garden has adapted. 
"We believe the Conservatory and Orchid Center are safe indoor options because of the strict safety protocols we have in place," Flanders said. "Masks are required of all guests and staff. We pulse visitors at the door (a way to count by pushing a button that keeps track of guests), so that only a handful of guests are passing through indoors at any one time, and entry/exit doors are constantly opened for helping with air circulation."
The Splash Pad in the Children's Garden and the Outdoor Kitchen, where cooking demonstrations, classes and dinners used to take place, are not open. 
"Some places are still restricted, which I understand because they want to try and limit contact, but the main places are still open," Carter said.
Guests visiting the garden expect intricate displays of plants and flowers. Even with the pandemic, the garden has met guest expectations. Currently, the "Atlanta Blooms!" celebration is in full swing, with over 80,000 tulips, daffodils, hyacinths, crocuses and other bulbs on display. 
"I think it's special because it's kind of like this flower explosion in the middle of a giant city,"  sophomore Elena D'Agostino said. "It's really cool to see all the flowers and displays."
The garden is looking forward to post-pandemic life, Flanders said.
"Like everyone else, we look forward to the day when we can safely accommodate crowds without restrictions, but for now, things seem to be working very smoothly," Flanders said. "The reaction from guests has been very favorable."