Senior Vines reflects on social issues with spoken word
"I think of words as spells. They can touch you; they can move you, whether it be for the good or bad."
Senior Re'Onna Vines has a way with words, viewing them as "spells." She shares poems about racial, social and personal issues to over 18,000 Instagram followers.
Writing, which she does with "other people that may be able to relate to me and what I go through," in mind, has always been important to Vines.
"I write for expression; I write for understanding; I write for others," Vines said.
She started writing poetry after her grandmother's passing in September 2020 and shared her first poem, "How to Heal a Broken Race," in a video in November. Vines used "#TheBetterNorm" in the video's caption, where she vouched for the adoption of "better norms" by the Black community, such as "facing the pain that lies within" due to systemic oppression.
"People were touched by it; people felt like, 'Wow, I can relate to this,'" Vines said. "And I just got so many shares and likes and comments, and not to say that matters or that determines whether or not someone is talented, but it just made me feel like my words can move people."
Vines also integrates her poetic interests into her clothing brand Flier Attire, which sells rompers, pullovers and hoodies. For Black History Month, she released #TheBetterNorm merchandise, specifically a hoodie featuring the hashtag and "uplifting black history."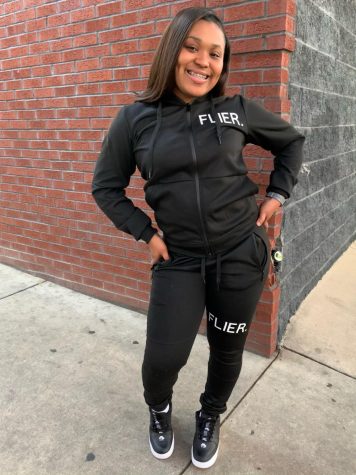 "[There's] passion behind my business. I'm doing my business because I want people to be inspired by me," Vines said. "I want to have something that instead of going to clock into a 9 to 5. I'm going to put that same amount of time into something that I love to do and my vision."
Like her clothing brand, spoken word serves as a creative outlet for Vines. However, she also uses poetry to address her own struggles. In her poem "Oreo," Vines reconciles with snide remarks from peers that she, like the sandwich cookie, is white on the inside and Black on the outside, due to her intelligence.
"At that time, I used to want to try to fit in with peers, and I used to want to try to not be smart because of these types of stereotypes," Vines said. "But then I had to remember…my ancestors weren't able to read or write; my ancestors were prohibited to be able to learn because they would be beaten or killed."
Senior Jordyn Morton, a longtime friend of Vines, empathized with "Oreo."
"It's something that Re'Onna and I have been dealing with since we were little," Morton said. "For one, speaking differently from other people in our 'group,' we'd be called 'proper' or 'trying to act white'… simply for speaking correct grammar."
Even when sharing her spoken word with an audience of more than 18,000 followers, Vines has to "be real."
"It does take a lot of confidence," Vines said. "And it takes a lot of just believing in yourself and not caring what other people are gonna say or who might be offended. That was the main theme, because when I'm writing about taboo issues, social issues, race, I've always thought about everyone else's feelings and what other people may feel, but it has to be real. I'm real; I write about what's real."
Before finding spoken word, Vines rapped and regards Atlanta rapper Lil Baby as one of her inspirations. Like Vines, Lil Baby is unafraid of addressing systemic racism. He released "The Bigger Picture" in June of 2020 after the murder of George Floyd.
"I enjoyed especially when he dropped 'The Bigger Picture,'" Vines said. "That was a reactionary song to what was going on in the world with the civil rights protests. That… made me admire him so much because it's expression, and when you write, you can connect with other writers just through writing."
Like Lil Baby, Vines is no stranger to responsive pieces. In "The Greatest Progression," Vines discusses white supremacy from a historical perspective in the wake of the U.S. Capitol Riot reciting "overcoming aggression is the greatest progression." 
"That was definitely reactionary when I wrote it, and it wasn't to bash anyone, but it was for the people that were watching to understand, people of color, specifically, because we had just had riots the prior year about civil rights, fighting for our lives," Vines said.
Vines credits a humanities course she took while dual-enrolled at Atlanta Technical College with broadening her mindset on history as it relates to race.
"With race, especially, it influenced me to not be scared to share my gift and share my work, because a lot of times, we hold our gifts and our talents and suppress it out of fear of what others may think," Vines said. "But it's the art that people weren't afraid to share in history that has passed down and has literally changed lives and changed the course of history."
Vines' ancestors were settlers of the oldest American town established by African Americans after the abolition of slavery, Princeville, North Carolina. Her great-grandparents lost half of their farmland after losing in court to a white neighbor who claimed the land.
"A lot of the injustices that my grandparents, and my parents even went through from the effects of racism influences me a lot to be outspoken and be expressive, the type of person that I am today," Vines said.
Historical perspectives and social change fill Vines' poetry, and she regards her roots with great reverence.
"I want people to remember my family and the struggles they went through and how far we've come," Vines said. "I just always say, we have to know where we came from in order to know where we are and where we're going."
Serena Vines, Re'Onna's mother, has high hopes for her daughter.
"I know she's going to go on in life to bigger and greater things," Vines's mother said. "I'm just waiting for it to happen."