Grady cross-country brings home hardware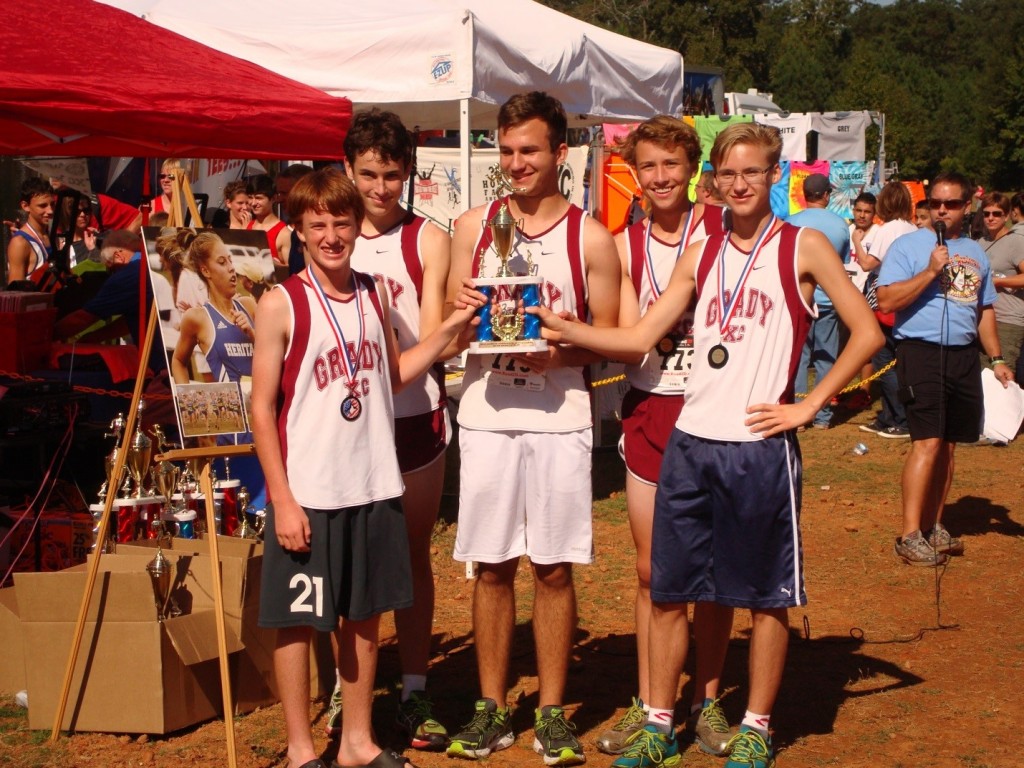 The Southerner
October 5, 2013
The Grady cross-country team raced The Aubrae Gunderson Invitational 5k, one of the largest meets of the season, on Saturday, Sept. 28. Over 62 teams were expected to make the trek to the International Horse Park in Conyers, racing in three divisions organized by classification: White, Red, and Blue. The Grady team raced in the Blue division, and the all-natural terrain, grass, dirt, and trails with rolling hills made for a fast course, yielding strong times.
Dedicated to Aubrae Gunderson, the memorial run marked a big step in the team's season and holds significance in the cross-country community. Aubrae, the daughter of Dan and Eileen Gunderson and big sister to Arielle, was a sophomore at Heritage High School when her remarkable life ended too soon. She was struck and killed by an automobile while practicing with her cross-country team on Sept. 26, 2005. Her family, friends, and coaches have established the Aubrae Gunderson Memorial Scholarship Fund in her memory.
Times were fast, and the team competed well.  The girls finished sixth of 14 teams, and the boys were third of about 14 in the blue division.
Out of more than 120 blue-division runners, three Grady boys were awarded for racing in the top 20. Senior Archie Kinnane ran a PR of 17:42, placing 10th. Junior Carter Guensler ran a PR of 18:01, placing 13th. And Sophomore Hank Persons set a personal record of 18:06, placing 14th. All three received medals, and the varsity boys team took home a third place trophy.
"The boys all finished very close together." cross-country Coach Jeff Cramer said. "There wasn't much difference between our first-place runner and our fifth-place runner, which is what we've been preaching in practice and did in the race."
An additional 110 girls ran the Gunderson Invitational in Grady's division, and junior Grace Powers raced her way to 13th place with a time of 22:00, earning herself a medal and setting a new PR as well.
The team has high hopes for the rest of the season and is determined to not only qualify for the state meet, but race their way to the top 10.
"It's time to put our feet on the ground and get ready for city," Cramer said, "This is the no fooling part of the season, and if we all push each other by encouraging and training together, the team will only get stronger. We should make some noise at both region and state."