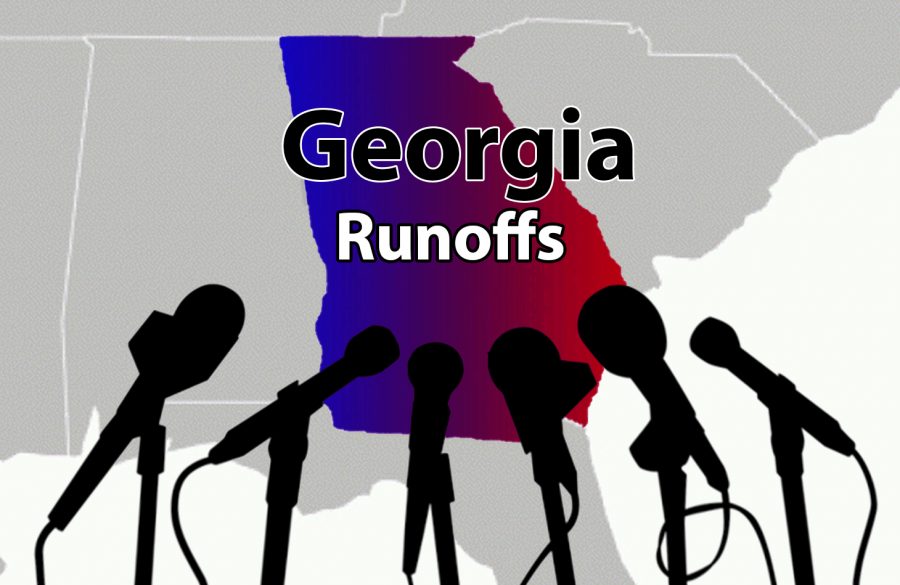 Graphic by Sophia Maxim
When Greg Bluestein answered the phone for an interview on Dec. 3, he was speeding to Savannah. 
Continuously interrupted by trucker horns and turn signals on his five-hour voyage to cover Vice President Mike Pence stump for Republicans, Bluestein, the Atlanta Journal Constitution's (AJC) senior political reporter, described 2020 Georgia election coverage with one word: non-stop.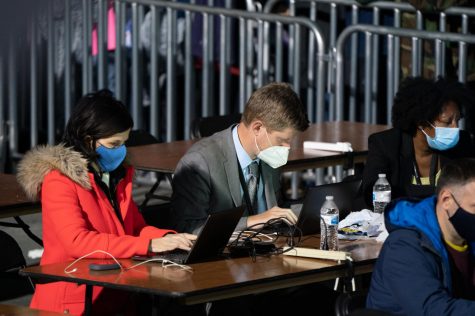 "It's fast and furious, and you've got to be nimble," Bluestein said. "There is always something happening right now." 
During the 2020 presidential election, Georgia captured the nation's attention as a historically red state turned blue, casting its 16 electoral votes for President-Elect Biden. But for Georgia's political press core, the presidential race was only half the story. 
Georgia is in the media's spotlight again as the state's two U.S. Senate seats head to run-off elections on Jan. 5. These two races, a special election between appointed Republican Senator Kelly Loeffler and Democrat Reverend Raphael Warnock, along with a regularly scheduled election between first-term Republican Senator David Perdue and Democrat Jon Ossoff will decide the balance of power in Washington. 
The combination of these events transformed the Peach State from a political afterthought into the center of the political universe, creating a political journalist's perfect storm. And while Georgia's sudden place in the political limelight changes the state's political landscape, it doesn't change how local reporters do their job. 
"With our team at the AJC, we are kind of doing what we always do," Bluestein said. "We are covering hearings, we are writing about what's happening, we are doing a daily newsletter, we are keeping the blog full of juicy developments. It's always what we have done as reporters; it's just now a broader audience outside of Georgia is scrutinizing it because there is so much at stake with these elections." 
Liaisons to the Nation
While local newspapers may not have changed their reporting because of Georgia's newfound attention, the rest of the nation has. Because Georgia holds the key to Washington, national media are covering Georgia with unprecedented focus and using local reporters as a blueprint. 
Richard Faussett is the Southeast bureau chief for the New York Times and is in charge of covering North Carolina, South Carolina, Georgia, Alabama, Mississippi, Louisiana, Tennessee and Arkansas. While he is typically not one to focus on the minutiae of local politics due to the New York Times' national audience, Faussett recognizes how Georgia's newfound political importance has changed what stories are written by national publications.
"Everything here [in Georgia] has become much more worthy of our close attention," Faussett said.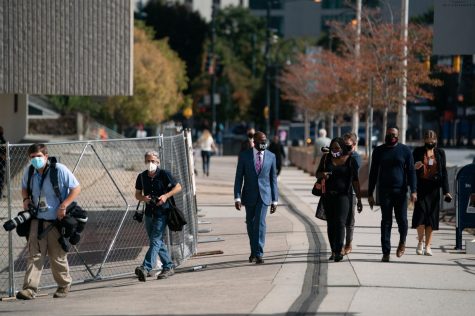 With the current political climate constantly changing, an abrupt shift of scope can leave national reporters behind on issues that local reporters have been working on for years. 
Bluestein recalls a recent national story about a second Stacey Abrams gubernatorial run in 2022 as evidence of this disparity. The story received thousands of retweets when published, but Bluestein notes that for many local journalists who have been covering Abrams since before 2018, "It was some national reporter trying to get a scoop with something that wasn't news." 
Whenever national political events occur in areas not used to the media scrutiny of New York City or Washington D.C., national publications will send journalists tasked with covering fast-paced but temporary news events. 
These reporters faced a new challenge when they arrived in Georgia: a new voting system. To the naked eye, the act of casting a ballot in Georgia is incessantly complicated. Since 2018 alone, Georgia election officials have faced numerous lawsuits and implemented an entirely new voting system. 
For the Georgia press corps, covering election law and voting systems is nothing new. This election cycle's challenge is that now the nation is focused on voting in Georgia, some local reporters feel added responsibility next to new, out of state faces. 
"We have to act as liaisons," Georgia Public Broadcasting political reporter Stephen Fowler said. "We have to hold our officials accountable for how things work while also explaining to the public how things are supposed to work or if they don't work, and also sometimes have to go in and correct the record or dig into the actual facts that you may miss if you parachute in for a couple of weeks or if your perception on whats going on in Georgia is tinged from a New York or Washington D.C. perspective." 
Even Faussett of the New York Times, a resident Atlantan, acknowledges the contrast between established local journalists and "parachuting reporters" covering Georgia's local politics for national publications.  
"I have had to really very humbly jump into that fray knowing that [local journalists] really are the experts; they are just magnificent beat reporters, and they have the state wired up top to bottom," Faussett said. "It has been a humbling experience.  It has been really tiring and occasionally kind of fun, and it has been really tense." 
At the same time that national reporters are looking to local voices for local strategies, some local reporters are grateful for the national press due to the overwhelming influx of news in Georgia that can prove difficult to cover.
Amplifying Georgia Voices
In addition to dealing with outsider journalists and sleepless nights, local Georgia reporters have found themselves in a largely unknown position: the spotlight. 
While laying the foundation of Georgia political reporting for national outlets, local journalists have seen their own platforms increase during the 2020 elections. Ian Swanson is the Managing Editor for The Hill, a national news website specializing in U.S. politics. He notes that often when a local issue is in the national spotlight, so are the local reporters who cover it. 
"You can go on Twitter sometimes and find some reporter who is covering some local race or issue really well, and they will be tweeting about it and that person's number of followers can go way up among other media people if their story or issue is in the spotlight," Swanson said. 
This is certainly the case in Georgia. A blue verification check next to a local reporter's name on Twitter is now the norm and many local reporters have seen both their stories and voices amplified across the nation. 
Covering the 2020 elections for WSB-TV, the local affiliate for ABC News, Audrey Washington remembers the affiliate stations from all over the country relying on her.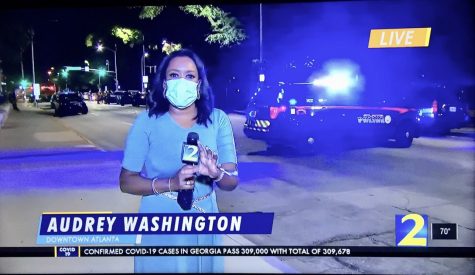 "I do remember one day I literally had 26 live shots because all of our affiliates asked for a live hit out of wherever I was," Washington said. "I did a live hit for Orlando, Jacksonville, Dayton, Ohio; Tulsa, Charlotte, Boston. People pay attention, and when you are an affiliate, you basically have to give them live shots from wherever you are." 
When it comes to national attention, local broadcast and radio reporters are at a distinct advantage. The decentralized nature of cable and radio journalism offers a straighter line to a national audience than a print reporter. 
Emma Hurt is a political reporter for Atlanta's local NPR member station WABE. Because the NPR structure is reliant on local member stations to file stories and appear on the radio, Hurt can bring Georgia's voices to the nation. 
"I am here to sort of amplify the local perspective in a way that maybe a national reporter wouldn't be able to get," Hurt said.
While appearing on NPR's Morning Edition, MSNBC or ABC News in another city amplifies Georgia voices, it also throws local reporters a new curveball: how does a national audience change the story? 
"For national stories, it forces you to boil things down, to be really aware about how people are perceiving Georgia, and thinking about where your value add can be in terms of telling the stories," Hurt said. "The main difference when I am explaining the Georgia situation [at the national level] is that you could be talking to someone driving down the road in Minnesota. What do they know about Brad Raffensperger? Why should they? 'Here, let me tell you why you should care.'"
However, new opportunities for Georgia journalists do not come without implications. On one hand, they provide important analysis to the national audience when appearing on bigger programs. On the other hand, they are also competing with these same programs for scoops and coverage.  
By definition, the reach of national publications dwarfs that of local reporters. Because of this mismatch, local reporters are turning to social media to even the playing field. 
"With social media in particular, local reporters have been able to maintain a bit of a hold on this story even as the national outlets are here," Hurt said. "They are reaching out to all of us to be on TV. That tells you something, that because of social media, in particular, local voices aren't getting completely squashed."
Combatting Misinformation
Along with the ability to level the reporting playing field, social media brings a journalist's worst nightmare: misinformation. 
Already dealing with an unprecedented political scenario and the world's attention, local reporters are having to enter the new battlefield of misinformation. Misinformation leading up to the Jan. 5 run-offs has continued in Georgia despite three different election certifications.
The primary difference between misinformation and disinformation this year is that, as opposed to other electoral cycles, both candidates and elected officials are spreading misinformation about Georgia's electoral cycle. When a journalist's job is to report the facts, this unrelenting swarm of misinformation can at times feel demoralizing. 
"I am watching the creation of a parallel reality where facts aren't necessarily facts," Fowler said. "The grounded reality of where we are isn't present and no amount of explaining is convincing people. It's incredibly frustrating."
Because the 2020 electoral cycle brought an onslaught on misinformation, both national and local reporters are struggling to keep up without just becoming 24/7 fact-checkers. This has led to difficult decisions on how to tackle misinformation in Georgia.
"I can't be the fact-checker of the world," Hurt said. "I can't be the fact-checker of everything that anyone ever says, but I feel like it's my job to always represent both sides of an issue on anything that I am covering and especially anything that is put out in any sort of prominent way."
It is not just the Georgia press corps having to deal with misinformation. Snopes.com, the premier fact-checking website, saw over 2.7 million desktop users in November alone. Although misinformation is undeniably a national issue, its rise in 2020 exemplifies the importance of local journalists.
According to the University of North Carolina's Center for Innovation and Sustainability in Local Media, The U.S. has lost over a quarter of its local newspapers since 2004 with over 600 going out of business since 2018. 
The decline of local news has opened the door for misinformation. In Georgia, there are 20 counties without a local newspaper and 112 that only have one local paper. These counties, dubbed news deserts, have stretched existing papers to a breaking point due to the lack of access to reliable news. 
Even the Atlanta Journal-Constitution, has shrunk in size. Formerly available in all 159 Georgia counties in 1996 with a weekday print circulation of over 400,000, the paper's circulation has been reduced to 174,251 and as of April 2020, according to the Audit Bureau of Circulations, is only available in print for 32 counties.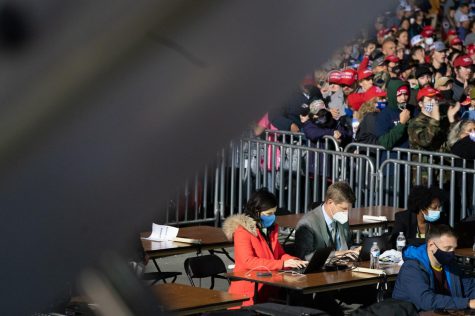 "You are seeing news deserts pop up all over the nation, including in Georgia," the AJC's Bluestein said. "That's where you don't have a trusted local voice to turn to to tell you something as simple as 'Early voting starts Dec. 14, pay attention because here's where in your county you can vote early.' I think it just creates a vacuum, and one that, as much as a statewide paper would like to fill, it's still not the same as having a local community voice in your backyard." 
Even with increased national attention, Georgia reporters remain the best way to combat misinformation because they have built up relationships with their readers, viewers and listeners. 
"We are in their living rooms," WSB-TV's Washington said. "You are being allowed into these people's homes everyday, and you have to respect that. You have to really honor that trust."
But when a local paper or radio station ceases to exist, readers are more susceptible to harmful misinformation. 
"You can have good local reporting and bad local reporting," Swanson said. "I think, as a society, the danger we have is that we don't have any local reporting or we have less and less of it."
The day after Election Day
Diminished in size, the Georgia press corps remains for many Georgians a stabilizing force of facts and trust. 
"It is a small but mighty group that covers everything that happens in the capital, in the elections, in the campaigns and everything that goes on in Georgia politics," Fowler said. 
Through every viral press conference, each guest appearance on cable news and the national spotlight, Georgia's political reporters are still trying to keep everything in perspective, remembering that once the run-offs are over, they will still remain. 
"The cameras are going to turn off," Bluestein said. "We are going to lose some of the Twitter followers that we have; the spotlight won't be on Georgia, but we will still be there because we have a job to do."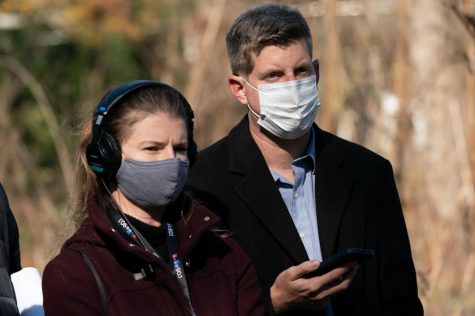 Even without the national attention, Georgia politics show no likelihood of slowing down. The Georgia General Assembly is scheduled to meet for its 2021 session beginning in the spring, bringing a host of new news for the Georgia press corps. 
"After the run-offs, the General Assembly is going to be in session, and they are going to be fighting over voting reform," Hurt said. "It's going to be bloody. It's going to be really difficult for the average person to follow, and it's going to be our job to try and explain it to them and stay on top of it."
In addition to a continuing local news cycle, it's hard to imagine that Georgia will disappear from the political consciousness. Whoever wins the Senate special election, either Loeffler and Rev. Warnock, will be forced to run again in 2022 at the same time that Democrat Stacey Abrams, one of the biggest names in Democratic politics, vies for another shot at the governorship. Abrams lost a close election to Republican Gov. Brian Kemp in 2018.
Many reporters are hoping that, during Georgia's 15 minutes of political fame, the work they have done in covering Georgia politics for the nation will provide an investment into how the nation views the state. 
"We will have spent two months telling all of these stories about what is happening in Georgia to the rest of the country, building up a baseline level of interest and knowledge for people around the country," Hurt said.