Stay home for the holidays
It's been a hard year. As of Dec. 14, more than 300,000 people in the United States have died from COVID-19. Isolated for the past 8 months, many have been working or schooling from home. Normally, we would all be heading to meet family to celebrate the new year and the holiday season. But this year, people should not travel over the holidays.
I know people are missing their families. It's been hard. I've been lucky to see some family socially distanced and outside. Not everyone has had that privilege. FaceTime and Zoom aren't remotely close to a good substitute. Yes, it is important to make an effort to at least have one bright spot in this terrible year. But staying home and not traveling is the best decision this year. The virus isn't getting better: it's getting worse. Now is not the time to come together with family. The post-Thanksgiving spike in the virus is going to make the winter epidemiologists predicted to be bad, worse. All over the country, hospital beds are filling up. In Georgia alone, more than 10,000 have died from the virus. Rural America is being pummeled.
Now, we can finally see the light at the end of the tunnel with the vaccine distribution beginning this week. But this progress is not an invitation to prolong this pandemic by possibly infecting more people. Dr. Anthony Fauci, speaking at a Harvard Public Health event, said that if a sufficient amount of the population gets vaccinated, by this time next year, we can approach "some degree of normality that is close to where we were before".
If we just can stay strong and hold out until Memorial Day, then people will probably be able to gather with family more safely. But that's contingent on there not being a huge holiday spike in the virus. The more we hold off, the sooner we can be back to normalcy.
In the short term we must wear masks, stay six feet apart from others and not visit family to achieve some sort of normalcy in the long term. Even following CDC recommendations for holiday travel and getting tested beforehand can not positively prevent someone from getting sick. That is the reality nowadays; there is no way to guarantee a positive test wasn't an error or that you won't catch the virus in the airport or a gas station.
The safest thing to do is stay home and connect with your family from afar. Watch a holiday movie together with services like Metastream and Teleparty. Call up a relative on FaceTime and ask them to teach you how to make a recipe. Place laptops with Zoom running at the end of dinner tables and enjoy a meal together. Mail crafts, meal kits or favorite snacks to one another.
Just because you're in isolation doesn't mean you have to be isolated. The virus isn't over, and we're all still at risk, even though it's the holidays. Have a safe December.
About the Contributor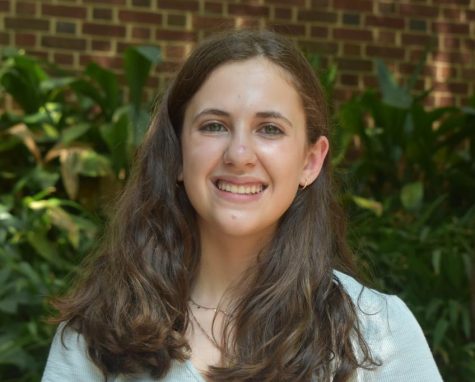 Anna Rachwalski, Co-Editor in Chief
Anna Rachwalski is a senior and this is her third year writing for the Southerner. Outside of the newspaper, she is president of the Quiz Bowl team, is...