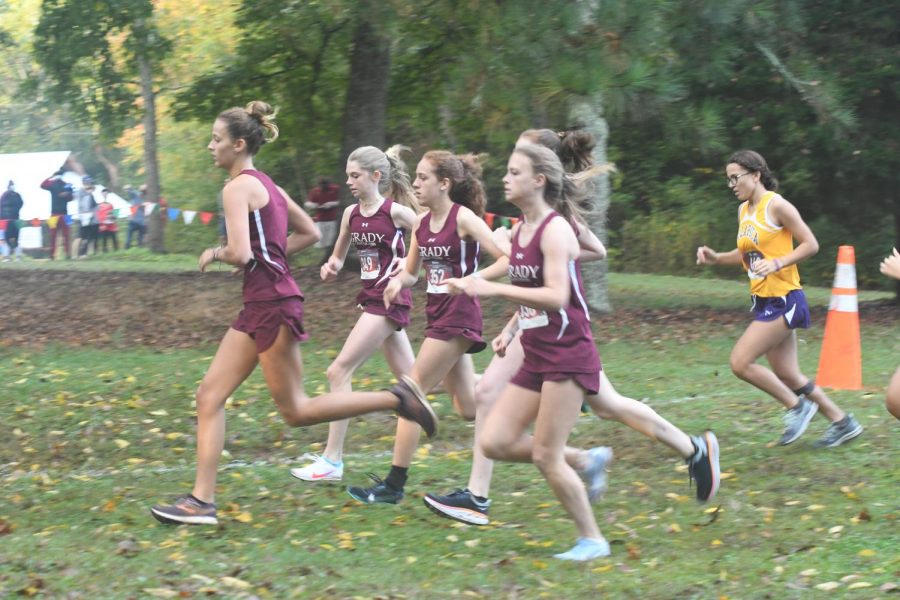 Courtesy of Bill Chan
This year, the girls cross country team has excelled in all of its six meets to date, placing consistently among the top teams in each contest. All of the team's top runners have set new personal bests and have proceeded to best those times again and again as the season has progressed. 
Now, the state meet draws near, and the girls look to see their hard work culminate in a successful race to cap the season.
"We're at a point right now where we're at a peak in training, but I think we just have to give it our all at state, because all of our training that we've done so far has been to work up to state, so you just have to put all of it in when you go to state." sophomore Emilia Weinrobe said.
The Knights have hit their peak after a long road over the past few months. 
"At the beginning of the season, I wasn't doing very good, but as it went on I found out what works for me," Weinrobe said. "I learned what I have to eat, and what I have to do to feel good when I'm running. All of us have worked so hard and gotten so good. I just think we're going to surprise everyone and do well."
The team's members also attribute this growth to consistent practicing and dedication.
"I think we've gotten better throughout the season because of our daily practice and because every week we go harder," junior Ellie Spears said. "We do more speed workouts, longer runs and that kind of stuff, which pushes us to do our best."
Head coach Jeff Cramer agrees that the consistent practicing and regularity in their workouts has been a key factor for the team.
"They're here everyday," Cramer said, "I think that has been a huge plus for us. The girls ran a lot in the offseason when we couldn't meet, and because there's not really a lot else going on in any of our lives, people have been coming to practice regularly."
The team's work has helped to incrementally increase their fitness, which has produced exponential growth in their times as the season has gone on.
"I think as a team we've definitely improved as the season has progressed. We just keep lifting each other up and focusing on teamwork, and I think the training we've done has really helped us improve, and you can see that in our times," sophomore Jamie Marlowe said. "Individually, it's been about the same for me. It's just about sticking with it and getting the training in and being consistent."
Evidently, a lot of hard work has gone into this season, and many hours of training could potentially amount to a successful state meet.
"I'm nervous for the state meet, but I think we're ready," Marlowe said. "We have a really strong bond, and I love my teammates, and I think the idea that we're all in this together really makes us ready. I'm excited, and I think the team is excited."
The team faces some challenges for state though.
"State is really hilly so it's tough to keep yourself going, especially towards the second half, but we just need to remember to keep pushing and get it done," Spears said. "We've done a lot of hill workouts at practice because Mr. Cramer knows how hilly the state meet is and he's prepared us for it."
Tough competition and other competitive schools have been another challenge for the girls.
"The biggest challenge was that we had the two private schools come into our classification," Cramer said, "We thought we were just going to slip into third or fourth at state because of the two good schools that left, but I don't care about that, because I think they've done really well to be where they are now, even with the two private schools that came in."
 Despite these challenges, the team remains optimistic and is excited for the possibility of a strong showing on Nov. 7.
"The state course is definitely a tricky one, but it's the last meet of the season, and there's no reason to not give it our all, and I think we're ready for that," Marlowe said. "I think we're prepared."