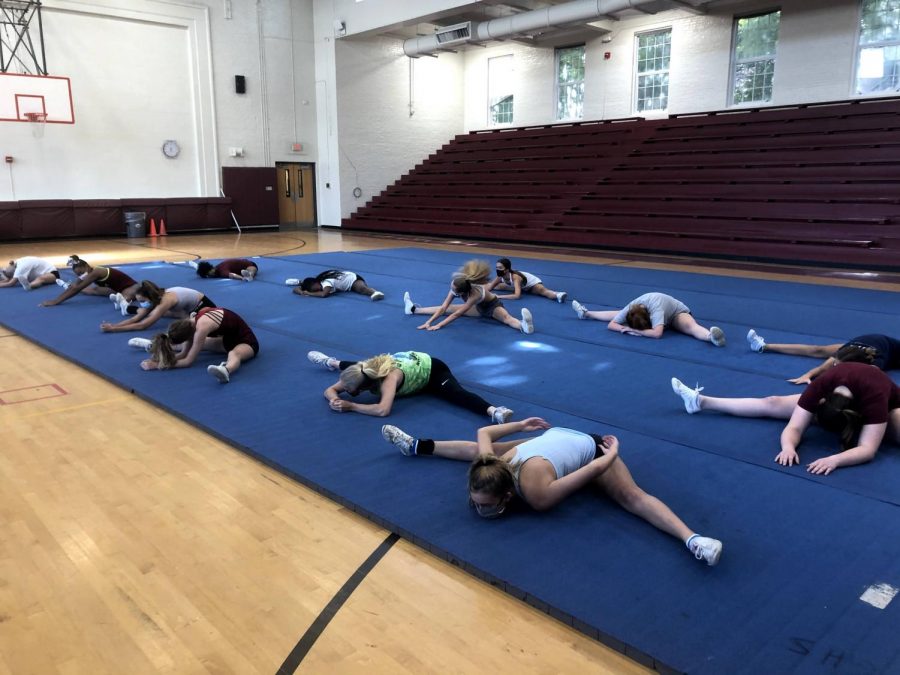 Maddie Shaw
Grady cheerleading has returned despite COVID-19 precautions. The cheer team takes on the new season with high hopes, as they start the season by cheering at the football team's spectator-free games. Because they don't have an audience to perform for anymore, the team has been using the sideline games as a risk-free environment to try new skills. With social-distancing practices implemented at games and practice, the team faces a unique season.
Earlier this summer, Grady hired a new head coach, Lexy Smolko. Smolko, who also teaches American literature, comes to Grady under unusual circumstances due to the pandemic, but has a positive outlook on the season. She hopes to combat the new COVID-19 challenges by creating a comfortable environment with the team while still maintaining Georgia High School Association safety measures.
"The girls are great with a strong work ethic and full of grace, as I blindly navigate them through COVID precautions," Smolko said. "We have to require masks, of course, temperature and symptom checks, and following GHSA [Georgia High School Association] guidelines. Since cheer is a contact sport, there are a lot of guidelines regarding social distancing."
Sophomore and veteran cheerleader Lacey Berreth said she has adapted easily to the new precautions.
"I don't really have an issue with it," said Berreth. "It doesn't really make me slow down or anything; I feel fine with a mask on. Social distancing doesn't really change our practices that much just because you have to be spread out normally. We'll get into windows or our formation, and there is a good amount of distance between all of us."
Senior and varsity basketball sidelines captain Kristen Hart believes in adhering to the new guidelines but admits that adapting to them hasn't been easy.
"Definitely with a mask on, practice is difficult, especially if we're doing cheers that involve jumping, or if we're stunting because it just makes you run out of breath a little bit easier," said Hart. "But, at the same time, I don't want to be the reason, and I don't think anybody else on the cheer team wants to be the reason that people get infected with coronavirus."
Even though the pandemic has altered the team's practices and events with mandatory mask-wearing, temperature checks and social distancing, Smolko has received no complaints from the players and hasn't struggled to get the girls to comply.
"I feel like we're all so excited to finally see other people in-person by the time we get to practice because we're so used to being alone, and I would say that has made our relationship as a team stronger," Hart said. "We can't do as many bonding activities because of coronavirus, but, other than that, I would say people are, in general, more excited to be at practice because we don't have anything else going on in our lives."
Smolko emphasizes how important it is for the team to be willing to adapt to more changes. For example, Grady football could be cancelled, and cheerleading depends on football's games for its fall season.
The cheer team will not be attending competitions this year as a result of the change in head coach. Smolko joined the team too late to have enough time to prepare for the competition season. However, competitions are unlikely to happen this year because of the pandemic. Therefore, cheering sideline games is the program's only way to showcase their talents.
"We're in limbo until corona goes away, and she's on her own clock," Smolko said. "As a planner, I hate not knowing when everything will return to normal, but it has helped me learn to be more flexible."
Cheering sideline games comes with its challenges as there are no spectators allowed for safety reasons. However, this has proven beneficial to the team because sideline games can be an opportunity to try new skills. Junior and varsity football sidelines captain Jada Burbridge expects sideline games to resemble practices more than games.
"We can try whatever stunts we want to try because there's no one watching us but the coaches," Burbridge said. "That's our time to be creative and get ready for when we do have spectators at the games."
Since cheerleaders are focusing on honing new skills and encouraging football players rather than energizing fans, there is a learning opportunity, they said. Burbridge said she can focus more on the game and be more invested in the football season because there are no fans.
"As a football cheerleader, we need to know football, and I've never really understood football," Burbridge said. "I thought this whole time a touchdown was 7 points, and it's actually 6. I understand it a little better now, and that's the good thing about these sideline games."
Even if there are no spectators, Berreth said the cheer team is still enthusiastic about having the ability to cheer for their school.
"It's honestly been really fun," Berreth said. "I've really enjoyed getting back in touch with a lot of girls on the team from last year and meeting the new coach and staff has been really nice because it's basically all new people. I'm really happy that we're still having a season."